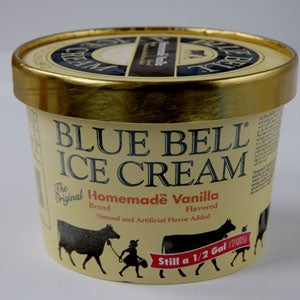 **Burleson's Honey
**Burleson's Honey, Inc.
P.O. Box 578
Waxahachie, TX 75168
Phone: 972/937-4810
www.burlesons-honey.com
Burleson's got its start as a beekeeping organization in 1907; 40 years later, the company began bottling its locally grown, grade A honey and distributing it throughout the state. Today the subtly sweet honey, known for its distinctive floral notes, can be found just about anywhere, and it's some of the best we've had.
**Blue Bell Ice Cream
**Blue Bell Creamery
1101 South Blue Bell Road
Brenham, TX 77833
Phone: 800/327-8135
www.bluebell.com
Though Blue Bell is the third-best-selling ice cream in the country, it's stocked only in stores across the South. Luckily, the rich, creamy dessert, which has been voted the country's best by Forbes, is now available by mail order too.
**H & H Chorizo
**H & H Foods
P.O. Box 358
Mercedes, TX 78570
Phone: 956/565-6363; 800/365-4632
www.hhfoods.com
Texas home cooks are serious fans of this chorizo, which is prized for its balanced spiciness and meaty texture. Family owned for the past 62 years, H & H is also known for its superior house-marinated skirt steaks and German-style sausage.
**Dublin Dr. Pepper
**Old Doc's Soda Shop
105 East Elm
Dublin, TX 76446
Phone: 888/398-1024
www.dublindrpepper.com
Dublin, Texas, is home to Dr. Pepper's first bottling plant. Unlike the Dr. Pepper that most of us know, the Dublin soda is still based on the original drink recipe and is made with cane sugar instead of high-fructose corn syrup.