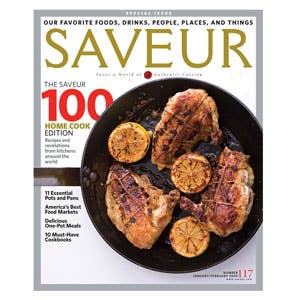 Culture
The 2009 SAVEUR 100
Our favorite foods, restaurants, drinks, people, places, and things.
Tie on the apron and fire up the stove: every item in this year's saveur 100 is devoted to you, the home cook. This eclectic mix of our favorite foods, drinks, people, places, and things is about celebrating everything we do in our kitchens: from inspirational role models (Great Home Cooks) and indispensable cookbooks (Cook's Library) to homemade condiments (Do It Yourself), versatile seasoning bases (Foundations of Flavor), and sumptuous single-course meals (One-Dish Feasts). We also pay tribute to the best salts, sugars, oils, and vinegars (Pantry Essentials), the most reliable cookware (The Right Gear), and the most underrated ingredients (Everyday Heroes). Also on the menu: the new face of supermarkets, fascinating food innovators, thoughtful culinary musings, time-tested tips, and more. —The Editors
2 Bringing Us to the Table
When we turn on our television to find LIDIA BASTIANICH preparing dinner in her home kitchen, we can't wait to cook what she's cooking. Maybe it's the relaxed way the 61-year-old host of Lidia's Italy, among other series, tells us to trim an artichoke or prepare a ragu that makes us want to try it for ourselves, to experience the joy of cooking that she radiates on-screen. "Food is a gift," says Bastianich, and over the five decades since her family left Istria, in northern Italy, she has been more than generous with it. Starting in 1971 with a 38-seat restaurant in Queens, New York, she has expanded her reach, overseeing a multifaceted empire that includes her television shows, cookbooks, restaurants, Italian vineyards, and other culinary businesses, which she runs with her children. We're in awe of how consistently Bastianich has remained true to what she feels is the most important: the pleasures of the table and their ability to bring people together. "I want everyone to know they can cook," she says. "It's an innate part of being human."
4, 5, 6, 7, 8 Sugar
Along with salt, vinegar, and oil, sugar is one of the most elemental ingredients in the kitchen. And when it comes to the variety of sugars available to home cooks today, sweet is just the beginning. Along the spectrum from flavorful raw sugar to refined white exists a dramatic range of tastes and textures, each suited to different kinds of baking and cooking. The five cane sugars shown here are five we wouldn't want to do without.
A great choice for sprinkling atop baked goods, INDIA TREE SPARKLING SUGAR comes in a variety of colors and adds a crackly texture to cookies, cupcakes, and dipped candies.
BILLINGTON'S DARK BROWN MOLASSES SUGAR is, hands down, our favorite brown sugar. This unrefined muscovado sugar (sugar from which molasses is not removed) adds an intense, earthy flavor to gingerbread, chocolate brownies, and even barbecue sauces.
The Mexican cousin of Indian jaggery, GOYA PILONCILLO comes in caramel-colored cones, made from boiled-down cane juice. The sugar has a maple sugar taste that lends complex sweetness to dessert sauces and unifies the flavors in smoky sauces like mole negro.
Unlike refined white sugars, which are stripped of all molasses, FLORIDA CRYSTALS NATURAL CANE SUGAR is made directly from filtered cane syrup—a process that leaves a touch of color and molasses flavor on the crystal. This is our everyday sugar; we add it to everything from coffee to corn flakes.
A mainstay in the arsenal of professional bakers and experienced home cooks alike, finely ground C&H BAKER'S SUGAR has a clean cane flavor; its powdery grains dissolve easily in custards and meringues and help give a delicate texture to cookies and cakes.
9 Grandes Dames
We're obsessed with Le Creuset's enameled cast-iron pots, from the old wood-handled skillet we bought at a yard sale years ago to the shiny new gratin dish we splurged on last winter. But the ones that we brag about—and use—the most are our round and oval LE CREUSET FRENCH OVENS. We love everything about these French-made heavy-lidded pots: how they feel as we carry them to the stove, so heavy and capable; how their cooking surfaces help brown meats beautifully and then release the flavorful charred bits with a splash of wine. That they're easy on the eye doesn't hurt, either: sometimes just looking at these beauties makes us want to cook.
Granted, much of what we admire about these cookpots owes to the characteristics of the material from which they're made—enameled cast iron—and to the pots' shape, which is essentially that of a dutch oven. (Le Creuset calls its versions French ovens for the American market and cocottes in France.) Cast iron retains heat as no other material does and distributes it evenly, and the tight-fitting lid of dutch ovens traps moisture, making the pots ideal for succulent, slow-cooked dishes. We use our Le Creuset French ovens for everything from simmering soups to braising short ribs to making ragu. We've even baked bread in them. They've become our all-purpose pots—which is exactly how they are used in France. "French home cooks don't have a dozen different pots," says the famed chef and restaurateur Laurent Tourondel, who grew up in central France. "You get a Le Creuset cocotte when you get married and you have it for life."
We've often wondered whether our preference for Le Creuset's French ovens over other brands is backed by empirical evidence. Does the company employ a special type of enamel? A unique recipe for cast iron? As it turns out, the pots are still made by hand the same way they have been since the firm's founders, a Belgian enameler named Octave Aubecq and a Belgian casting specialist named Armand Desaegher, started producing the pots in the northern French town of Fresnoy-le-Grand, in 1925. For making a pot, two sand molds are cast to fit together and molten iron is poured in; when the iron is cool and hard, the molds are cracked away, the pots are sanded, and three coats of enamel are applied. After sanding the pot, workers apply three coats of enamel—a clear base coat (which constitutes the surface of Le Creuset's nonstick skillets) and two top coats. In the 1950s, some of the pots were made in a 16th-century foundry in Cousances (these rare editions stamped "Cousances" fetch the highest prices on eBay). Nowadays, they are made in Fresnoy-le-Grand, and all Le Creuset's designers, engineers, and craftsmen work there; of the 3,000 people who live in the town, 600 derive their livelihoods from the company.
For the first part of the 20th century, Le Creuset was little known outside France—a situation that changed only in the mid-1950s as the popularity of French cooking spread. In 1969, Elizabeth David wrote a slim cookbook that was a love letter to the brand. In the introduction to Cooking with Le Creuset (Clarbat), David describes the thrill of discovering the pretty pots in Marseille and hauling a few back to her apartment in London. Her description sums up the experience of using them: "Everything I cooked seemed to turn out right," she wrote.
10 Home Schooling
**We admit that we're forever inviting ourselves into the kitchens of people that we meet when we travel. That's why our favorite trend in culinary tourism is that of seasoned cooks' teaching cooking classes in the comfort of their own homes. Some of the best-known **HOME COOKING CLASSES are given by established cookbook authors like Elizabeth Andoh, author of At Home with Japanese Cooking (Knopf, 1980) among other books, who teaches intimate classes at her homes in Tokyo and Osaka, Japan; and Faith Willinger, who wrote Red, White, and Greens: The Italian Way with Vegetables (HarperCollins, 1996) and runs classes in the kitchen of her 17th-century house in Florence, Italy. But the majority of the teachers are celebrities of a more local variety: people like Agata Amato, who offers courses on the cooking of the Amalfi coast at the estate in Ravello, Italy, where her family has lived and farmed for more than 250 years; and Nimmy Paul, a cook in the city of Kochi, in India's Kerala State, who introduces travelers to regional dishes like appam, the rice-flour pancakes commonly eaten for breakfast, and fish curry with coconut milk. Or, you can make a detour to the village of Sungai Penchala, in Malaysia, where Rohani Jelani lives. Jelani presides over a sunny, open kitchen where she teaches visitors how to use ingredients from her garden like lemongrass and torch ginger flower (a woodsy-tasting aromatic) to make local specialties like nasi kerabu, an herbal rice salad. The best part of all these classes? They usually double as lunch or dinner.
11 Cook's Library
There are dozens of Italian cookbooks on our shelves, but there are none we use as faithfully as Marcella Hazan's THE CLASSIC ITALIAN COOK BOOK (Harper's Magazine Press, 1973). With this book, the Italian-born culinary teacher gave American cooks their first comprehensive and authentic Italian culinary compendium; all these years later, it is still our undisputed favorite source for everything from making risotto to understanding Italian techniques for cooking vegetables (like trifolare, which calls for thinly slicing and sauteing ingredients in olive oil and garlic). Her recipes are lucidly written and reliable: the fresh pasta we make has always been her version. You can find the recipes from the original book in Hazan's updated volume, Essential Classic Italian Cooking (Knopf, 1992). Our only beef with it is that the publisher omitted the Italian names of most dishes. Still, it contains all the brilliance of Hazan's first book, the gold standard for Italian home cooking.— Nach Waxman
owner of the Kitchen Arts & Letters bookstore in New York City
12 Tastes Like Home
"What I make, and what my daughter makes, my mother made before us," says EULINE JOSEPH, a 59-year-old native of Trinidad and Tobago who has lived in Brooklyn, New York, for the past five years. It would be hard to express the essence of home cooking more succinctly than that. And yet, one thing that impresses us about Joseph's cooking is not her rigid adherence to tradition but rather her easy adaptability in the kitchen. For instance, she tosses canned chickpeas, as opposed to the dried kind, which her mother used to slow-cook over an open fire, into the pot along with store-bought curry powder for her version of chana, a spicy Trinidadian main course. Is her cooking compromised by such North American-style shortcuts? Not a chance. As we tuck into the chana, which Joseph serves with homemade floats, puffy fried flatbreads she whipped up earlier this morning, we're convinced that her mother would be mighty proud indeed.
13, 14, 15, 16, 17, 18 Oil
A home kitchen doesn't need dozens of oils; just a few diverse, high-quality ones. Each of these oils comes from a different part of the world and has a bold, distinctive taste that evokes the fruit, nut, seed, or vegetable that the oil is made from.
Depending on where and how they're made, extra-virgin olive oils vary so widely that it makes sense to stock a few. For a variety of cooked dishes, we rely on subtly fruity NUÑEZ DE PRADO EXTRA-VIRGIN OLIVE OIL, from the Baena district of Andalusia, in southern Spain.
Our favorite olive oil for drizzling over salads or even just toasted bread is FRANKIES 457 EXTRA-VIRGIN OLIVE OIL, from Sicily, which has the green hue and ripe, grassy flavors prized in oils from that island.
Milled in California by a 150-year-old French company, LA TOURANGELLE ROASTED PISTACHIO OIL has an intensely nutty taste. We use it on its own as a condiment or toss it with warm boiled potatoes.
Peanut oil's high smoke point makes it excellent for frying and sauteing. While most brands are bland tasting, LION & GLOBE PEANUT OIL, from Hong Kong, has a distinctly peanutty taste.
Clean tasting and satiny, grapeseed oil is a great all-purpose oil, reliable at high temperatures or used fresh in a dressing. Our favorite, SCALIGERA GRAPESEED OIL, produced near Verona, Italy, has a pleasing hint of nuttiness.
Rich coconut oil adds fragrance and body to South Indian curries and is perfect for cooking dishes with tropical flavors. With its smooth, balanced taste, PARACHUTE COCONUT OIL, from India, is our go-to brand.
19, 20 Cook's Library
**We cherish **PARISIAN HOME COOKING (William Morrow, 1999) by the late chef Michael Roberts for teaching us how Parisians cook day in and day out. From the building of impromptu meals based on market purchases to making your own rillettes (potted meats), this gem reveals the wisdom and celebrates the passion of French cooks.
For American cooking, our perennial resource is Jean Anderson's captivating AMERICAN CENTURY COOKBOOK (Clarkson Potter, 1997), which approaches the recipes of 20th-century America chronologically, charting the evolution of soups, salads, casseroles, and so on. Few cookbooks are this much fun, thanks to Anderson's tart writing, archival images, and wealth of information, which serve as a guide to our most influential culinary benchmarks, from chicken divan to blackened redfish. .— Nach Waxman
owner of the Kitchen Arts & Letters bookstore in New York City
21 Friendly Foes
Kitchen Stadium it was not, but on a recent Sunday afternoon, in the smallish kitchen of a two-story wood-frame house in the Chicago suburb of Wilmette, gladiatorial combat was being waged. Four couples—teachers, lawyers, and advertising professionals by trade—and their kids had convened at the home of Chris and Laurey Tussing for the 22nd installment of a remarkable home-cooking competition that the group of friends has dubbed IRON CHEF CHICAGO. Today's chosen ingredient: squash. Laurey Tussing led off with luscious butternut squash ravioli, which was followed by Sloane Stegen's roasted kabocha squash gnocchi and then an ethereal winter squash souffle from the reigning champ, Liz Feiertag. The eight competitors, who were also the judges, shuttled food from the kitchen to the dining table, where they marked their scorecards and knocked back glasses of wine. When the winner was announced—the ravioli, by a landslide—a few groans of disappointment could be heard, but mostly there was applause. "It's about the camaraderie, not the competition," said participant Vicky Mangosing Almiron. Then Chris Tussing chimed in: "It depends on who you're talking to."
22 Blades of Glory
We probably were given our first CUISINART FOOD PROCESSOR as a housewarming gift or a wedding present, and it instantly placed within easy reach a world of sauces, spice pastes, salads, soups, breads, pie doughs, and more. Cooking with the Cuisinart felt like something magical. You took a potato, placed it in the plastic cylinder, pushed it through the spinning disk grater, and suddenly it was not just a potato anymore but perfectly shredded wisps, soon to be hash browns or latkes.
Of course, we still love our kitchen knives—especially for items like minced herbs, which can be bruised by automated blades, or ingredients that benefit from being diced to a uniform size—but once we'd embraced progress, there was no turning back. "The Cuisinart democratized who could be a good cook," says Barbara Haber, a food historian. "It used to be that if we wanted to make chopped liver, say, we had to use a bowl with a sort of half-moon gadget that you'd bang away with for a long, long time. Only very ambitious cooks would ever make certain foods before the Cuisinart came along."
For this we have a man named Carl Sontheimer to thank. In the early 1970s, the semiretired MIT physicist from Greenwich, Connecticut, came across a restaurant-grade food processor called the Robot-Coupe at a cookware convention in France. It was big and unwieldy and expensive, but the "robot cutter" in the act of slicing and dicing was a wonder to behold. Sontheimer, who had lived in France and loved to cook, shelled out for a few Robot-Coupe machines, sent them home to tinker with, and worked out an agreement with the device's manufacturers to adapt their design for American home cooks.
He spent the next two years refining the shape of the chopping blades, improving the mechanism for feeding food into the machine, adding safety features, and recalibrating the weight distribution of the grating disks so that they would spin smoothly over many years of use. In 1973, he deemed his creation ready. It consisted of a clear plastic bowl resting atop a white base that housed an electric motor. The motor drove a set of interchangeable cutting and mixing implements, including a metal chopping and pureeing blade, a plastic dough blade, a slicing disk, and a grating disk. He unveiled his invention, under the name Cuisinart Food Processor, at the National Housewares Expo in Chicago later that year.
The Cuisinart didn't sell all that well at first. Then, in 1975, an article about the appliance appeared in Gourmet magazine, and suddenly everyone from James Beard to Julia Child (who had both owned Robot-Coupe processors) was singing its praises. The then New York Times food editor Craig Claiborne compared it to the printing press, the cotton gin, and the paper clip. Within two years, the invention had spawned no fewer than 30 imitators from companies like Sunbeam and Hamilton Beach. We've used some of those other products, and they get the job done; just not as well: proof that obsessive perfectionism like Sontheimer's sometimes pays off. Sontheimer died in 1998, but we're reminded of his legacy every time we rev up our Cuisinart.
23 Sweet And Tart
**We enliven our cooking with all sorts of commercially produced vinegars (see **94-99 Vinegar for some of our favorites), but the variety we like the most is the HOMEMADE WINE VINEGAR we make ourselves. Since ancient times, cooks throughout the world have been making good use of leftover wine by putting up vinegar; the result adds sourness to everything from salad dressings to pan sauces. Our version, which we prepare by adding a live bacterial culture called a mother (a gelatinous mixture of acetic acid bacteria and yeast that helps convert alcohol to vinegar) to rose wine and letting it age, retains the wine's sweet, crisp character. It's so good, you could sip it on its own.
24 Poet of the Everyday
**The milieu of celebrity chefs and food fads couldn't be farther from the kitchen of **JOHN THORNE, which isn't to say the 65-year-old, Massachusetts-based author doesn't have insights to offer on the topic. He's won praise for creating, in partnership with his wife, Matt Lewis Thorne, a canon of practical recipes, inquisitive essays, and musings on all manner of culinary themes. Thorne shares his discoveries in his homespun newsletter, Simple Cooking, excerpts from which have been anthologized in collections from North Point Press, including Serious Pig (1996) and Mouth Wide Open (2007). Equal parts curious and erudite, Thorne could be called a philosopher of the American kitchen, a man as adept at illuminating the anthropological underpinnings of the supermarket soup aisle as he is at puzzling out the perfect meatball recipe. Ultimately, the satisfaction to be found in everyday cooking is the true north to which all his writing returns. "What delights me about cooking is not getting things right," he told us, "but messing with them enough to keep things interesting."
25 Power To The People
Seven years ago, a handful of food enthusiasts in the United States and Britain banded together to launch an online community called eGULLET (egullet.org). Life in the home kitchen hasn't been the same since. Before eGullet, we would share our culinary queries with our friends and family. In the eGullet era, we can cast our questions and opinions—whether they be about soup dumpling recipes or the best cuts of meat sold at a local Costco—into the world at large. And the world answers. The conversations on eGullet, as on other food sites, touch on restaurants and travel, but its main purview is the home kitchen, and the site's message boards sing with the voices of thousands of enthusiastic cooks from across the globe. We love how this no-frills site has brought cooks together and democratized the world of food: on a forum about braising, you're as likely to glean a tip from a self-taught home cook in Arkansas as from a well-known food authority, like the cookbook author Paula Wolfert. The site, which is run out of cofounder Steven Shaw's Manhattan apartment, has given home cooks a platform for exploring their passions, no matter how generalist or geeky: Nathan Myhrvold, the former chief technology officer for Microsoft, for instance, is famous for his frequent posts about the scientific experiments he conducts in his kitchen. "EGullet members," says Shaw, "are true believers in the power of food to nourish, spiritually and intellectually."
27 Going Pro
Home kitchens are fertile ground for a multitude of ideas, some of them entrepreneurial. All around the world, from the streets of Delhi to the apartment blocks of Newark, hardworking home cooks sell foods that they prepare in their own kitchens. Some vend their wares from carts; others cater for parties or prepare sandwiches, cakes, granola, and other dishes for sale at stores in their communities. For many, like Irma De Los Santos of Laredo, Texas, their HOME-BASED FOOD BUSINESSES began with a signature dish. "People were always asking me to make my tamales," she said. So, in 1976, she and her sister started preparing batches to sell after she was laid off from her job. The popularity of her corn husk-wrapped tamales, filled with such stuffings as chicken, pork, and chiles, grew by word-of-mouth; in an average week, she may make a few dozen for her regular customers, but during the holiday season she sells as many as 36,000 to devotees across the state. More than just a source of income, small enterprises like De Los Santos's have given a sense of pride and self-sufficiency to people lacking the time or the means to invest in a full-time business. "People from all over the world have eaten my tamales," De Los Santos says, "and that feels good."
28 Happy Together
**Most weekend afternoons, in the recently remodeled kitchen of their home in Lidingo, Sweden, **JOAKIM AND NIVA DAHL can be found preparing supper side by side. Niva, a 46-year-old television producer, usually takes on most of the prep work; "I am a true perfectionist when it comes to slicing and dicing," she says. Joakim, 42 and a film editor by trade, usually has the job of finding the ingredients (in the summer months he gathers wild foods, such as mushrooms and lingonberries, from the woods just behind the house) as well as the actual cooking. Today, the couple, married for eight years, are making a Swedish classic, biff a la Lindstrom (pan-fried venison burgers flavored with chopped pickled beets). The dish has a special resonance for Niva. "My great-uncle invented it," she says. As Joakim cooks the burgers, Niva stands nearby, chopping parsley for a garnish. As we watch them work together, it occurs to us that the act of cooking—particularly with someone we're close to—is often as satisfying as the meal itself.
29 Stout Companion
**The ancient Romans first described a process for making a condiment with the seeds of mustard plants; since then, countless versions of the food we now call mustard have evolved. Of all the jars lining our refrigerator door, our favorite is **HOMEMADE WHOLE-GRAIN MUSTARD, flavored with brown mustard seeds (which possess a pronounced but not searing heat) and Guinness beer (which lends a malty character and hints of sweetness). We slather it on sausages or sliced ham, mix it into gravies and vinaigrettes, or use it as a base for a remoulade (a cold sauce of herbs, capers, and pickles with mayonnaise).
30, 31, 32, 33, 34 Pots and Pans
We've found these durable, versatile pieces of cookware to be the absolute best in their class, whether we're searing, simmering, poaching, braising, or frying. (For more great pots and pans, see 66-70.)
Our saucepans are the most popular pots in our kitchen: we recruit them for gravies, for delicate sauces like bechamel, and even to boil our morning egg. The best are made with a sandwich of different metals; our favorite is the 3-ply, 3-quart ANOLON ULTRA CLAD SAUCEPAN, which includes layers of fast-heating aluminum and durable, nonreactive stainless steel.
Copper pots are the most efficient conductors of heat, so foods get hot lightning fast and cook evenly. The downside? They're expensive. We think the stainless steel-lined 3.1-quart MAUVIEL COPPER WINDSOR SAUCEPAN is well worth the price: its flared sides (the signature feature of a windsor pan) speed up evaporation, a boon when you're reducing sauces and sauteing. The pot is heavy enough that we can stir without holding the handle, leaving one hand free to tend to dishes on other parts of the stove.
From Germany to Morocco, home cooks rely on pressure cookers, which use steam to create a high-pressure chamber, to get dinner on the table fast. Pressure promotes speedy cooking, allowing dishes like beef stew to get done in half the time, without losing any of their tender juiciness. Our favorite is the 6-quart FAGOR DUO PRESSURE COOKER, with its comfortable handle, stainless-steel body, and easy-to-control settings.
A nonstick pan is our choice for frying eggs and delicate fish filets. The 10-inch T-FAL ULTIMATE FRY PAN, from the French company that pioneered nonstick cooking in the 1950s, is the sturdiest around. Unlike Teflon-coated pans, it has a hard surface, made of a plastic-based resin called PTFE, that is virtually scratchproof and stands up to metal utensils.
The 4-quart ALL-CLAD STRAIGHT-SIDED SAUTÉ PAN is a multipurpose workhorse with a stainless-steel exterior and a quick-heating aluminum core. Its wide, flat surface offers maximal contact with the stove-top heat source, and the straight sides help trap moisture.
35 Red All Over
**Make-ahead flavor bases—pastes, sauces, and spice mixtures used variously as soup or stew starters, marinades, rubs, and condiments—are the friend of home cooks all over the world. In North Africa, cooks have long relied on a garlicky chile paste known as **HARISSA to lend depth to cooked meats and vegetables. The paste is traditionally made by soaking dried chiles (we've found that a variety of North American chiles are good substitutes for North African ones) in water until they're soft, then pounding them in a mortar with garlic and various spices. The result is a paste that can be added to dishes while they cook; we use it in the broth we cook couscous in and stir it into red lentil soup. Harissa is also commonly served on its own or diluted with fresh chopped tomatoes or olive oil as a dipping sauce for meats or breads. We've found it to be so dependable in its ability to liven up foods that we use it in all sorts of ways, including serving it alongside scrambled eggs and crudites.
36 Golden Standard
It's the archetypal family meal, a layering of sauce, cheese, and pasta that delivers comfort to the core and pleases every palate. Our favorite LASAGNE is a vegetarian take on classic, creamy lasagne bolognese. In it, the meat is replaced with earthy shiitake mushrooms and the noodles aren't boiled before baking, so they're less mushy when they come out of the oven.
37 Born in the U.S.A.
**After British traders introduced China's soy-based ke-tsiap to the Western world, American cooks reinterpreted the condiment, using ingredients like beans and apples. Tomato ketchup, enhanced with onions, herbs, and spices, became the most popular version (by 1915, more than 800 brands had been bottled in the United States), but over time, the food's complexity gave way to the cloying sweetness characteristic of today's mass-produced varieties. Our **HOMEMADE KETCHUP echoes early-American versions of the food. Sweetened with brown sugar (not corn syrup), it pairs well with everything from french fries to meat loaf.
38 Hooked on Classics
**When **FRANK GRUBER, an entertainment lawyer in Santa Monica, California, is in the mood for Chinese food, he doesn't reach for a takeout menu; he reaches for his 1973 edition of Lucy Ho's cookbook Authentic Chinese Cooking. When he's craving Italian, he'll grab his copy of Antonella Santolini's 1979 book Umbria in Bocca. And on a recent evening when he was cooking for friends, he turned to The American Heritage Cookbook from 1980 and found a recipe for a potato gratin flavored with anchovies, which he served with a haunch of roasted elk. The nearly 100 classic cookbooks Gruber owns are more than just keepsakes; they are his daily inspiration in the kitchen. "I'll open three or four books at once," he says. "It's kind of like having a conversation with all of the writers; their personalities come out in their recipes." What's more, many of his older books place a greater emphasis on making things from scratch—like those anchovies, which he fileted and oil-cured himself. Overall, says Gruber, his cookbooks help him stay curious and stay rooted in a style of cooking that allows him to slow down and appreciate life a little more.
39, 40 Cook's Library
**David Thompson's **THAI FOOD (Ten Speed Press, 2002) set a new standard for Asian cookbooks. The nearly 400 regional recipes from Thailand, ranging from street food to banquet dishes, are accompanied by essays and cultural information that encourage us to understand Thai cooking in new ways.
There are many good all-purpose cookbooks, but the tome we turn to the most—for information and inspiration—is still THE NEW BASICS by Julee Rosso and Sheila Lukins (Workman, 1989). This 850-page treasure combines takeaway material (a guide to chile peppers, roasting charts, illustrations, and sidebars on everything from the history of pizza to homemade mayo) and a conversational tone that makes us feel as if we were in the kitchen with these amiable authors.— Nach Waxman
owner of the Kitchen Arts & Letters bookstore in New York City
41 Tip To Tail
One of the finest communal meals we know of is a whole fish cooked on the bone along with hearty accompaniments. Our favorite method for WHOLE ROASTED FISH is a Portuguese-inspired preparation in which a red snapper is stuffed with herbs and cooked in foil with sausage, potatoes, clams, olives, and fennel. We like to take the fish to the table still enclosed in its shiny wrapper, then slash it open to serve.
42 Serious Sauce
Most of us keep a bottle of Lea & Perrins worcestershire sauce in our pantry, and rightly so: that English company made the condiment a household name after it began bottling the substance in 1838, and it's had a lock on it ever since—until now. This delicious HOMEMADE WORCESTERSHIRE SAUCE has plenty in common with the bottled version, but it is bolder and bigger tasting and more redolent of its ingredients, including tamarind, ginger, cloves, cardamom, and other spices. We add it with abandon to bloody marys, and we rely on its pungent, herbaceous character to give unexpected dimension to marinades and sauces.
43, 44, 45, 46, 47 Salt
Good-quality salt—whether it's kosher salt, sea salt, or one of the myriad other types available these days—does a lot more than make foods salty; it heightens the flavors in a dish and even enhances texture. Here are five kinds that have a permanent place in our kitchen.
Of all the kosher salts to be had, DIAMOND CRYSTAL is our favorite. The crystals are of a unique, pyramidal shape that makes them dissolve quickly on both hot and cold foods. This is our favorite everyday salt for cooking.
Little known outside Japan, HAKATA ROASTED SEA SALT is a fine-grained marvel with a lingering, almost meaty flavor. Prized by Japanese cooks for its purity, the salt is excellent for sprinkling atop raw and grilled fish and for adding deep notes to ramen soups.
Delicately flaky, fruity-tasting MURRAY RIVER SALT, from the Murray Darling Basin in New South Wales, Australia, boasts a beautiful peach color produced by minerals in the water from which the salt is harvested. Its crunchy grains dissolve quickly, so it's ideal for using atop a leafy salad.
LE PALUDIER FLEUR DE SEL DE GUÉRANDE—pristine salt crystals harvested from marshes along the southern coast of Brittany, in western France—is one of the world's most sought-after salts. It delivers a burst of flavor and crunch when sprinkled on a finished dish, be that a pork chop or a simple omelette.
This coarse gray sea salt, called GRIGIO DI CERVIA, is from Italy's Emilia-Romagna region, and its color derives from trace amounts of clay found in the salt beds there. High in moisture, this salt makes a wonderful, crackly crust on roasts and steaks.
48 Big Braise
Oven-cooked meats, which work their wonders without much intervention, are a boon to home cooks. So are inexpensive cuts. Our favorite alliance of these two attributes is MATAMBRE, an Argentine dish (the name means hunger killer) that calls for covering a flank steak with vegetables and hard-boiled eggs and rolling it all together.
49 Best in Class
**On the first day of winter last year, **AMANDA GARBUTT, a 20-year-old third-year sociology undergrad at McGill University, in Montreal, was in the small kitchen of her off-campus apartment making braised lamb shanks for a few friends. The lamb recipe had come from a Bobby Flay cookbook, but she'd done some tweaking. "I added honey and balsamic vinegar," she explained. "I love the interplay of heat and sweet." As she reduced the braising liquid to a syrupy sauce and began to pull the tender lamb from the bones, a guest, hoping to pitch in, made a move to throw the bones away, but Garbutt stopped him: "I'm saving them for stock," she said. In every way, Garbutt seemed to exude the resourcefulness of a chef, which she insists she doesn't aspire to be, even though her dinners have earned her a reputation as an exceptional epicure. That's part of what we find inspiring about her: although she's of an age more closely associated with dorm food and eating on the run, she represents a growing contingent of young adults that makes real cooking a part of everyday life.
50, 51 Cook's Library
For all things fish related, we've found no better source than RICK STEIN'S COMPLETE SEAFOOD (Ten Speed Press, 2004), a handsome, amply illustrated volume that details the selecting, handling, and cooking of every species imaginable. Stein, a British chef and teacher, has helped us become as comfortable with hake and lobster as we are with carrots and potatoes.
Good technique is rooted in an understanding of ingredients and how they work; no book teaches that better than LA VARENNE PRATIQUE (Crown, 1989) by the renowned cooking teacher Anne Willan. From showing how to peel a mango to how to slice onions the right way, this is an empowering tome, illustrated with hundreds of step-by-step photographs. — Nach Waxman
owner of the Kitchen Arts & Letters bookstore in New York City
52, 53, 54, 55, 56, 57, 58 Tools
The proper kitchen implement can transform even the most banal cooking task into a pleasurable activity. Here are seven that deserve to be permanent residents of every home cook's tool drawer.
The thin, flexible NOGENT CLASSIC KITCHEN SPATULA slips easily under delicate items like fish filets and turns them without breaking them. Since it's both slotted and heatproof, it's also ideal for extracting food from frying oil.
The utilitarian, Swiss-made R. H. FORSCHNER BY VICTORINOX CHEF'S KNIFE sells for about half the price of other popular chef's knives. The rosewood handle is lightweight, and the high-carbon stainless-steel blade is easy to sharpen.
Invented by a Swiss army veteran named Alfred Neweczeral in the 1940s, the ZENA STAR ECONOMY PEELER is still the sharpest and most comfortable one we've found. A nifty U-shaped attachment near the blade removes potatoes' eyes with a flick of the wrist.
Long-lasting stainless-steel WÜSTHOF KITCHEN SHEARS are indispensable for a wide range of kitchen tasks. They're muscular enough to separate a whole chicken into its parts and refined enough to snip delicate herbs and salad greens.
When we need a perfect julienne, we turn to the German-made BÖRNER THIN JULIENNE CUTTER, which is far safer to use than a traditional mandoline, rests securely atop a bowl, and produces utterly uniform pieces.
The heavy-duty silicone RUBBERMAID HIGH HEAT SCRAPER AND SPATULA can be used for tasks like scraping out a bowl, frosting a cake, or folding egg whites into a batter, and with its exceptional heat resistance (up to 500 degrees), it also comes in handy while you're sauteing.
A simple stainless-steel coil wrapped around a curved wire, the diminutive COMBRICHON "MAGIC" SPOON MINI WHISK is dandy for scraping up caramelized bits from a saucepan's hard-to-reach corners and for whisking drizzles of cream or eggs into sauces.
59, 60 Cook's Library
For dependable recipes for the basic breads of the world (more than 300 of them, from Russian black bread to French sourdough), we cherish Bernard Clayton's The COMPLETE BOOK OF BREADS, first published by Simon & Schuster in 1973 and available in a revised edition from 2003. We've always found Clayton, a retired magazine reporter and serious hobbyist baker who turns 95 this year, a wise and comforting guide.
We know of no dessert book more comprehensive, helpful, and assured than IN THE SWEET KITCHEN by the Canadian pastry chef Regan Daley (Random House, 2000). Daley demystifies ingredients—there are 14 pages on eggs, 25 on flour, 19 on fats—and the mastery of techniques. The recipes are outstanding, from one for shortbread to one for an exquisite nectarine tart.— Nach Waxman
owner of the Kitchen Arts & Letters bookstore in New York City
62 Seasoned Start
The French have their mirepoix, a flavor base of minced onions, carrots, and celery sweated in butter and oil. The Italians rely on a similar mixture, called battuto. But few flavoring bases are so intensely flavored as Puerto Rico's SOFRITO, a piquant paste of onions, peppers, chiles, garlic, and herbs that cooks fry in oil before adding other ingredients to make soups, stews, and dishes like rice with pigeon peas. The seasoned starter becomes a vehicle for flavor, carrying the essence of the chiles and herbs throughout the dish. We're so crazy for sofrito that we make large batches to keep in our refrigerator, at the ready for stirring into sauces, adding to vinaigrettes, or rubbing over chicken before roasting. We also take cues from Puerto Rican cooks who freeze it in ice cube trays, then thaw a portion whenever they need it to add depth and spice to a dish.
63 Fire with Flavor
Supermarkets these days sell hot sauces of every hue and Scoville heat unit rating, with names like Mad Dog's Revenge and Wanza's Wicked Temptation. Some are good; others sacrifice flavor for heat. Our recipe for HOMEMADE HOT SAUCE, however, is in a league of its own. A puree of chiles and salt aged in vinegar, this fiery yet fruity condiment made in the manner of the traditional Louisiana version, a 19th-century invention that evolved out of Mexican, English, West African, and Caribbean preparations popular since the colonial era. We drizzle it on eggs and grits, stir it into gumbo, spike salsa with it, and run out of it way too fast.
64 Giving Back
**I was 11. Gerald Ford was in office. We were in a restaurant on Second Avenue in New York City. The place was empty except for another couple and their kids. "It's Newman," my mother whispered. "Don't stare, for God's sake," my father said. I slurped my fettuccine alfredo. "Don't slurp," my father said. "But they're slurping," I replied, motioning to the kids at Newman's table. They could have been any family, but they weren't. And their father wasn't just any man. And yet, to those who knew him, **PAUL NEWMAN, who passed away in 2008, was just a regular guy, deeply devoted to his adopted hometown of Westport, Connecticut, where he lived for nearly 50 years. A tinkerer in the kitchen who liked to do his own grocery shopping, the Hollywood actor seated across from my family all those years ago would go on to become one the world's greatest culinary philanthropists—and a staunch ally of millions of harried home cooks with taste but no time. One Christmas, the story goes, he gave his neighbors bottles of homemade salad dressing, and Newman's Own was invented. What followed was a line of ready-made pasta sauces, salsas, marinades, and more, all born of Newman's love of simple food and his abiding belief in giving as good as you get. Newman didn't need the money, so he donated all his profits to charity—over $250 million, to date. In 2006 Newman cofounded a restaurant in Westport called the Dressing Room. His favorite meal there? "The PL Newman burger," the Dressing Room's chef, Michel Nischan, told me recently. "Cooked medium rare, with cheddar and grilled onions." Regular grub for a regular guy who turned food into pleasure for millions. —Elissa Altman, a blogger at the Huffingtonpost.com
65 Brave New World
We love our broken-backed cookbooks and our recipe boxes stuffed with index cards, but the truth is that these days many home cooks are taking inspiration from the Internet as often as they are from paper and ink. And that poses an interesting problem: short of printing out and filing away every online recipe that piques your interest or creating a bookmark drop-down menu on your browser that's a mile long, how do you conveniently store, organize, and share your electronic recipes? Enter our favorite Web development in recent memory: ONLINE RECIPE-MANAGEMENT TOOLS. Software packages such as MacGourmet (macgourmet.com) and BigOven (bigoven.com) save and catalogue recipes in formats that allow users to sort and search by theme ("family meal", say) or ingredient ("fennel bulbs"); to e-mail recipes with ease; to print recipes onto index cards or preformatted recipe book pages; and, in some cases, to upload recipes to an iPod or a PDA. Some of them let you rescale recipes to make bigger or smaller quantities, convert measurements to or from metric, and compile shopping lists of ingredients you'll need. We've also gotten hooked on Delicious (delicious.com); no, it's not a food blog or a recipe tool. It's a "social bookmarking" site that lets you collect online bookmarks (in our case, for recipe pages) from all over cyberspace, share them with others, and see what recipes like-minded users have discovered out there in the boundless banquet that is the World Wide Web.
66, 67, 68, 69, 70 More Pots and Pans
The hefty 12-inch LODGE LOGIC CAST IRON SKILLET is one of the most versatile tools a cook can own: we fry in it, we saute in it, and we use it to sear meats on the stove top before roasting them in the oven. Cast iron gets extremely hot and maintains high, even temperatures, which gives foods the tastiest char. Traditionally, cast-iron pans require seasoning to develop a satiny, nonstick surface; this one comes preseasoned with vegetable oil and is ready to use.
Hardly a day goes by when we don't use a rimmed sheet pan, so we seek out the most durable, sturdiest ones we can find. Our favorite, the half-size LINCOLN FOODSERVICE HEAVY DUTY SHEET PAN, is made from a thick aluminum alloy that won't warp or buckle, even in the hottest oven. It turns out perfectly bronzed cookies and biscuits every time.
The tough, simple, and capacious 12-quart CARLISLE DURA-WARE STOCKPOT has a towering profile, which minimizes evaporation, conserving liquid when you're boiling pasta or preparing soups. Made of professional-grade aluminum, which heats up quickly, this kitchen stalwart has an extra-thick base that conducts heat well and reduces the risk of scorching.
Because glass retains heat more effectively than metal does, it responds better to lower oven temperatures, so it's the best choice for casseroles, brownies, and baked pasta dishes. And because glass is nonporous and nonreactive, it doesn't rust, stain, or impart undesirable flavors to food. The 9-by-13-inch ANCHOR HOCKING GLASS BAKING DISH is the toughest and longest-lasting everyday glass baking vessel we know.
We prize woks for their ability to cook food quickly and evenly over intense heat and also because their broad, semicircular profile allows us to toss and stir ingredients with ease. We rely on the American-made PRECISION WOK; its carbon-steel composition makes it heat up faster than other models we've tried, distributes heat smoothly and evenly, and seasons with age. Its flat bottom is compatible with gas, electric, and glass-topped stoves. (For other great pots and pans, see 30-34.)
71 Keepers of the Flame
When given a choice between grilling with gas and grilling with charcoal or wood, we'll take the latter every time. Sure, you have to wait longer for the heat, but it's always worth it. As we keep telling our gas-grilling friends, it's about more than touching food to flame: those glowing coals of oak or mesquite or even plain black charcoal impart smoky flavors of their own that a gas flame can never deliver. There are plenty of charcoal grills out there—low-riding hibachis, ten-dollar pan grills, tall Brinkman grill-smokers—and we've used them all, even loved a few of them, but, really, we'd always rather build our fires in a WEBER KETTLE GRILL.
Uncovered, this sturdy, bowl-shaped grill, introduced in the 1950s and more or less unchanged since, lets us cook foods like steaks, burgers, fish filets, and vegetables at exactly the right distance from the coals, and the Weber's broad, grated bottom makes it easy to mass the coals off to one side so that we can put our food on the other and cook it gently over indirect heat. When we throw on the domed cover, the Weber transforms into both an oven and a smoker, preventing flare-ups and allowing food to cook slowly and evenly as the coals fade. We get such good results with our Weber that we'll haul it out and build our fire in the dead of winter just to, say, grill a chicken. After nothing more than a rubbing of olive oil and a sprinkling of sea salt, we lay the chicken on the steel grate away from the coals, secure the cover, open the vents enough to keep the fire alive, crack open a beer, and let the Weber do its work, cooking the bird in its enameled-steel cocoon until the meat is tender, juicy, and infused with mouthwatering hints of smoke.
The prototype for this midcentury marvel was created in Chicago in 1952, when George Stephen, an engineer at Weber Brothers Metal Works, an outfit that supplied the Chicago Park Service with metal buoys for the city's harbors, concluded that he'd burned one too many roasts in the brick fireplace he'd constructed behind his house. Looking for an outdoor cooking vessel that would allow him to control the flow and intensity of heat more easily, Stephen cut a steel buoy in half, added a few adjustable vents, fitted one half with a rounded lid, welded a handle to it, and set the contraption on a tripod. Intent on convincing the public of his invention's merits, Stephen loaded the grill into his station wagon and went on the road to spread the Weber gospel.
"It's the story of the American entrepreneurial mind's thinking, 'I can do better,'" said Stephen's son, Jim Stephen, CEO of Weber-Stephen Products, the Palatine, Illinois-based company that his late father went on to found. The company has since expanded its line, adding fancier—and, in some cases, fanciful—models of both the charcoal and gas varieties, but we've never seen much need to change such a near-perfect invention.
73, 74, 75, 76, 77, 78, 79, 80, 81, 82 American Bounty
We live in a golden age of food shopping. In addition to the countless small specialty food shops that satisfy our yearning for choice and quality, supermarkets—those American icons of abundance—are better than ever. The best, we think, are independently owned or belong to small chains that are deeply rooted in their communities. Here are ten of our favorites.
BERKELEY BOWL Berkeley, California If the produce department at Berkeley Bowl isn't the nation's largest, then it's certainly the best. The selection of heirloom tomato varieties alone—50 to 80 on a typical day—makes this Bay Area market worth traveling for. Owner Glenn Yasuda, the son of the farmers who opened Berkeley Bowl in 1977, moved the store to a larger location in 1999 and made its other departments—wine, bulk goods, breads—as impressive as the produce.
BRIGHTON BAZAAR Brooklyn, New York With an in-house bakery, a frozen-food section packed with pierogi and pel'meni (dumplings), and a deli stocked with dozens of types of sausage and smoked fish, the six-year-old Brighton Bazaar could be called the nation's high temple of Eastern European home cooking. Located in Brighton Beach, home to the country's largest population of Russian-born residents, this supermarket also boasts a kaleidoscopic array of prepared foods.
JUNGLE JIM'S INTERNATIONAL MARKET Fairfield, Ohio Jim Bonaminio, who started Jungle Jim's in 1971 from the back of a truck he drove from neighborhood to neighborhood around Cincinnati, has built his business into a 300,000-square-foot culinary theme park complete with a fish farm and a full-service butcher counter that offers just about every meat imaginable, including lambs' and cows' heads and kangaroo. Vast sections of the store are dedicated to Latin American, Indian, Philippine, and kosher goods.
MI PUEBLO San Jose, California The first Mi Pueblo supermarket opened in the shell of an old meat market in San Jose in 1991; owner Juvenal Chavez now runs 11 California branches that sell everything a Latin American food lover might crave. At his newest and largest San Jose store, for example, you can choose from several cremas (similar to French creme fraiche), each reflecting a different regional style; buy fresh chickpeas; and dine in the cafe on outstanding carnitas (roasted pork) tacos and half a dozen kinds of aguas frescas (fresh-fruit drinks).
MT SUPERMARKET Austin, Texas In 2006, with the opening of Austin's Chinatown Center mall, the Ly family transformed its 22-year-old My Thanh Oriental Market into the 55,000-square-foot MT Supermarket. With dozens of varieties of Asian greens and ultrafresh (as in alive) seafood, MT's expanded offerings reflect the diverse cuisines of the city's growing Vietnamese, Indonesian, Chinese, and other Asian communities.
PHOENICIA SPECIALTY FOODS Houston, Texas The Lebanese emigre Zohrab Tcholakian opened Phoenicia Deli in 1983 and a small grocery store offering products imported from the Middle East in 1992. Three years ago Tcholakian expanded the store to make it a football field-size supermarket (the deli, justly famous for its shawarma sandwiches, remains open across the street). Persian cucumbers? Check. Twenty-foot olive bar? Check. Fresh dates and green almonds? Greek, French, Bulgarian, Romanian, and domestic feta? Fresh-baked pita, lavash, and barbari? It's all here.
POMEGRANATE Brooklyn, New York They've got house-made mozzarella, hand-stuffed olives, prime rib dry-aged on-site, and a whole freezer devoted to gefilte fish. Pomegranate is, after all, one of the largest kosher supermarkets in the United States. Newly opened in the heavily Orthodox Jewish neighborhood of Midwood, Brooklyn, it's destination shopping for the observant as well as for those who simply insist on high-quality ingredients, whether matzo meal or organic yellow carrots.
SEDANO'S Miami, Florida A trusted source for Cuban products since 1962, Sedano's, now the country's largest independently owned Latino supermarket chain, is reaching out to second-generation Latinos and to a broader range of cultures with bigger, brighter new or remodeled locations selling everything from Andean purple corn flour to Colombian papas criollas (potatoes in brine). The stores inspire fierce loyalty with their impressive meat selection, including custom cuts and whole pigs, cooked and uncooked.
UWAJIMAYA Seattle, Washington What began in 1928 as a small business selling fish cakes out of a truck now sells more than 20,000 Asian products, from fresh and dried noodles to fish and chile sauces, in its sprawling flagship store. Offerings like made-to-order sashimi platters, brown rice California rolls, produce grown on nearby farms, and Wagyu beef reflect a very particular convergence of global and local foodways.
THE WEDGE Minneapolis, Minnesota In the age of Whole Foods, how does a 1970s-era, member-owned food co-op survive? It so happens that The Wedge boasts higher sales per square foot than most mainstream supermarkets, and it's no wonder: the selection and quality of the products is extraordinary, and with its busy schedule of classes it functions as a culinary community center. The Wedge also offers online shopping for some products, fosters deep relationships with local growers through its distribution arm, and even sells produce grown on its own organic farm.
83 Pride of the Pantry
From ratatouille to chicken tikka masala, beef bourguignon to steak pizzaiola, tomatoes play an integral part in many dishes we love. But prime tomato season is short, way too short. That's why we rely on—and, often, actually prefer—WHOLE CANNED TOMATOES. These pantry staples, a bulwark against winter blandness, are the epitome of year-round dependability and deliciousness.
We're not talking about the machine-diced ones, which lack succulence and substance, or canned tomato puree, which too often tastes insipid. We crave whole, peeled canned beauties, plump and firm and picked at the peak of ripeness. We love that they're ready to use—no blanching or peeling required. Need a quick pasta sauce? Pull a few tomatoes out of the can and crush them in your hand, letting the pulp slide through your fingers into the pan. Fancy a quick, tasty curry? Caramelize a few crushed whole tomatoes in clarified butter or oil along with whole spices, garlic, ginger, and meat. On nights when we're in need of comfort, fast, it's calming to know that with one whirl in the blender or the Cuisinart, we can have the start of a thick, fresh tomato soup. We add black pepper, lemon juice, and Tabasco to the juice of canned tomatoes for a bracing morning drink, or splash in some smoky oloroso sherry for an afternoon alternative.
Our supermarket shelves are lined with 28-ounce and 32-ounce cans of whole tomatoes packed by producers using different varieties of the fruit and various canning methods. Some of the tomatoes are round globe tomatoes; some are oval plum varieties. Some are as big as a fist; others are petite and cherrylike. We've met many cooks who swear by the Italian san marzano, a supersweet variety of plum tomato grown mainly in the volcanic soils around Mount Vesuvius, and others who prefer the vibrant, intensely flavorful organic tomatoes grown in California's Central Valley and canned by Muir Glen (we're particularly fond of its smoky-tasting fire-roasted variety). We've always had a special affection for Red Pack tomatoes, whose oversize, firm fruit can be sliced neatly and mingles delightfully with mayonnaise and iceberg lettuce for a one-of-a-kind BLT sandwich. Personal predilections and cravings aside, one thing remains beyond debate: no matter the brand, at their best canned tomatoes have a sunny essence that sparkles on its own.
84 SOULFUL SUPPER
**One-pot rice dishes can be remarkably adaptable and easy to cook. Our favorite is **PERLOO, from the Lowcountry of South Carolina, a cousin of jambalaya that traces its origins to the family of Middle Eastern dishes known as pilafs. Like other rice-based specialties, such as arroz con pollo and biriyani, perloo can be made with a wide range of ingredients, in this case country ham and shrimp.
85 DEEP SPICE
**Intensely seasoned curry pastes are the fulcrum of countless Thai dishes, from chicken curries enriched with coconut milk to fried rice and soups. One of the most flavorful and versatile versions is gaeng pet, or **THAI RED CURRY PASTE, a vivid-tasting blend of toasted spices, such as coriander and cumin, that are traditionally mashed in a mortar with garlic, shallots, cilantro, lemongrass, and chiles. Although store-bought brands have their merits, nothing beats the fresh, homemade version. With a stash of Thai red curry paste in the refrigerator, we're reminded that its uses are multiple and in no way limited to Southeast Asian applications. We slather it over chicken wings or fish filets before grilling or broiling them, mix it with oil and rice wine vinegar to make a marinade for steak, and spike mayo with it to add verve to sandwiches. We've even been known to stir it into Western-style meat stews and ragus, to add a complex note of fire and spice.
86 Performance Artist
To watch SAMUEL LLOYD KINSEY cook is to marvel at the fact that he has never worked in a professional kitchen. "I learned from my friends and family," said the New York City-based opera singer. And yet, Kinsey's home cooking is anything but amateur; his style is energetic, creative, and informed by tricks of the trade. His batterie de cuisine includes pieces of blue slate borrowed from a friend's backyard ("It's better than a baking stone for pizzas") and a restaurant-quality vacuum-packaging system, which he uses to seal meats in plastic for sous-vide cooking, the much ballyhooed restaurant technique. Kinsey is fanatical about ingredients, too. "A friend brought back this mullet bottarga from Sicily," he said of a hunk of preserved fish roe, which he shaved atop plates of spaghetti tossed with a sauce of caramelized fennel, tomatoes, and hot chiles—just one of the six courses (among the others was a lasagne with a ragu of chicken hearts, gizzards, and livers) he prepared recently for a pasta-themed dinner. It all made for a soaring kitchen aria.
87 Best Bottles
**We've always appreciated the way the right drink complements a meal, but we're fascinated with how **COOKING WITH WINE, BEER, AND SPIRITS transforms foods by introducing new flavors and enhancing the ones already there. Here are the bottles we cook with the most.
Domaine de la Pepiere 2005 Muscadet White wine boosts the sweetness and acidity of dishes. We love this crisp, unoaked muscadet from the Loire Valley, which adds hints of lime, flint, and herbs to poached salmon, risotto, or steamed mussels .
Charles Shaw 2005 Merlot An all-purpose red cooking wine, whether used for a pan sauce or marinade, should be well balanced, lightly oaked, and affordable. This one, bottled for the Trader Joe's chain and dubbed "Two Buck Chuck", hits all those notes.
Anchor Porter Beer supplies a rich and zesty backbone to many dishes, from boiled bratwurst to beef stew. We love this dark porter from San Francisco for the chocolate, molasses, clove, and coffee notes it adds to marinades, chilis, and braised short ribs.
Bodegas Dios Baco Amontillado Sherry Fortified wines, from port to madeira, round out intensely flavored dishes and add depth to mild ones. This barrel-aged sherry lends flavors of vanilla, oak, and butterscotch to baked beans, pan sauces, and sauteed mushrooms.
Pernod Infused with licorice, star anise, and other aromatics, this sweet liqueur behaves a bit like an extract—a pure expression of flavor. A dash of it in marinades, dressings, and seafood dishes, like bouillabaisse, the classic French stew, imparts a lovely fragrance.
88 In Her Element
When MEI TECK WONG, a 64-year-old housewife living in Singapore, prepared dinner for us recently, we witnessed a natural, intuitive kind of home cooking that was far from the showy antics we've become accustomed to watching on television food shows and seeing in restaurants the world over. As Wong pulled from her refrigerator a bulb of garlic, a bunch of crisp Asian greens called choy sum, and a nub of ginger, the conversation flowed so easily in the kitchen that we were surprised at how quickly our meal appeared before us. The food (sliced pork tenderloin stir-fried with ginger and served with the choy sum) was of a purity and simplicity that made the ingredients shine. It reminded us of why we love Singaporean cooking so much—and why we love to cook in the first place.
89 Cook's Library
A vegetable reference guide is important in today's kitchen for explicating the ever growing, ever more worldly array of produce that is available at groceries and farmers' markets. Elizabeth Schneider's illustrated encyclopedia VEGETABLES FROM AMARANTH TO ZUCCHINI (William Morrow, 2001) is that and much more. Schneider covers vegetables from dozens of families, from broccoli and squash to avocado and eggplant, providing not only historical and culinary reference information but also vivid color photographs showing vegetables presented side by side and, in many cases, sliced open to reveal the grain and color of their flesh. The photos are accompanied by wonderful descriptions of the ingredients' taste and texture, and the book's 500-plus recipes, for dishes like radicchio risotto, silky cardoon soup, and plantain and pork fried rice, are not only reliable but expertly chosen to demonstrate the characteristics of all these vegetables in their raw and cooked states.— Nach Waxman
owner of the Kitchen Arts & Letters bookstore in New York City
90 Winter Warmer
**The hearty, meat-studded dish from southwestern France known as **CASSOULET may be the ultimate one-pot meal. A slow-simmered mix of beans, pork sausages, pork shoulder, pancetta, and duck, the specialty takes its name from the earthenware cassole in which it was traditionally made. The crisped bread crumb crust atop this version contrasts appealingly with the hearty stew beneath.
91 Raising the Bar
As far as we're concerned, the ability to make an elegant, well-balanced cocktail is an essential component of the home cook's repertoire. Here are four time-honored bartender's techniques that will serve the home mixologist well.
The flame: Applying fire to citrus oils enhances their flavor and adds toasty caramel notes to whiskey- and gin-based cocktails like the rob roy and the tuxedo. Cut a thick, 1" circle of rind from a fresh orange. Light a match and hold it above the glass; grip the piece of rind by the edges, hold it skin side down above and to the side of the match, and sharply pinch the peel. This will send a spray of oil through the flame and onto the surface of the drink.
The stir : Clear drinks like martinis and manhattans should be stirred, not shaken (which causes bubbles and froth to form). The key is to stir long enough for the ice to chill the ingredients thoroughly (the glass should feel very cold) without watering it down—a full 30 seconds isn't too long. Grip a bar spoon lightly near the top of its shaft and, moving only your wrist, gently but firmly swirl the spoon around.
The crush: Cracking ice cubes into jagged pieces increases their surface area, allowing them to melt faster and mellow the alcohol's bite while also making the drink easier to stir. The most efficient—and dramatic—way to crack ice is to place the cubes in a sturdy canvas bag and whack them a few times with a mallet.
The shake: As a general rule, cocktails that contain heavy ingredients like eggs, dairy products, fruit juices, or cream liquors should be shaken so that you get a lovely froth with a minimum of effort. Most bartenders do so using a Boston shaker: a pint glass topped with a metal tin. Fit the tin over the glass and give it a tap to seat it firmly. Holding the shaker and glass, shake them vigorously end to end for ten seconds. Give the glass a thump with the heel of your hand to break the seal before removing it.
94,95,96,97,98 99 Vinegar
Acidity—the cardinal quality of vinegar—is as vital as saltiness and sweetness are to the flavor balance of foods. A good vinegar imparts other important qualities, too, such as fruitiness, depth, and fragrance. We make sure we have at least half a dozen to choose from; below are our six favorites.
Rich, assertive malt vinegar is a classic ingredient in pickles as well as in Indian vindaloos. The English, who wouldn't eat fish-and- chips without it, swear by SARSON'S MALT VINEGAR, and so do we.
TRADITIONAL ACETO BALSAMICO OF MONTICELLO is a rich, woody balsamic vinegar from New Mexico that is aged in oak for eight years. It's extremely pricey but worth the splurge.
Unfiltered, unpasteurized, and fermented in French oak for more than two years, VERGER PIERRE GINGRAS NATURAL HANDCRAFTED CIDER VINEGAR, from Quebec, brings true apple flavor to dressings, glazes, and chutneys. It's the finest cider vinegar we've tried.
With its bright tanginess, coconut vinegar adds zest to ceviches and other marinated seafood dishes. Our favorite, DATU PUTI COCONUT VINEGAR, from the Philippines, also works well in vinaigrettes.
Austrian-made GEGENBAUER TOMATO VINEGAR begins as pure tomato juice and is fermented and aged like a fine wine; it has the concentrated flavor of a luscious ripe tomato. We use it to bolster tomato salsas and drizzle it over salads.
Zhejiang, on the eastern coast of China, is famous for its black rice vinegars, including GOLD PLUM CHINKIANG VINEGAR. Traditionally used as a dipping sauce, Gold Plum has a meaty, sweet-savory character that makes it a natural for braises and a terrific substitute for balsamic.
100 Feeding the Firemen
**"You'll never starve at a firehouse," says **JOHN MCFARLAND, 62, chief of the Arcata Fire Protection District in Humboldt County, California. McFarland has become an expert at adapting home-style recipes to satisfy the dozen or so firefighters who sit down to the department's communal dinners on any given night. We admire the love and care McFarland puts into his cooking, which brings his ad hoc family flocking to the table again and again. An all-time favorite is his chicken enchilada casserole, topped with a bubbling jack-and-cheddar crust and green chiles and usually served with a big tossed salad and strawberry lemonade. Another is his pineapple upside-down cake, a dish he learned to make from the previous chief, who was active in the department until the age of 93. McFarland's rendition of the dessert has garnered praise even from the department's old-timers. McFarland insists that there's no big secret to firehouse cooking: you just make good food, and plenty of it.