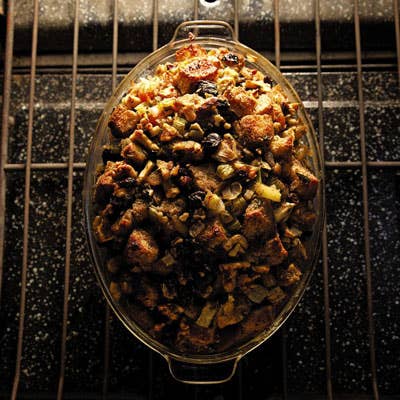 Every year, I prepare a Thanksgiving dinner for 24 people at my mother's condo in Hollywood, Florida. It is a healing and horrifying event for me, full of joy and spite. You see, my mother, who has weighed 119 pounds for as long as I can remember, taught me from a young age to be afraid of food. Not all food, but certainly all foods with sugar and fat in them. I think my first word was Mommy and my second was skinny. Needless to say, she is an awful cook because she doesn't eat anything—not anything that normal people would want to eat.
Despite her hang-up (or maybe because of it), I actually like food. And I like to cook. I started to appreciate cooking in college thanks to a professor who was famous for his dinner parties. He was one of those borderline-inappropriate teachers, full of menace, intelligence, and sexuality. At one of his soirees I'd asked how he learned his craft and he said by reading cookbooks. Then he hit on me. That's it! I was inspired—not to be gay, but to cook. The idea that I could do something giving and seemingly selfless and still be the center of attention seemed magical. So, I started cooking for people (or, as a girlfriend recently accused me of doing, cooking at people). That's why I make such a big deal about Thanksgiving, flying in, from New York or Los Angeles or wherever I'm living at the time, to cook the holiday dinner at my mother and my extended family.
Last year I went all out. I got to her house a few days before the big meal to start stocking up: fresh-killed turkey, extra turkey parts to enrich the stock for the gravy, potatoes (sweet and regular), cream, sour cream, whipping cream, butter, sugar, flour. I filled my mother's fridge with some of her mortal enemies. She dealt with it. She likes having me there. She'd even had her one knife sharpened and borrowed a carving set.
I refused her help and tried not to be annoyed by her questions.
"Can't we use low-fat sour cream?"
"Why don't you use half the amount?"
"What's the point? It's once a year we eat like this!"
"Will you make a few Brussels sprouts without butter?"
"Fine. I can do that. Now, please leave me alone. I am cooking."
The apricot-walnut stuffing is the key to my Thanksgiving dinner. It is a recipe passed down from my college professor. It is rich and soul-satisfying. It makes an impact. It is talked about. I cook the stuffing outside of the bird.
So, last Thanksgiving, in the crucial moments before serving the meal, I put the stuffing in the oven next door to brown the top. (Mom's neighbors are snowbirds; she has the keys to their condo, and I took advantage of the second oven to prepare double the amount of food.) I ran over to my mom's to strain the Brussels sprouts. I went back next door to find a smoke-filled kitchen. I pulled the stuffing out. It was black and smoldering. I stormed back to my mother's kitchen and said, "We're screwed. Everything is ruined. Send everyone home." She went next door with me and tried to calm me down. I paced around screaming, "What's the point? Throw it away. The whole dinner is destroyed!"
My mother said, "Scrape the burnt off the top. Stop making a production." I wanted to make a production, the Marc's Thanksgiving Dinner Is Perfect production.
"What do you know about food?" I said. "Who is going to eat this?"
"So what?" she said. "You're being a baby."
She was right. I was being a baby. I pulled some of the charred stuffing off and I set out the food. No one noticed anything wrong. The dinner was a hit. My relatives took huge helpings of mashed potatoes (my fluffiest yet) and commented on the juiciness of the bird. They went back for seconds and thirds of the stuffing. While I savored each bite and every compliment, my mother sat there across the table with her plate of plain Brussels sprouts and some of the charred stuffing.
Halfway through the meal, she said: "You know what, Marc? The burnt top is the best part." —Marc Maron, stand-up comic and host of the podcast WTF with Marc Maron, at WTFpod.com