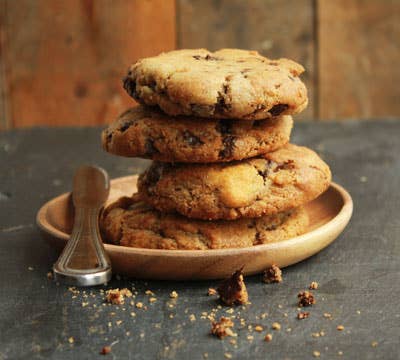 Culture
The Anytime Chocolate-Chip Cookie
I'm a strong believer in cookie moments. For any problem, any broken heart, and any occasion, there is a cookie. You wouldn't give your best friend a head of lettuce on her birthday, or hand a cup of gazpacho to a trick-or-treater, but make up a batch of crunchy sugar cookies, or gooey chocolate drops, and you're a hero.
But you don't need an occasion to go for the brown sugar and flour. Christmas may have its gingerbread, Valentine's Day may have its iced sugar cookies, but all those other moments deserve just as many cookies, too. And what cookie is perfect all the time? Chocolate chip, of course — it's the unmitigated, perfect, cookie-for-all-occasions cookie, the crowned king of cookiedom.
For me, the perfect chocolate chip cookie comes from one particular recipe. Soft, gooey, and sweet, my mom used to make these cookies for me when I was a kid and I was feeling down, or just needed something to make an otherwise ordinary day feel special. Like me, she was a strong believer in the cookie moment, and she was also more than happy to give me the recipe. With this cookie in my hand (and maybe a cold glass of milk in the other), even the rainiest, grumpiest, foulest days are redeemed — and the good days are made even better. I make these cookies so often that I remember the recipe better than my own phone number. Make a batch yourself and have some now — and later — and after that, too! This is why we make cookies by the dozen, after all.