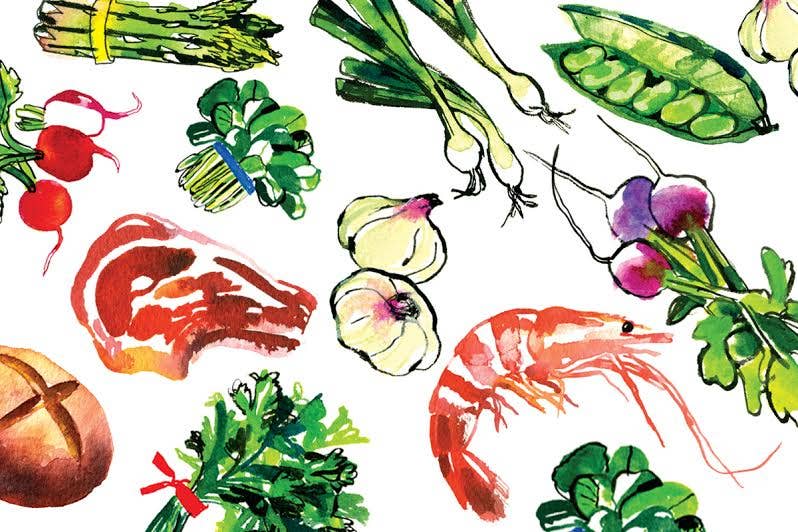 Culture
The Art of Eating
At Chanterelle's, the menus constitute a visual time capsule of New York's creative life over the past 30 years.
In 1979, when David and Karen Waltuck opened their first restaurant, Chanterelle, in the SoHo neighborhood of New York City, the area was home to a burgeoning art scene. Soon Chanterelle not only earned the accolades of critics and New Yorkers at large—thanks to David's innovative, French-inspired cuisine and Karen's warm and welcoming demeanor in the dining room—but also became a sort of community center for local artists, a place to celebrate an opening or forge new partnerships.
SoHo has changed since then, but over the years the Waltucks have found a way to preserve the neighborhood's creative legacy: on the covers of Chanterelle's menus, which feature a rotating collection of original works on paper donated by local artists. The sculptor who goes by the name Marisol designed the inaugural cover in November 1979: a spare and striking sketch of a flower. Since then, the collection has grown to comprise more than 60 works by a veritable who's who of late-20th-century artists from a number of milieus: the choreographer Merce Cunningham drew a diagram of a tango, the poet Allen Ginsberg contributed a whimsical photograph of a young girl, and the painter and sculptor Keith Haring offered a line drawing. Viewed together, the menus constitute a visual time capsule of New York's creative life over the past 30 years.
Chanterelle moved from its original SoHo location south to TriBeCa in 1989, and today retired covers line the walls of the restaurant's current home in an artistic reinterpretation of the time-honored "wall of fame". The Waltucks won't name their favorites, insisting that each one is cherished because it represents for them a particular moment in time. The restaurant still introduces a new menu cover every six months; a design by the painter Chuck Close will grace the restaurant's 30th-anniversary menu this November. As David Waltuck puts it, "Just like we constantly change the food we serve, changing our menu covers keeps things fresh and alive."