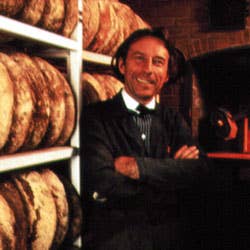 Culture
The Baker's Beautiful Life
A reluctant apprentice grows up to find poetry and inspiration in the bread he bakes.
Born to a baker, Lionel Poilane spent a disconsolate youth confined by tradition to his family's small bakery, nestled in the rue du Cherche-Midi, a narrow street on the Left Bank in Paris. Like many bakers' sons at the time, Poilane was taken out of school while still young to begin his apprenticeship. He was just 14; the year was 1959. He languished, he says, from dawn until dark, in a white-dusted basement, while colorful crowds passed overhead towards the galleries, publishing houses, and cafes of Montparnasse.
"I didn't want to be trapped in this intellectual cupboard, this underground universe, completely removed from the outside life," Poilane remembers. "I wanted human contact." At around 20 years old, he found the solution. "If I could not leave my oven to get out into the world, I'd bring the world to my oven," he says with a satisfied chuckle.
His vision, even at that age, was to show that bread is a main ingredient in the culture, politics, philosophy, and sensual experience of any civilized society. "I learned that baking bread has a connection with the world!" he says. With this revelation came a passion for his trade, and ever since, Poilane has dedicated himself to baking a bridge between the past and the future.
Sitting in his small office behind the bustling shop, beneath an elaborate, six-armed bread chandelier that he conceived years ago with his pal Salvador Dali, he sips tea and contemplates the poetry of breadmaking. Paintings by lesser-known local artists, collected over the years, often in exchange for bread, line the walls. "Dali taught me about the relationship between bread and art," he says. "A sculpture in bronze does not have the same feeling as one in wood," Poilane explains. "Dali helped me understand that bread is a highly symbolic medium, the eternal symbol of life, and that working with it is very important."
Pain Poilane, in its classic form, is a heavy, four-and-a-half-pound miche or boule (round loaf), which was created by Poilane pere, Pierre, and first sold when he opened his shop on the rue du Cherche-Midi in 1932. Before Pierre died in 1993, father and son worked together closely. "During the last years of his life, he would bring me roses from his garden for my office," Poilane says quietly. And while business has expanded since he took over in 1973, the bread has remained the same. Under a thick, powdered crust, it's the color of rye but tastes of sweet sourdough. It is made of flour, salt, water, and a starter. "We use no yeast, no malt, no oil, no sugar—nothing," Poilane says. "Just tradition."
The taste of his bread caught on, and his distinctive crusty miches were soon shipped abroad, to places like Japan, Saudi Arabia, and the United States. Occasionally, Poilane hops a jet to visit his wholesalers, and to check out the world beyond his beloved ovens. "Not long ago on an airplane I ate a sandwich made of sliced white bread," he says. "It was very, very bad. It is a sort of reverse alchemy, what they did with the wheat. They took gold and made lead."
In 1970, Poilane opened a second bakery, in Paris's 15th arrondissement, to help meet the growing demand for his bread. It wasn't enough. Using plans drawn by his American wife, Irena, an architect whom he met during a visit to New York City in 1977, he built a high-tech bread works just outside of Paris. Completed in 1983, it houses 24 wood-burning ovens that turn out about 11,000 miches a day. They are identical in shape, texture, and taste to the few hundred loaves that are baked in the old ovens of his Parisian bakeries. Poilane insists on that.
The dough is made of pure, stone-ground wheat flour, a starter, a sprinkling of sea salt, and warm water. It's kneaded mechanically in vats, then left to rise in flat, linen-lined baskets. Master bakers supervise this entire process, then deftly slash the loaves with a razor blade (a baker's tradition that allows natural baking gases to escape and serves as a bakery signature), lift the hefty lumps of dough with wooden paddles, and slide them into the oak- and poplar-fired brick ovens. When warm, this bread is one of those exquisite tastes of France. A week later, it's still fresh, and maybe even better.
Poilane clearly loves his role of high-tech traditionalist. He speaks with passion, punctuating his points with a toss of off-the-shoulder hair. If he has the time, which is rare, he'll talk visitors back to the Biblical origins of bread and move through the centuries, lingering on the politics, the sexual symbolism, and the spiritual fundaments of baking.
In 1981, Robert Laffont published Poilane's first book, Guide de l'amateur de pain _(_Guide for the Bread Lover). "I have an engrossing passion for bread," Poilane stated in it. In 1989, he wrote Le Guide Poilane des traditions vivantes et marchandes (The Poilane Guide to Living Commercial Traditions), which has nothing to do with bread but with another of his passions—the survival of traditional crafts in France. It looks at, among others, people who make such things as thatched roofs, lutes, lead soldiers, and amulets to ward off the evil eye.
Away from the ovens, Poilane leads a reflective life, gardening, fly-fishing, and walking deep into the forests near his weekend place in Normandy. He's been an amateur astronomer since childhood. "Looking up at the stars gives me peace. I find that they put everyday life in perspective," Poilane says. He also reads all he can, from biographies of Jesuit missionaries to works by popular philosopher Deepak Chopra. And he spends time with his two daughters.
When his daughter Apollonia asked her father for professional guidance, Poilane told her she could be anything she wanted. She walked away a bit perplexed, he says. "Five minutes later, she came back and asked, 'Daddy, what if I were to be a baker in the morning and, in the afternoon, an architect, like mommy?'"
Poilane laughs, adding that he wouldn't discourage it.