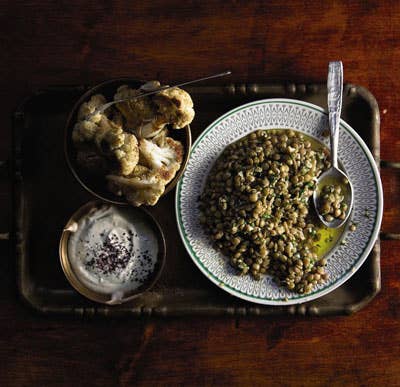 In late January 1984, my husband and I received an invitation to a dinner party in West Beirut, Lebanon, instructing us to come whether or not there was a lull in the fighting, which meant something like "rain or shine." We were to follow the lighted votives set along a certain street until they stopped at our hosts' building, whereupon more votives would be flickering on the stairs to lead us to the right apartment. Our hosts were native Beirutis who wanted to show us an evening of legendary hospitality in a city once known as "the Paris of the Middle East." We were with the press corps, as were many of the other guests. The dinner would be held after curfew, but we had press passes, and those who didn't were willing to venture out through the darkened streets in order to experience the joie de vivre and home-cooked cuisine of the Lebanese.
That night, the sky was crusted with stars and the red lights of tracer rounds. There had been fighting in and around the city for days or weeks or months or years, depending on whom you asked: shell fire, mortar fire, and street-to-street combat. It may seem odd to imagine going out to dinner under those circumstances, but the Beiruti desire to live fully despite everything was contagious. Tonight, "to live" meant to throw a festive dinner. On days when there was even a fleeting respite from the fighting, the streets would fill with marketgoers; umbrellas would snap open over carts piled with tangerines, dates, lemons, and spices, and the street cooks would set kebabs roasting on their grills.
This is how we found ourselves seated on cushions around a table made from carved wooden doors, very wide and long and lighted by dozens of candles. A traditional spread of mazas, or small plates, was set before us: cumin-dusted cauliflower served with tahini sauce, lentils in garlic and herbs, skewered lamb that was charred on the outside and pink within, pita bread hot from the griddle, hummus laced with sumac, purees of roasted eggplant and fava beans, and sardines crisped over a fire. Standing among the candles were bottles of Lebanese wine and, later, anise-flavored arak to be poured over water and ice. As the little plates were emptied, they were taken away and replaced by still more dishes. For dessert, we ate a custard resembling an orange-scented cloud.
Throughout the meal there was laughter and conversation, broken by silent, appreciative tastes, and there were also explosions, at first far away, and then nearer to our building. One of the guests raised her glass and pronounced that if the building was struck, she wanted to die very quickly, never knowing what had hit her, to which a Beiruti responded: "Do you not wish to feel everything? Even your own death?" There was a chiming of glasses touched together, more nervous laughter, and when the explosions stopped, we descended the stairwell, again by candlelight, and made our way back into the darkness. —Carolyn Forche, author of Blue Hour (HarperCollins, 2003)