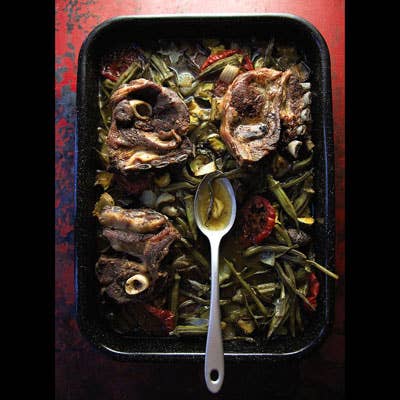 Culture
The Family Reunion
A meal is flavored with the past and future
I'm recalling a Sunday in the late 1970s when I was home from graduate school and the two sides of my family arrived at my parents' house in Tenafly, New Jersey, bearing dishes for a big meal. My parents, sisters and brother, cousins and aunts and uncle and I sat around the oval walnut table in the dining room, sunlight on the yellow walls.
My family originates from far corners of historic Armenia in the former Ottoman Empire, which today is Turkey. My mother's side, the Aroosians, is from Diarbekir, an ancient city in southeast Anatolia—dry, dramatic highlands through which the Tigris River runs. My father's family is from the Byzantine capital, Constantinople (now Istanbul), spread across the Bosporus strait, where Asia meets Europe. Such families never would have met, let alone married, had a great diaspora not occurred after more than a million Armenians were slaughtered by the Turkish government during the Armenian genocide in 1915. When our family got together for this Sunday afternoon dinner, both ends of the Armenian culinary map were represented.
Auntie Anna, my father's sister, a professor of French literature, had brought mediya, a Constantinople classic: mussels served at room temperature in their shells with a cinnamony stuffing of rice, onions, currants, and pine nuts. As we pried the shells fully open and ate those tender, tawny mussels, my mother's sister, my Aunt Gladys, a Wall Street businesswoman, brought out her muhammara. A walnut dip made with hot and sweet peppers and pomegranate juice, muhammara is a specialty of the Armenian and Arab culinary zone that once rolled from Diarbekir south to Syria. We scooped it up with paper-thin pita wedges, and the sensuous sweetness of the mussels played off the earthy, smoldering walnuts.
The next course was kuefta, a spiced lamb patty that comes in various shapes and flavors as it migrates from Anatolia to the Levant; the kuefta of southeast Anatolia, by my senses the best, was new to the Constantinople half of the family. Bulgur and ground lamb are worked by nimble hands into elliptical shells about the size of a hamburger. A stuffing of lamb, onions, and parsley is sealed within the shells, and then the kueftas are boiled. When you lower your fork into one, the juices of that stuffing pop. Next, my mother brought out on a big white platter lamb stew that had been oven-baked with green beans, eggplant, okra, zucchini, tomatoes, fresh parsley, onions, and garlic so slowly that the onions had caramelized and the meat had fallen apart. It was served with bulgur and madzoun (yogurt). Every plate was brimming. Some drank red bordeaux, others beer, but most drank tahn—yogurt mixed with water, served over ice with a few mint leaves. I sat watching my family and noticed there was something eerie about this meal. I could hear the tings of silver against porcelain, the clinks of wineglasses, the occasional "Would you pass the platter?" It was odd because this was a family that lived at high decibel levels and was given to opinionated disagreements, enthusiastic expressions of joy, affectionate embraces. But today the food had taken over.
Then my Great-Aunt Astrid, who had spent her childhood in Constantinople, came out with a heaping tray of fish plaki. The mild, white halibut filets were cooked with white beans, onions, carrots, fresh parsley, and a fair squeeze of lemon. It was my very first taste of this dish, arriving at a moment when I was beginning to embrace the dishes of my heritage, and it came as a joyous affirmation of roots as well as the new age. To finish it, my mother came out of the kitchen with a tray of kadaif, a shredded-phyllo-and-walnut dessert—a classic that spans the length of Armenia. What struck me that day was how the two poles of Armenian cuisine coming together was an odd emanation of a genocidal history. In its aftermath, such a feast was a small affirmation of a culture's continuity and stubbornness, and of the hybridized creations that give vitality to the New World.