Blue Skies Berry Farm of Brooklyn, Wisconsin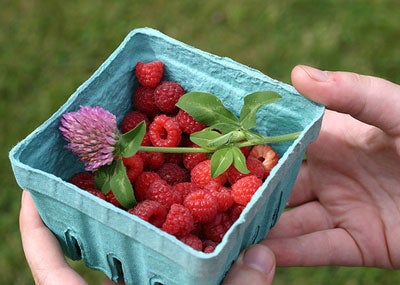 Blue Skies Berry Farm is a "farmette" with a cause: "My goal is introducing kids to agriculture and organic farming," say Paul Maki of the four-acre organic farm that he and his wife operate in Brooklyn, Wisconsin. Providing jobs for kids in rural areas where most traditional farms offer little in the way of education, Blue Skies prides itself on turning young people on to healthy eating. The farm also provides its community with a wealth of specialty and heirloom vegetable varieties, the crown jewel being its you-pick raspberries.
Each summer, families come in droves to pick their own berries on the farm. The Makis also sell produce at the East Side Farmer's Market in Madison, but for tourists and locals alike, picking your own can't be beat. Fresh raspberries are full of vitamin C and intensely sweet alone, but try making jams, compotes (which go great with rice pudding), or sweet sorbets with the overripe ones, to savor throughout the year.