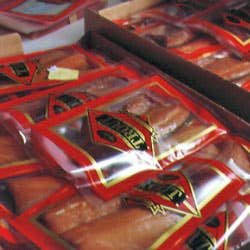 Culture
The Flavor of Maine's Woods
When owls and otters chased him out of fish farming, Des FitzGerald started smoking.
It was some time after otter number four took up residence in the trout stream that Des FitzGerald decided to branch out from fish farming and try smoking seafood as a sideline. "We were having a disaster a month," he recalls. "A great horned owl, raccoons, minks, and then the otters—all gobbling up trout like cheeseburgers. I fell into that old farmer's trap: This was a bad year; next year will be better." And never mind the predators. "Some years were so bad that we lost up to 8,000 fish to disease. And we never made any money."
So, FitzGerald became the force behind Ducktrap River Fish Farm—no longer a fish farm at all, but an extremely successful high-end smoker of seafood located on the outskirts of Belfast, Maine, a coastal city 100 miles north of Portland.
FitzGerald was born and raised in Washington, D.C., spent a few months after high school on a commercial salmon-fishing boat in Alaska, studied biology at Harvard, took time off to work on a trout farm in California, and then returned to graduate in 1974. After graduation, he turned down a job with the U.S. Department of the Interior, but later went to work for an environmental group in Maine.
FitzGerald had spent summers in Maine as a child, and, for as long as he could remember, had dreamed about opening a trout farm there. Finally, in 1978, he found the perfect spot—the sleepy seaside town of Lincolnville, a couple of burgs south of Belfast. There, the Ducktrap River Fish Farm was born.
At first, FitzGerald had enough to do merely trying to keep his fish alive. But after a few years, just to see what would happen, he started experimenting with a homemade smoker—a funky, patched-together stove of sheet metal and cement connected by a pipe to an outhouse-size smokehouse with a louvered door.
He began smoking trout for friends, setting his alarm for three most mornings to check the stove. In 1982, not long after the appearance of otter number four, FitzGerald decided to get serious, and went commercial with Ducktrap's smoking operation. That year, he turned out 50 to 100 pounds of delicate smoked trout a week. The following year, he bought a somewhat larger, commercial rig for $10,000. Today, Ducktrap smokes around a million pounds of fish and shellfish annually—three dozen kinds, including trout, salmon, scallops, mussels, shrimp, mackerel, and dolphin-safe tuna.
Ducktrap didn't take off right away. But, once the trout caught on, even greater success followed with the smoked mussels. FitzGerald had the idea of smoking these plump Maine bivalves—which had never been done before, he says—and suddenly, people who had shunned mussels all their lives were gobbling up these chewy, earthy morsels with great delight.
Then, in 1986, FitzGerald tucked packages of the mussels, his best smoked salmon, and a few other items under his arm, and paid a visit to Balducci's, a venerable gourmet food store in New York City. The manager raved about the Ducktrap line and shoved aside other brands in the refrigerator case to make room for it. "It was the first time our fish was measured against the world," recalls FitzGerald.
Ducktrap's smoked seafood and fish pâtés are now sold all over the United States—in specialty markets and upscale chains in major cities, as well as at more modest supermarkets and fish shops throughout the country. You'll also find it on the menu at elite restaurants and at noted hotels.
Ducktrap stopped trout farming entirely in 1988, after its (then) six employees convinced their boss to ditch that part of the operation. Ducktrap moved to Belfast in 1991, occupying a smallish, spruce-green-and-cream-colored plant in what passes for an industrial park in Maine.
What makes Ducktrap's smoked seafood such a hit is its flavor, pure and simple. Part science, part art, part instinct, smoking requires a peculiar alchemy. "We spent a lot of time on smoking techniques," FitzGerald says. "We threw out a lot of fish. We weren't interested in coming in on the middle or lower level."
Ducktrap shuns food coloring, nitrates, and chemical preservatives. Instead, it relies on a curing rub of brine, herbs, spices, and dehydrated Sucanet—a natural sugar cane juice. (Most smokers use brown sugar, says FitzGerald.) Some fish go through as many as five temperature changes in the course of smoking.
Of course, the fish are of high quality to begin with. Ducktrap uses no frozen salmon, preferring farm-raised whole fish from a couple of hours up the coast. Scottish smokers might carp at farm-raised salmon, but FitzGerald says it's the only choice in this era of overfished seas. Indeed, eaten on buttered brown bread with a scattering of capers, Ducktrap's hand-sliced Kendall Brook Eastern Smoked Salmon, which takes 20 hours to make, is an epiphany. Its belly and tail are trimmed so that the slices are taut, and all imperfections are erased by a white-coated, goggled employee who removes unsightly scales and blood spots.
Ducktrap's famous mussels come from Cape Split, way "Down East" near Jonesport. Small, sweet Maine shrimp are fished on the coast near Belfast. Trout now arrives, whole, on ice, from farms on Idaho's Snake River. Four-foot-long sturgeon, one of the largest fish Ducktrap smokes, comes from the Columbia River in the Pacific Northwest. Yellowfin tuna is caught off the West Coast.
Before FitzGerald tried to smoke salmon commercially—it's the trickiest of fish to do right—he journeyed to England and Scotland to study smoking methods there. Scottish salmon tends to be saltier than American, and is smoked almost exclusively with oak. FitzGerald says that he borrowed the basic technique and altered the process to suit his own taste—cutting back on salt, for example (Ducktrap uses the minimum amount required by the FDA). The resulting salmon is less pungent than the Scottish or Irish variety, and has a fuller flavor than the Scandinavian.
Ducktrap's real secret is the hand-milled, aromatic, Maine wood chips that smolder in its smokers—wild cherry, apple, red oak, and sugar maple, in combinations specifically designed to enhance each kind of fish. Maine shrimp, for instance, are smoked mostly with cherry, which produces a very mild, sweet flavor. Mackerel, a real fish eater's fish, is hot-smoked with mostly oak and maple, a combination that stands up to its assertive taste.
Believing success is all in the details, FitzGerald now buys his smokers from England. There, seafood stoves are specifically designed as such; many of the fish smokers sold in the U.S. are adapted from meat-smoking machines. A lot of Ducktrap's cutting tables, where the salmon is fileted, are also custom-made. FitzGerald even pays close attention to packaging. When you order, say, a sampler box of smoked tuna, trout pâté, and Creole catfish, you can get it in a white pine crate that is hand-crafted in western Maine, with the Ducktrap trout logo branded on it and a sprig of Maine balsam inside. The ever-enterprising FitzGerald has even added sauces and recipes to the company's website.
And otter number four? He's probably still eating trout.