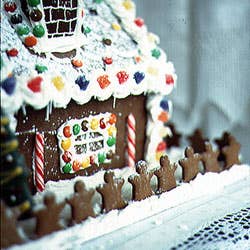 Culture
The Gingerbread House Is Reconstructed—Again
From a childrens' fairy tale to a work of art, the gingerbread house is a playground for the imagination.
The gingerbread house, bedecked with colorful gumdrops and candy canes and covered with icing "snow", was probably first created in Europe in the early 1800s, shortly after the Brothers Grimm wrote down the classic fairy tale about young Hänsel and his sister Gretel—who, as you may recall, were lured by the irresistible goodies that decorated the exterior of an evil witch's house in the forest. The pastime of reproducing that little house gained popularity after the success of Engelbert Humperdinck's 1893 opera "Hänsel und Gretel", based on the macabre fairy tale.
Today, that rustic house in the woods has taken on much grander dimensions. How-to books on the subject, prefab kits, and gingerbread-house contests seem to suggest that gingerbread men must live in meticulous, multistory Victorian mansions with clear sugar windows—if not in full-scale gingerbread châteaux.
My granddaughter and I, on the other hand, were just as happy with the classic woodland cottage we baked and built together one very messy winter day, gluing walls and ceiling together with a confectioners' sugar "cement". If we hadn't consumed so much gingerbread during construction, we could have made a guest house, too. I predict that, as usual, we'll build one again this year, and probably again the year after that.