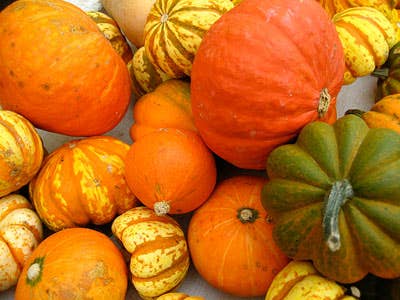 Culture
The Great Pumpkin Shortage
Many parts of the country are facing a scarcity of pumpkins, but home cooks have alternatives this holiday season.
The Internet has been atwitter recently with news of a pumpkin shortage running afoul of the upcoming Halloween holiday. Not only might jack-o'-lanterns be an endangered species, but there are many areas in America—especially in the Midwest--where bakers are worried that this year's meager supplies of canned pumpkin won't keep up with holiday demand.
"This has been an especially challenging year weather-wise for all kinds of crops," said Susan Futrell, a communications manager for Red Tomato, a Massachusetts-based farmers' network. According to Futrell, the 93,000 acres of pumpkins planted in the U.S. have been hit this year by "everything from summer hail and cool, wet conditions to blight."
In the South, the Midwest, and the Northeast, the rainy summer has diminished the pumpkin crop significantly. In some cases, planting got a late start, and farmers now fear their crop won't reach adequate market size in time for Halloween, while other farmers' seedlings were destroyed by storms or were lost to disease. Some experts predict the shortage will result in higher pumpkin prices, and more states than usual will need to transport them from others that fared better with the crop, like California and New Mexico.
While a potentially scary scarcity of fat-faced jack-o'-lanterns plagues the nation's stoops and windowsills, in the kitchen, there are plenty of cooking substitutes for the glorious orange pumpkin, including acorn, butternut, and kabocha squashes. What better time than to embrace less common, but no less flavorful varieties of squash, then? You might even find that "pumpkin" pie is better textured when made with creamy delicata squash, or sweetened by the substitution of sugar loaf squash. Browse your local farm stands and farmers' markets for unique heirloom varieties, too, like the incredibly red "Cinderella" squash that looks like a fairytale carriage. And if you're not sure what type of squash you're looking at, or how to cook it, it's a good bet that the person who grew it will have some tips for you.
If you're in a region that's facing a shortage of canned pumpkin puree on supermarket shelves, but you do have access to fresh pumpkins, here's a quick guide on how to prepare them for your pies.
So, have no fear in the kitchen this Halloween season. Just heed the words of the farmers who grow pumpkin alternatives: "Forget the lame lament of scarce scary faces," quipped Dom Palumbo, who farms Moon in the Pond Farm in the Berkshires. "I'm about the food."