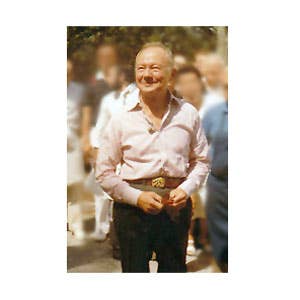 Culture
The Legacy of Craig Claiborne
A discussion on the late food writer's lasting impact on the culinary world.
Last week was unofficially observed as Craig Claiborne Week in New York City, and two separate panels met to discuss the late food writer's lasting impact on the culinary world. At a talk hosted by the New School, " Craig Claiborne and the Invention of Food Journalism", the panelists Molly O'Neill, Betty Fussell, Ann Mendelson, and John T. Edge described Claiborne, who died in 2000, as both elegant and approachable and traced his unlikely journey from Sunflower, Mississippi, to the_ New York Times_, where in 1957 he became the country's first male food editor, a title he held until 1986.
Thanks to Claiborne, said his former colleague Fussell, "a nation of Puritans discovered food was a pleasure, and like sex, you could do it at home". Previously, the subject of food in newspapers had been limited to sections on entertaining and homemaking that were aimed at women. Claiborne's extensive knowledge of and passion for food (developed from his observing his mother in the kitchen, traveling to Asia and Africa during his time in the navy, and studying at the École Hoteliere in Lausanne, Switzerland) turned a whole new audience on to food writing. His voice was authoritative but friendly, and in his weekly Food News column, he explored everything from caviar and couscous to down-home dishes like his mother's famous chicken spaghetti.
He also invented the restaurant review as we know it—part of a four star rating system based on multiple visits to an establishment. Known as an exacting, honest critic, Claiborne was just as likely to praise new talent as he was to reveal the shortcomings of old-guard restaurants. "Somehow he picked people that he knew could handle the exposure and grow," said Zarela Martinez, a chef who attended the talk. Claiborne identified her as a master of Mexican cooking in 1982, before that cuisine was considered worthy of attention. Though he introduced Americans to other largely unknown cooks like Madhur Jaffrey and Marcella Hazan, he also collaborated with established food-world figures, most notably French chef Pierre Franey, with whom he shared a byline on several cookbooks, _New York Times _columns, and recipes.
Franey was Claiborne's dining companion one infamous evening at the upscale Parisian restaurant Chez Denis, where the pair enjoyed a $4,000, 31-course dinner (won at a charity auction and billed to American Express). In his review of the decadent meal, Claiborne deemed the lobster chewy and the oysters' beurre blanc sauce tepid. "The dish was almost lukewarm when it reached the table," he declared. His unflagging candor earned him credibility and armed him with the power to make or break the careers of countless chefs and restaurateurs.
Still, many were his friends. At Claiborne's 60th birthday party, at his house on Clamshell Avenue in East Hampton, Jacques Pepin manned the spit_ _roast, Alice Waters offered strawberries to the guests, and Maida Heatter carried a cake in each hand. Comparing Claiborne with other culinary greats, Fussell remembered him as more accessible than Julia Child and more objective than James Beard. For all his accomplishments, Claiborne suffered from a complicated personal life, yet the panelists last week honored the man who continues to inspire us today. O'Neill mentioned a bit of advice that Claiborne gave her: know more than everybody, say something funny, and leave some question unanswered.