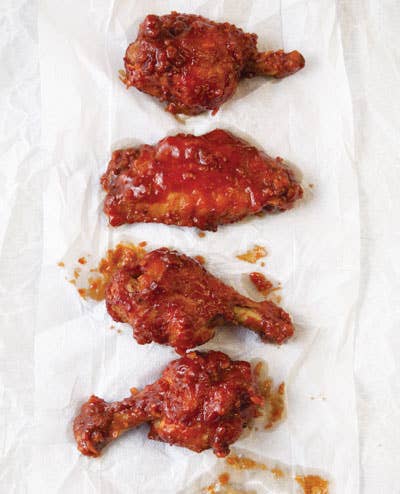 Culture
The Other KFC
The secrets behind a Koreatown favorite.
Twice-fried sweet-spicy chicken has long been a favorite in Korean homes and eateries. Nineteen years ago in a small shop in Gumi, South Korea, a restaurant owner named Kwon Won Kang added his own savory garlic-soy dressing to double-fried wings and drumsticks, and the specialty known as yangnyeom dak (Korean fried chicken) took off as a fast-food phenomenon. Today, the business Kwon founded, called Kyochon, has more than 1,000 outlets worldwide, and Korean fried chicken has a global following, most notably in the LA area, where Kyochon has six branches. The most popular one stands in a strip mall on West Sixth Street, in the heart of Koreatown, a neighborhood just west of Downtown. The district is dotted with other Korean fried chicken specialists, places like Chicken Day, with its signature 27-ingredient sauce, but Kyochon is my favorite.
The restaurant's popularity is no surprise. Its wings and drumsticks, served on platters in the brightly lit fast-food shop, are unfailingly juicy inside, crunchy outside, and glazed with one of two delicious house sauces: hot-sweet and the garlic-soy. A totally addictive food, it's lighter, less salty, and less greasy than American-style fried chicken. The key, I found out during a recent visit to Kyochon's kitchen, is in the precision frying, which entails steps that are unfamiliar to most Western cooks.
When an order came in, a cook took a batch of unseasoned wings and drumsticks—pared from small, fresh chickens and chilled overnight to decrease their moisture before frying—and dunked them in a thin batter of wheat flour, water, and cornstarch. Then he gave the wings and drumsticks a nine-minute sizzle in a deep-fryer containing 356-degree canola oil, which cooked the meat and formed a light crust. Next, he tossed the chicken in a wire strainer to shake off loose bits of fried batter before plunging it into a second fryer, which, I was told, contained oil left over from the previous day; the darker oil gives the skin a deeper flavor and hue. Three minutes later, the chicken emerged with a delicate texture and crackly crust. Finally, he brushed on one of the two sauces, which are packaged by Kyochon in Korea. "Only five people know the recipes," a cook told me, but I peeked at the label on a bag of the hot-sweet version; it contained soy sauce, red pepper concentrate, garlic, sugar, ginger, and two other ingredients that made me feel at home in the global fast-food world: strawberry jam and "soda pop." (See ** Korean Fried Chicken**.)