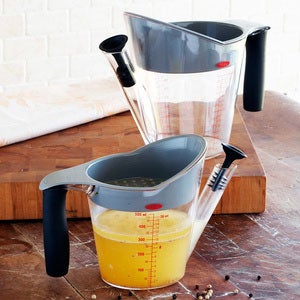 Thanksgiving's coming: do you know where your fat separator is?
You can still find an old-fashioned separator–basically a plastic cup with a long spout—for a few bucks, and there's something to be said for that if you don't use it much. But there are now several more interesting versions available. The coolness award for a fat separator gadget clearly goes to Amco's Swing-a-Way Easy Release Grease Separator. You pour pan juices through a strainer at the top, let it set so that grease rises to the top, then press a silicone lever on the handle (similar to that of a sifter) to release gravy or broth through the bottom. The heat-resistant plastic container holds 32 ounces and has markings for cups, ounces, and liters.
Another option is the 2-cup Oxo fat separator. Also plastic, it features a strainer on the top and a shield to prevent gravy from spilling out, and it has a stopper to keep fat out of the spout. Last but not least is Williams-Sonoma's gravy separator, which looks somewhat like Oxo's, but is made of microwavable, oven-safe glass; it comes in 2- and 4-cup sizes. Some Williams-Sonoma reviewers love the glass, but others complain that it breaks too easily. All three of these fat separators are dishwasher-safe.
Looking for a gravy recipe for your Thanksgiving feast? Try this recipe for rich gravy with shiitake mushrooms.