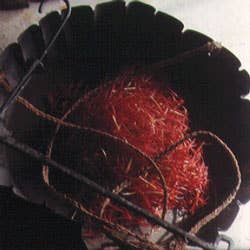 Culture
The Saffron Trade
It is the world's most precious spice, and the best, it's said, comes from the La Mancha region of Spain.
One of Spain's largest saffron exporters is Safinter, based in an elegant old villa in a wealthy residential district of Barcelona. Though the company now cultivates its own saffron, the bulk of its supply still comes from independent farmers. Each batch of saffron that arrives at Safinter is analyzed to assure that it meets strict standards. The highest government quality designation is Mancha (not necessarily from La Mancha), sometimes labeled as Mancha Superior or Mancha Selecta. This saffron is characterized by long, flexible stigmas and a deep red color, with no more than 4 percent other flower parts. The Rio and Sierra grades have more yellow styles, a slightly paler color, and less aroma.
Saffron actually from La Mancha enjoys a particularly high reputation. This may have to do with its consistency and wide availability. Whether it has a better flavor than other Spanish saffrons, or than top-quality saffron from Iran or India, is debatable. As one American importer put it, "Like wine, saffron will be different from year to year and from one place to another. And taste in saffron is a very subjective thing."