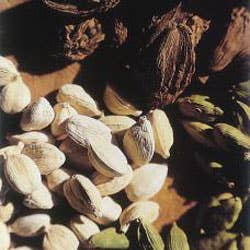 Culture
The Spice Guide
The handy guide includes everything you need to know about the world's most select exotic spices.
GINGER—Powdered ginger never smells as fragrant as fresh. But drying these fleshy bamboo-like stems slowly in the sun preserves the sharp bite of raw ginger for grinding. The darker is rare Jamaican; the lighter, from China.
NUTMEG & MACE—From Grenada comes the highest quality nutmeg, the shelled seed of an evergreen tree. Because of its high oil content, this nutmeg can't be commercially ground, but must be grated by hand just before using. Mace, the lacy covering that protects the nutmeg fruit, has a softer flavor. When harvested, it is blood-red in color; it dries to a beautiful tawny shade.
CARDAMOM—The best: black cardamom pods from India, green from Costa Rica, white (select bleached green pods) from Guatemala. Black ones have the smokiest aroma. Crack pods open to release the flavorful seeds inside—the darker and oilier the better.
CINNAMON—Cassia cinnamon is dried inner bark stripped from trees—some produce for as long as 200 years—in the laurel family. Top varieties include beautifully textured thick quill cassia from Padang, Sumatra; Korintje "A" quality Indonesian cassia, similar to, but finer than, the supermarket "C" grade; and Extra Fancy China Tunghing cassia, so potent that a tiny bit will flavor a recipe. Ground, it's so sweet it tastes like cinnamon sugar. All of these can be used several times before they are spent.
SAFFRON—Moist, dark-red strands of Kashmir Mogra Cream Indian saffron began life as the stigma of a crocus. A single flower yields only three, which must be handpicked. One ounce contains 13,000 stigmas. Costly, yes, but just a few strands will color and perfume a dish. Always buy saffron whole: The powder loses flavor rapidly and may have been cut with turmeric.
VANILLA—Rich Madagascar Bourbon vanilla beans, along with lighter-tasting Tahitian and Mexican varieties, are still pollinated by hand, which accounts for their steep price. When first picked, these beans bear little resemblance in taste or appearance to the final twisted black strands. It takes months of sweating in wraps and drying in the sun before the beans are ready.
STAR ANISE—The hot, humid climate of southern China is perfect for growing licorice-flavored star anise (not to be confused with Spanish anise seeds). The fruit of a tree in the magnolia family, star anise is ground and used in Chinese five-spice powder. Whole, its shape is lovely floating in a cup of tea.