The Stilton Revival
Creamy, ivory-hued Stilton has long been known as "the king of English cheeses."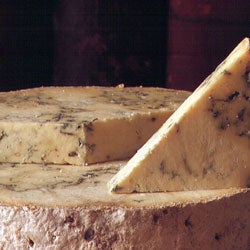 The first traditional British cheese to be marketed with a high price to match its air of exclusivity was Stilton. In 1966, it became the only cheese in Britain to have its own trademark, when a High Court ruled that only Stilton-style cheeses made in the counties of Leicestershire, Nottinghamshire, and Derbyshire were entitled to carry that name.
Still, Stilton's quality has suffered over time, as its producers have gone over entirely to pasteurization. In spite of this, the small dairies that specialize in it do make creamy Stiltons comparable to the old ones. The curds are milled and thrust into molds, hand-turned daily. At five weeks, the cheese goes into a blueing machine, a drumful of spikes that pierce it to let in oxygen, which stimulates the mold that makes the veins. After ten weeks, the cheese is shipped.