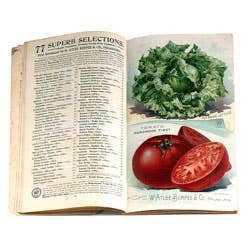 Culture
The Trip of the Iceberg
First grown in a Pennsylvania garden plot a century ago, this oft-maligned lettuce is now a culinary star.
"There is no handsomer or more solid Cabbage Lettuce in cultivation," claimed a W. Atlee Burpee & Co. seed catalogue from 1894. They were talking about iceberg, cursed iceberg, the butt of jokes, the bane of all true "gourmets." Surely, iceberg has no merits for the serious cook or eater …
Hah! Iceberg would smile if it could—for the truth is that, round and crisp, it is a perfect creation. It is sturdy, but has a surprisingly delicate flavor. Unlike some of the frail field lettuces that wilt, swoon, and have the vapors readily, iceberg is stalwart. It's a close friend of every sandwich of note—hamburger, peanut butter, cheese, club, tuna, deviled egg, and more. And it's very cosmopolitan. It figures in the popular Chinese preparation of minced squab in lettuce leaves, and in petits pois a la française, among other imports. It is equally at home on the aristocratic or the peasant table.
Iceberg celebrated its 100th birthday in 1994. The Burpee people discovered it on their Fordhook Farm in Doylestown, Pennsylvania. What happened was that they were growing a large plot of "cabbage-head" or Batavia lettuce (a variety that apparently has ancient Celtic roots), when they discovered one particularly handsome specimen, large-headed and well-blanched at the center. Most important, when it was tasted, it was found to be unusually crisp and "sweet" (in the sense of mild).
Well, Burpee knew a good thing when they saw one, and, together with other U.S. vegetable growers, they set about improving it still further. Today, there are countless varieties of iceberg, or "crisp-head" lettuce.