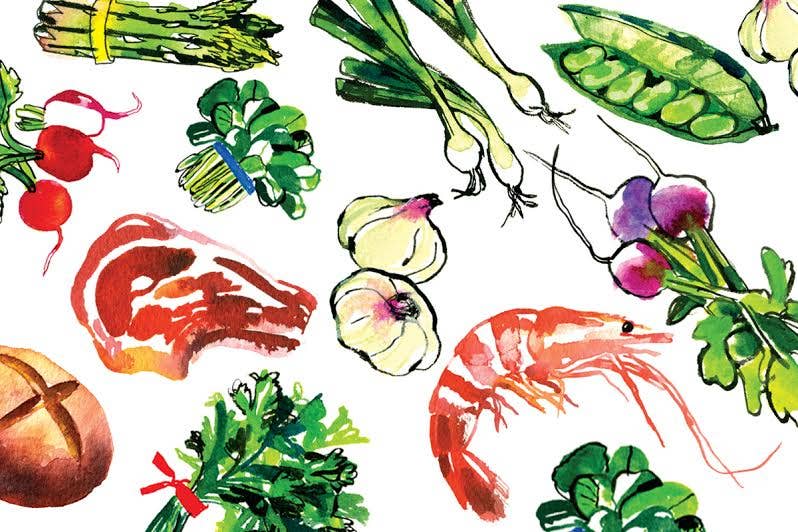 Culture
The Well-Read Carnivore
The best meat books offer more than recipes.
When I was 16, I stopped eating red meat and poultry, and I didn't eat them again for 23 years. My "vegetarian" morals were imperfect, though; I ate fish, wore leather, and, during graduate school, got a job at a steak house. I had only the vaguest memory of how beef tasted, but I earned a small fortune carving slabs of it tableside. Karl Marx would have called my situation a classic case of the alienation of the worker.
Eventually, I went from working in restaurants to writing about them, and I knew it was time to start eating meat again. I eased into it: a few morsels of rib eye begged from a dinner date's plate; half a hot dog; a corned beef sandwich eaten in memory of my grandmother, with whom I'd frequented Philadelphia's Jewish delis as a child.
I started cooking meat at home, too, and quickly realized I'd picked a good moment to do so. It was the early 2000s; people were beginning to think more about where their food came from, and cookbook authors were rising to the occasion. Among the first books I turned to was The River Cottage Meat Book (Ten Speed Press, 2004), Hugh Fearnley-Whittingstall's 500-page paean to enlightened carnivorism. The recipes did more than merely list cuts of meat; I learned what part of the animal each cut came from, how it was cured or aged, and how the animal should have been raised and butchered—for its sake and for my palate's. I also loved The Whole Beast: Nose to Tail Eating (Ecco Press, 2004) by Fergus Henderson, the chef at St. John, London's fabled offal restaurant; his joyous embrace of the fifth quarter, as offal is sometimes called, united ethics with pleasure, showing how well one could eat by not wasting any of the animal. Those books made me a more thoughtful cook and eater of meat, and they also helped lay the foundation for the meat-centric cookbooks currently being published.
Some of the most interesting of these new releases have a strong regional bent. In Pig: King of the Southern Table (John Wiley & Sons, $35), North Carolina native James Villas plays Dixie compadre to Fergus Henderson. The book celebrates every part of the animal; a recipe for hog's head stew calls for the liver, heart, spleen, kidney, ear, and, yes, head (as for the brains, Villas recommends saving them to scramble with eggs). Pig's 300 recipes—which crisscross the map from Smithfield, Virginia (country ham spread), to Miami (black bean and pig knuckle soup) to the Blue Ridge Mountains (pork and bacon sausage) to the Louisiana bayous (an oven-friendly version of cochon de lait, the traditionally spit-roasted Cajun suckling pig)—offer a thorough education in the pork-loving ways of the American South. Pig taught me, for instance, that because of Savannah, Georgia's role in the colonial maritime trade, folks in that city came to season their pork sausages with a veritable cargo hold's worth of spices—chile flakes, ginger, cinnamon, cloves, and more. It also proved that a Northerner like me can pull off down-home dishes like the corn pone-topped ground pork and pinto bean pie from Bryce's Cafeteria, in Texarkana, Arkansas. And it's even convinced me that there's good sense behind some fads: everything—from biscuits to Brussels sprouts—really is better with bacon.
In Planet Barbecue (Workman, $35), Steven Raichlen pulls back from a focus on any one region to report on grilling traditions in a whopping 53 countries, from Burkina Faso (peanut-grilled lamb) to Uruguay (a fabulous tri-tip of beef). There are recipes for flame-cooked breads, vegetables, seafood, and even desserts, but my favorites—chalk it up to the zeal of a convert—are the ones that call for meat; many are accompanied by handy sidebars that explain different cuts. While a few of Raichlen's preparations involve complex negotiations with the flames, others are insanely easy. There are just two ingredients in the Basque salt-crusted rib steak, and the dish's name includes them both. The hardest part might be carving the meat off the bone, but for a former steak house employee like me, it was fun—not least of all because, this time, I got to taste the fruits of my labor.
A less voracious presence than Villas or Raichlen, James Peterson, the writer of several excellent single-topic cookbooks (Sauces, Fish & Shellfish, and others), has lately turned his meticulous eye to meat cookery. He opens Meat: A Kitchen Education (Ten Speed Press, $35), which will hit bookstores this fall, by telling us that we should cook and eat less meat, for our health and that of the planet, but that he wants us to enjoy it more. For Peterson, that means achieving exquisite meat dishes by means of classical techniques. Aided by an abundance of photographs, all of which he took himself, the acclaimed cooking instructor does a thorough job of passing along those techniques to home cooks. I had no idea that there was such a thing as a hinged larding needle, but darned if Peterson didn't teach me how to use one to lard a braised veal shoulder. He cuts less-ambitious cooks a little slack by making some steps optional, but I found that following his full recipes to the letter paid off. When I cooked Peterson's beef Stroganoff, an unabashedly rich iteration of the dish, finished with creme fraiche, it reminded me that pleasure—mine and that of my dinner guests—was one of the main reasons why I had reembraced meat.
Having had a ball mastering the cooking of beef and pork, I decided to try my hand at game, too, thanks in large part to British cookbook authors Trish Hilferty and Tom Norrington-Davies. Their Game: A Cookbook (Absolute Press, $35) takes the position that the best meat for both your taste buds and your conscience comes from a wild creature. Not only has that animal roamed free and lived as it liked, but the meat is lean, pure, less expensive than many conventional store-bought cuts, and, if it was handled properly before being cooked, possessed of a mellow gaminess that enhances the meal. The book teaches readers how to roast wild birds like grouse and widgeon, make ragouts of venison and hare, and prepare wild boar vindaloo. (It also includes a section on cooking just-caught fish.) I may never confit the legs of a gray squirrel, but thanks to the chefs' sardonic British prose, I sure enjoyed reading about doing so. I did cook a stunning rabbit with sherry and wild garlic; braising and then leaving it in court bouillon overnight before gently reheating it makes for one moist bunny.
Hilferty and Norrington-Davies don't cover domesticated birds, and I needed to make a chicken stock for the rabbit, so I did what any well-connected carnivore would; I turned for advice to my favorite butchers. Lobel's Meat Bible (Chronicle Books, $40), by the family behind a beloved 56-year-old New York City shop, is aimed at home cooks who want to prepare uncomplicated but delectable food. Along with basics like making stocks, the book explains the principal meat cuts, their uses, and tips for talking with your butcher about them. But it's the recipes that really deliver: crowd-pleasers like Korean barbecued short ribs and a meat loaf made with pork, beef, and an egg-and-spinach stuffing (see Egg-and-Spinach Stuffed Meatloaf). Some are so simple I found myself tweaking them like a seasoned meat cook, mixing a little gochujang (red chile paste) into the short ribs' marinade to jack up the heat, or adding beef broth to the meat loaf's cooking liquid for a richer flavor.
And then there's corned beef, as in those delicious sandwiches my grandmother bought for me when I was a kid. Back then, I never dreamed the meat had a history prior to the slicer. On this subject, the Lobels' book is enlightening; their home-cured corned beef (using a cardamom-spiked pickling mixture) is so easy, I couldn't help but try it. Best of all, they pair it with a recipe for a Reuben, the photograph of which shows the sandwich in all its golden, skillet-fried glory. Rarely have a few pages in a cookbook made me so happy; thanks to the Lobels, I've reacquainted myself with a childhood favorite, but now I make it from scratch.