This Color Won't Run
Tips for cooking beets without sacrificing their hue.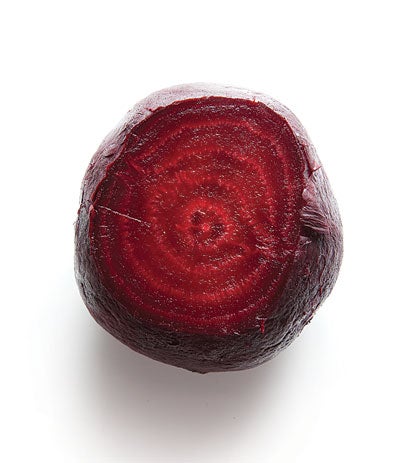 The beet is a remarkable vegetable: imbued with a deep, reddish-purple color and endowed with ferulic acids, which prevent the flesh from breaking down during cooking, the resiliently firm vegetable lends itself to dramatic preparations like the beet and goat cheese napoleons served at Wolfgang Puck's restaurant Spago, in Beverly Hills (see ** Beet and Goat Cheese Napoleons**). When we set out to test the recipe for that dish, we noticed that Puck calls for roasting the beets instead of boiling them. After trying a few variations on Puck's original, we figured out why. Although boiling beets is a quick, easy way to cook them, it also leeches much of the color from the vegetables. That's because the pigment that gives beets their color, called betain—also found in chard, amaranth, and prickly pear cactus—is highly water soluble. Covering and steaming the vegetable addresses that problem; adding an acid, such as vinegar or lemon juice, to the water helps, too. But Puck's method of roasting them also brings out the beets' natural sweetness. Just put five or six beets into a 9″ x 13″ baking dish, pour in about an inch of water (to keep the beets from drying out), cover the dish tightly with foil, and roast until a knife easily slides into the beets, about 1 1⁄2 hours.