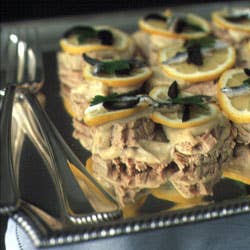 Culture
Turf 'n' Surf
Don't be fooled by pale imitations—true vitello tonnato is rich, creamy and infused with flavor.
Ask for vitello tonnato in most Italian restaurants in America, and you'll be served carpaccio-thin slices of cold, poached veal topped with tuna-thickened mayonnaise and a couple of capers. It's a fine presentation, quick and easy—but, according to Marcella Hazan, author of Essentials of Classic Italian Cooking (Knopf, 1992), it's not the real thing.
True vitello tonnato is made with alternating layers of thinly sliced veal and rich, creamy tuna sauce, left overnight so the flavors can merge. "The sauce must impregnate the veal to the point that it's impossible to detect where the veal ends and the sauce starts," notes Hazan.
This is not a dish to make with fresh tuna. "Use imported tuna that's packed in olive oil," Hazan counsels. "It's expensive, but the intensity of the olive oil is essential." Hazan also uses olive oil when preparing a mayonnaise for the sauce, a distinguishing element of vitello tonnato in the Piedmontese style. In Lombardy, the sauce is thickened with flour, not eggs.
Vitello tonnato can be made a day in advance and served as a main course in summer or as an elegant antipasto any time of year.