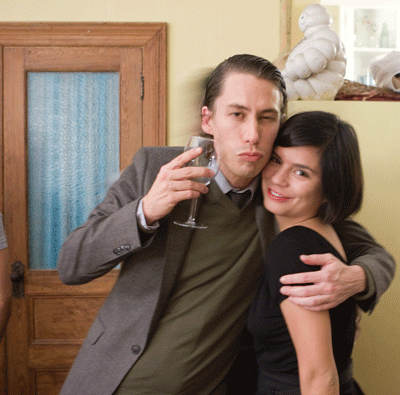 I grew up in an area outside of Paris that's known for two things: Euro Disney and a creamy cheese called Coulommiers. Food was a huge part of my family's life (amusement park rides not so much): my grandfather managed restaurants, my father trained as a chef, and my mother was the kind of woman who thought nothing of spending three days preparing a single meal. § When I moved to the United States as an exchange student at the age of 16, I was homesick for the long, leisurely meals I grew up with. Then came Thanksgiving, and suddenly, for one holiday weekend, everything about the way my host family ate changed. There was all this planning and shopping and cooking, flower arranging and table setting, all of it leading up to the kind of wonderful meal I wished would never end. It seemed to me that this holiday was the one day of the year when Americans allowed themselves just to sit around the table to feast, drink, and enjoy one another's company—in short, to eat like the French.
After that, I became somewhat of a Thanksgiving fanatic. During the seven years I spent in the States as a college student, I was always angling for invitations to American friends' homes for the holiday, and I'd always come early, to help with the cooking. I learned how to prepare all the classic dishes, from the marshmallow-topped sweet potatoes to corn bread stuffing.
My landlord and friend, an energetic woman named Vivian Groom, took me under her wing and shared with me her love of baking; she showed me how to make the most delicious from-scratch pecan, pumpkin, and banana cream pies. Thanksgiving at her house was joyous; she was always laughing and joking in the kitchen, and she made me and all her friends and neighbors and others who didn't have a place to go on that special day feel welcome.
After college, I ended up staying in the States, and over the years I've become friends with other people like me: Thanksgiving lovers from around the world who didn't grow up with stories about the Pilgrims and the Indians but deeply appreciate the significance of the meal nonetheless. Last year, I celebrated at a French friend's home in Brooklyn, New York, with an all-ages group of about 25 people from places as far-flung as Germany and Australia and various cities across the States. In the middle of the apartment's living room, we seated ourselves on folding chairs at a long table made up of small tables cobbled together. Guests shared their stories, and the strands of everyone's histories crossed paths over the course of the long dinner. The food spoke of those histories as well: there was Jamaican-style oxtail stew and a classic French tarte Tatin (one of my contributions), plus German-style red cabbage and Brussels sprouts flavored with spicy chorizo.
Watching my friend Noelle in a 50s-style dress, looking every bit the American hostess, I had to chuckle as she brought a perfect turkey out of her vintage white enamel stove and carried it to the table as everyone cheered. All night long, the wine, guitar playing, singing, and conversation flowed. The meal united us and, in a very satisfying way, made me feel thankful to be a citizen of the world and to feel so at home away from home. —Virginie Blachere, a photographer in New York City