Upper-Crust Bird
Chicken pot pie is a savory, all-American pleasure.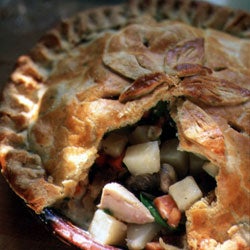 The top crust on a fruit pie, it could be argued, is something of a waste. It's just more dough, concealing the interior; open-topped tarts are both prettier to look at and lighter to the taste. The top crust of a savory pie, on the other hand, is essential: It holds in moisture and, the moment the pastry is breached, releases the aroma in a gush. That's why some French recipes call for sealing a stew pot with a layer of pastry. That's why Paul Bocuse put a pastry dome on the truffle soup he created for a banquet for the president of France. And that's why Chicken Pot Pie—first mentioned by that name in this country in 1792 (the "pot" is the deep dish it's traditionally cooked in)—is one of the great triumphs of old-fashioned American cuisine.
The crust makes all the difference. Think about it: Mention stewed chicken with vegetables and people start talking about sending out for pizza. Mention chicken pot pie and—around here at least—people start reaching for forks (or, better yet, nice big spoons). Few Yankee dishes are so immediately appealing. Chicken pot pie is mom's oven; a warm kitchen table on a chilly night. It's a sure thing.