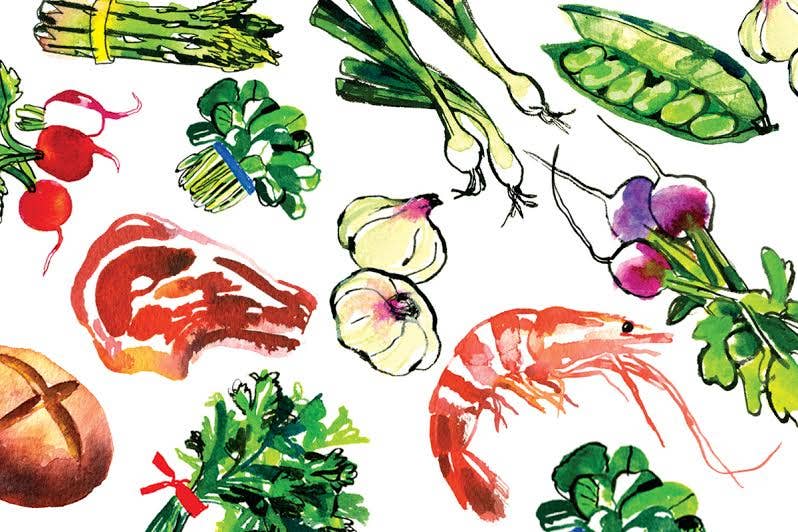 Culture
Vermont Chicken Pie
This savory church supper staple has epitomized the Green Mountain State's simple, frugal cooking for generations.
My introduction to the foods of Vermont took place in the 1950s when I married into the Turner family, residents of the Green Mountain State almost since it was admitted to the Union, in 1791. Having grown up north of Boston myself, with relatives who came from Massachusetts, New Hampshire, and Maine, I was steeped in New England's culinary traditions. But I found Vermont to be another world entirely—a place where the cooking reflected not only the state's mountainous terrain but also the famously frugal nature of its residents.
Lacking a seacoast, Vermonters look to the land, not the water, for sustenance, and generations have subsisted on wholesome, homegrown, and, often, wild-gathered food. Though the state has recently become a fashionable source of high-end ice cream, cheese, and butter and is even the site of the New England Culinary Institute (see SAVEUR, January/February 2001), Vermont to me still means sugar bushes, apple orchards, vegetable gardens, and picturesque farms with flocks of hens running about. Hens, particularly, have played a key role in local agriculture—providing eggs during their fertile periods, becoming food themselves in their dotage.
In the past, at least, nothing went unused in Vermont; and a good example of its waste-not, want-not ethos is Vermont chicken pie, which is traditionally made with old hens slaughtered each fall. These birds are tough but full of flavor thanks to a balanced diet of scratch, kitchen scraps, and forage; and long, slow stewing tenderizes their meat.
Before roast turkey became the centerpiece of Thanksgiving and Christmas meals, in fact, chicken pie—which is, essentially, large pieces of poached boneless chicken in a light gravy under a biscuit topping—was the main attraction on Vermont holiday tables. One of the Turner family letters my husband, Vernon, and his relatives have preserved from the 19th century suggests how beloved the dish really was. "We went out to fathers to Thanksgiving, but there was no Thanksgiving Pie," Addie Turner Crandall wrote to her brother Harrison Turner, my husband's great-grandfather, on December 5, 1869. "I did not care for any better fare than every day affords, but many Thanksgiving dinners have I invited father to partake with us and I never omitted the time-honored Chicken Pie. We shall have one on Christmas day if nothing prevents."
The exact origins of Vermont chicken pie are unclear, but it dates back to at least the late 18th century and is thought to be a descendant of the traditional British meat pie. Look through an old British cookbook, and you will find that just about anything was put under a crust; it was a convenient way to keep ingredients moist and use up leftovers. Initially, Vermont chicken pies were made with the same type of short pastry as their British cousins, but sometime in the late 1800s biscuit dough began appearing as the covering. The crust is part of what distinguishes the Vermont classic from chicken pies native to various other parts of New England. Some similar concoctions, often called potpies, may be made with puff pastry and, unlike the Vermont rendition, usually include vegetables in the gravy.
When it comes to the filling of a Vermont chicken pie, old hens, also called fowl or stewing chickens, yield the best results—although they aren't easy to come by in these days of prepackaged chicken parts. But little has changed over the decades with regard to the method of preparation. The bird is gently poached in water with aromatics until tender, the meat is picked off the bones and set aside, and then the bones are put back into the simmering liquid for a few more hours so that additional nutrients and flavor may be extracted from them. Finally, the broth is reduced, thickened into a gravy, and poured into a baking pan containing the chicken; then the whole is cooked until the filling is bubbling, at which point the biscuit crust is added, and baked until golden.
Simple though that process sounds, it is very labor intensive—it does take two days—which is one reason the dish is infrequently seen on dinner tables. It is still a staple of church suppers in Vermont, though; chicken pie dinners are held throughout the state, typically in September and October. In my husband's hometown of Berlin Corners, for instance, the Lend-a-Hand Society of the Berlin Congregational Church has organized a chicken pie fund-raising supper every fall for the past hundred years.
Last September I visited my husband's niece Betty White, a direct descendant of Harrison Turner, in Worcester, a postcard-perfect New England locale nestled under the Worcester Mountains just north of the town of Montpelier. Not by coincidence, I arrived the weekend when the United Methodist Church of Worcester (known locally as "the little white church of Worcester")—constructed in 1887 and a handsome example of a New England steepled church—was holding its annual chicken pie supper. Betty's mother-in-law, Dot White, and Dot's husband, Paul, have belonged to the church for more than 30 years, and the family pitches in together to make and serve dinner at the suppers—which also feature the traditional side dishes of winter squash, mashed potatoes, and coleslaw, along with pumpkin, apple, raspberry, and other pies for dessert.
One of Betty and Dot's duties this year was to contribute a chicken pie, so the morning of the event I kept them company in Betty's kitchen while they set about their work. Naturally, the talk soon turned to chicken pies and church suppers. One of Betty's aunts had recently told me that in some communities the volunteers now gather in one kitchen to prepare the pies; it's apparently more efficient, and it offers a measure of quality control—not every church has a good, reliable oven, and not every cook has achieved an ideal level of accomplishment. However, at the Whites' church, the pies are still made in separate kitchens, although the custom of local boys' running from home to home wielding hot pads to pick up the pies is said to have ended in the 1950s. As Dot ladled gravy over pieces of chicken in a large metal baking pan with her name taped to the front, I learned that the act of topping the pies with individual biscuits, rather than with one layer of crust, evolved from the suppers. It turns out that originally the church meals were served family style, with one pie set at each table of ten people. At some point, though, in most area churches the serving of the pies moved behind the scenes, and to make it easier to determine a reasonable portion for a diner, individual biscuits became the norm.
At the church supper in Worcester that evening, I thought about the many chicken pies I've put on the Turner family table over the years, and I felt a surge of pride that I am now one of the custodians of such a rich tradition.