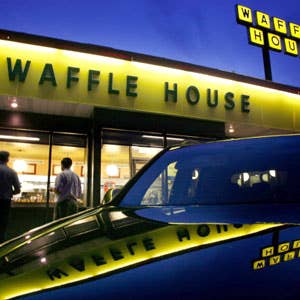 Culture
Welcome Home
Institutions like the Waffle House, the South's favorite diner chain, are one reason why having breakfast out can be so much fun.
When I was 13, I moved from Germany—where my father, a major in the U.S. Air Force, had been stationed for seven years—to a town called Niceville, in the panhandle of Florida. It was a cultural shift that hit me right in the stomach. As a family, we were used to eating out a lot, especially on the weekends, but now we had no idea where to go. Figuring out what to have for breakfast was especially difficult. In Germany, the morning meal had been either an at-home spread of hard rolls, cold cuts, jams, and butter or an elaborate officers' club buffet of scrambled eggs, casseroles, carved meats, and composed salads. In Florida, we felt lost, and for a period we resorted to heating up frozen Jimmy Dean breakfast sandwiches at home. Then, one Saturday morning while driving through the nearby town of Shalimar, we saw it: a bumblebee yellow, letter-tile sign towering alongside the road: waffle house.
We pulled in to the parking lot, walked inside, and settled at a spacious booth by a window. To my 13-year-old eyes, the place was a Shangri-la, from the eye-popping laminated menu emblazoned with color photographs of egg and hash browns combo plates to the mad yet graceful dance of waitresses, busboys, and line cooks in black aprons toiling in an open kitchen and shouting phrases like "Pick up on the wheat toast!"
The waffles were crisp-tender and topped with a scoop of butter, the eggs for the omelettes were whipped in milk shake machines (see page 97 to see how it's done), and our plates came garnished with a wonderful, creamy hot side dish that my dad told me was called grits. One of my favorite breakfasts was Hashbrowns All the Way: a mess of shredded potatoes fried until crisp, smothered with onions, studded with chunks of hickory-smoked ham and diced tomatoes, blanketed with american cheese, and topped with chili.
If my family and I happened to be traveling in neighboring states, we could almost always find a Waffle House where we would feel at home—at home, but somehow better. Going out for breakfast at a Waffle House felt special, but not in the way a fancy restaurant lunch or dinner feels special. Ensconced in our booth, each of us digging in to his or her own, made-to-order breakfast, we could relax, enjoying the chance to be together in a bright, convivial place where the juice and the coffee kept coming. As the years passed, I graduated from going to the local Waffle House with my family to going with my friends: it became my breakfast place. Even better, it was a place where I could eat breakfast at any time of the day or the night.
Eventually, I moved up North and discovered a land without Waffle Houses. The chain, which got its start in 1955 in a suburb of Atlanta, Georgia, now comprises more than 1,500 locations in 25 states, but virtually all of them are in the nation's southern tier. I soon realized that millions of Americans had never heard of this breakfast institution. Since I left Florida, I've become loyal to any number of lunch and dinner places, but I've never found a breakfast joint to replace the Waffle House. Whenever I'm traveling in the South, I stop at the first one I see.
My most recent return pilgrimage happened to be to a Waffle House in East Point, Georgia, on a busy Sunday morning. Taking a seat at one of the red-topped stools at the counter so that I could get a glimpse of the action in the kitchen—a spectacle I find as entertaining today as I did when I was a teenager—I ordered a meal of eggs and cheese with raisin toast and hash browns and took in my surroundings. An Al Green song was playing on the jukebox, and, all around me, people were eating breakfast: churchgoers, young families with babies, groups of teenagers, highway workers, and others.
I reveled in the staff's endless stream of dialogue-on-the-fly, snappy exchanges that served as grease for a smoothly functioning breakfast-making operation: "That was a cheese omelette plate coming how?" a cook asked a passing waitress in a white shirt and black visor. "Covered," she replied without breaking her stride. "What with?" the cook asked. "A pecan waffle," she said, as she grabbed a plate of bacon from the counter next to the grill. The cook flipped an omelette onto a plate and concluded, "That'll work." Just then, my breakfast arrived.