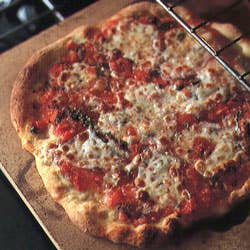 Culture
What Makes a Perfect Pizza?
For Neapolitans, simple is best: perfect pizza is made with tomatoes, oil, salt, and mozzarella—just be sure to use the right kind.
The ideal tomatoes for making real Neapolitan pizza are available only in and around Naples itself. Called piennule or o'piennulo e' pummarola, they are nearly round and about an inch in diameter. Often picked when still slightly green or yellow, they're hung in grapelike bunches from rafters or balconies to mature, then quartered and strewn with salt, and sometimes oregano or basil, before they're used.
The oil is usually a mixture of olive and seed oils (olive oil alone is considered too heavy). For seasoning, purists insist on coarse sea salt or rock salt crushed in a mortar.
Cheeses used include scamorza, parmigiano, pecorino romano, ricotta, and, most of all, mozzarella. Contrary to popular belief in the U.S., mozzarella di bufala is almost never used for pizza. To illustrate why, Vincenzo Pagnani at the Brandi pizzeria picks up a cow's-milk fior di latte mozzarella with his left hand and a mozzarella di bufala with his right, then squeezes them both. Moisture drips from his right hand. "Mozzarella di bufala is like a sponge, full of liquid that ruins the pizza," he says. "It's too fatty. We eat it raw, but never on pizza."