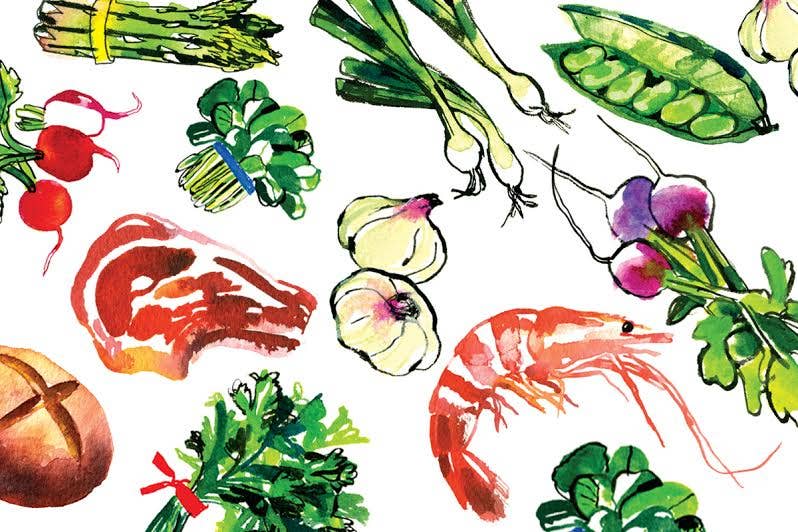 Over the past 17 years, as a chef and owner of eight restaurants in Oxford, Mississippi—all of them in old buildings—I have overseen the design and construction of plenty of kitchens. So, launching into the renovation of my own home kitchen promised to be no big deal. Or so I thought.
I purchased my house, a "magnificent fixer-upper" on a secluded lot ten miles outside of Oxford, in 1992. Three thousand square feet of hand-hewn log rooms and rustic add-ons, it was just the sort of stylistic hodgepodge that fit the young, renegade-chef persona I was cultivating at the age of 26. The house's only real shortcoming was its tiny, outdated kitchen. The 200-square-foot space had "custom" cabinets with drawers that wouldn't budge, a '60s-era electric oven with a door that fell off every time it was opened, and a moody faucet that sputtered and spit water of unpredictable temperatures. If you recall the kitchen from the television show Green Acres, you get the drift.
I got married two summers ago, and almost as soon as my wife, Bess, moved in we discovered a mutual love for entertaining. I had been single for years and had never done much of it, and Bess had come from a tiny Manhattan apartment. We had a wonderful circle of friends, so the door swung wide for dinner parties. Soon enough, it became clear that the cramped kitchen had to go. That would mean doing some demolition to remove a previous addition and building a 1,200-square-foot space dedicated almost exclusively to the kitchen.
We received the architectural plans exactly three days after we returned from our honeymoon. The space for the kitchen, intentionally left blank by our architect, was to be my design domain. I was drunk with excitement. Each morning, over coffee, I would roll out the plans on our kitchen table and try to conjure the layout in my head. To my surprise (and increasing alarm), no picture emerged. I cut rectangles out of construction paper that represented cabinets, stoves, tables, and appliances. Still nothing. To make matters worse, it seemed that every time I turned around, someone was insisting that I must be the happiest man in the world: a chef designing his own home kitchen! I tried to maintain a brave face for my new bride, but I knew she could smell the fear.
Finally, an image of a rural kitchen in a design magazine jogged loose the memory of an evening I'd spent at the house of some friends in the country outside Paris. Their kitchen had exposed beams, beautifully weathered tile, and copper pots with a patina accumulated over years of use. We'd cooked a huge meal, drunk too much armagnac, and sat in that kitchen for hours, all the while feeding a little counter-height fireplace with logs.
That's when it hit me. After designing so many professional cooking areas, where the object is to move people and food through space efficiently, I had a very different goal here. We'd already noticed that our guests tended to congregate in the kitchen despite its puny size. What our new kitchen needed was a focal point that would actually encourage and accommodate lingering. It needed a hearth.
We began trying to determine how we could include a fireplace like the one I'd coveted in France, only to learn that building codes and space constraints made that impossible. Before long, though, we hit on a perfect substitute: a wood-burning oven. It would provide both the ambience of a fireplace and the functionality of an appliance. We found one we liked, the EarthStone Model 90, a medium-size oven with ample room on its floor for cooking.
As the weeks passed, other pieces began falling into place. Next to our wood-fired oven we installed a brick built-in unit for a six-burner griddle-top Viking range. A large central island, lined by stools on one side, would house a hand-hammered copper farmhouse sink as well as a Viking dishwasher and a Beverage-Air bottle cooler. We put in a butcher block for slicing and chopping and a granite board for pastry, and we had cabinets made from wood salvaged from our demolition. Along one wall we added a low-ceilinged second-story gallery, accessed by an iron spiral staircase, for our cookbooks. The countertops came last, as they do in any kitchen—at the moment when you feel you've been hemorrhaging money for longer than you can stand. We settled on stained concrete, but the "stain" was just superthick red enamel paint. It began peeling instantly, and Bess hated the color, but we decided to live with it.
In the year and a half since the kitchen was finished, Bess and I have spent almost all our waking moments together in that part of the house. We still don't like those damn countertops, but as soon as we get a fire going in the oven, we hardly notice them.