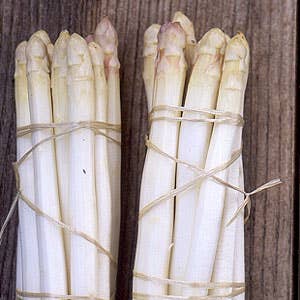 Culture
White Asparagus
Enjoying these ivory-hued spears—prized for their subtle, earthy flavor—is a rite of spring in the valleys of southern Germany
Crowded into the kitchen of the Holzschopf restaurant in Schliengen, Germany, on a cool April afternoon, a small army of cooks is hard at work prepping 180 pounds of white asparagus—known here as Spargel. One of them gently layers bundles of slender blanched spears into porcelain terrines; another watches over cauldrons of thicker stalks simmering in water seasoned with lemon juice, sugar, butter, and salt. At a wooden table just outside the kitchen, two chefs, Holzschopf's Hans-Dieter Walser and his equally talented Los Angeles-based brother-in-law Hans Rockenwagner—who are jointly responsible for this evening's Spargelfest (asparagus festival)—sit amid a mountain of peelings. Heads bowed, crisp white stalks in one hand and peelers in the other, they are intent upon removing every trace of the thin fibrous skin that covers each spear. Offers to help are declined: The job is far too important to delegate. An improperly peeled Spargel is a bitter, inedible thing, they say. To me, something seems wrong with the idea of chefs of this caliber being reduced to little more than scullions—but then, what do I know about white asparagus? Very little, it turns out.
To most of us, asparagus—which, like onions and garlic, is a member of the lily family—means springtime and glorious apple-green spears with violet-tinged tips. But in this fertile valley in southern Germany, bounded by the Rhine to the west and by the densely wooded Black Forest to the east, asparagus is something quite different: a pale ivory stalk with a refined, delicate flavor that has earned it a reputation as the aristocrat of the vegetable kingdom.
Actually, the regal status of asparagus—the green kind, called Gruner Spargel in German—dates back to antiquity. Roman emperors were mad for it, going to great lengths to secure the choicest spears for their empire. France's King Louis XIV even grew it in hothouses so he could enjoy it year-round. White asparagus has a shorter history. The technique of molding earth around asparagus spears as they push up out of the ground, thus keeping them sheltered from chlorophyll-producing sunlight (which would turn them green), was apparently developed in France in the mid-1600s, and the practice soon spread to Germany and other parts of Europe. Growing white asparagus requires patience and a measure of backbreaking labor (hence its high price tag—about $5 to $9 a pound, depending on its origin and how far into the season it is). Today the vegetable flourishes in Asia, North Africa, and South America as well as Europe—almost anywhere with loose, sandy, mineral-rich soil and a warm growing season. The asparagus from Europe, however, remains the choice of most connoisseurs.
''When it comes to the white variety,'' says Hans Rockenwagner, ''you almost need to block out everything you think you know about asparagus. It's a completely different vegetable.'' Rockenwagner has two restaurants in Los Angeles, Rockenwagner and R?ck, but he visits his family in Germany every year during asparagus season. (The harvest traditionally starts in April and ends abruptly in June, on the exact day of the summer solstice.) Ever since leaving Germany in 1983, he has done more than his share of spreading the good word about white asparagus. For about six weeks each spring, at both of his restaurants, he offers what every self-respecting eatery back home does: a Spargelkarte—a special menu based entirely on the vegetable. The selection includes everything from the traditional pound of fresh asparagus with mayonnaise to the kind of innovative dishes that have earned him fame, like seared white asparagus with smoked salmon and a soy and shallot balsamic vinaigrette.
The week I visit Schliengen, Rockenwagner is forsaking his own kitchens for the equally familiar one of the Holzschopf, which has been in his family since 1975. As they have done annually for the past 13 years, Hans, his sister Susi, and her chef husband, Hans-Dieter, have invited everyone from close friends to the town's mayor to help celebrate the new Spargel season with a unique six-course feast, every dish a tribute to their favorite vegetable—right down to the dessert: candied white asparagus with blood orange mousse.
On the theory that there is no better way to understand the miracle of white asparagus than a trip to the fields, I began my own crash course in Spargel appreciation that morning with a lesson in harvesting. The sky is thick with clouds as we weave our way past vineyards, cherry orchards, and bright yellow plots of alfalfa towards the sandy banks of the Rhine and the one-acre asparagus field cultivated by the Walsers' friend, fellow Schliengen restaurateur Ingo Mayer, and his father, Gunter. Susi distributes knee-high rubber boots to each of us, and we trudge toward a succession of great lengths of peaked black plastic. Between the rows run equally long muddy trenches that swallow our boots like quicksand. In truth, the field is anything but bucolic—there are no signs of life, no evidence of anything even remotely springlike sprouting from the dull-brown earth.
The Mayers roll back one of the tarps, uncovering a raised strip of soil, barren but for the occasional blunt tip of an ivory spear that has emerged since the previous day's harvest. Ingo wields a long-handled, scythelike instrument called a Spargelmesser that is used to cut the spears. The asparagus must be harvested just before or just after their tips break through the soil, lest they lose their sweet, earthy flavor—or, worse yet, begin to turn green under the sun. The opaque plastic coverings (a recent innovation in white asparagus cultivation) protect the tips from exposure to light and help retain heat—which partly accounts for the vegetable's remarkable growth rate of several inches a day.
We watch as Gunter carefully brushes away a few inches of sandy soil from around an asparagus tip, exposing an underground forest of pale spears. Next he drives the Spargel-messer deep into the soil, and with one quick turn of his wrist frees a fat, juicy spear from its subterranean habitat without disturbing any of its neighbors. We soon realize how much harder this is than it looks: Our own efforts produce a basketful of maimed and broken stalks. Patti, Hans's ebullient wife and an equally impassioned Spargel enthusiast, tactfully suggests that we leave the carefully tended field to more dextrous hands and take a trip to the farmers' market in nearby Freiburg, the largest city in the Black Forest.
Scores of stalls are jammed around the giant gothic cathedral that looms over Freiburg's main square. Although the weather is temperate and the produce abundant, even this late in April the market seems largely a winter one. The tables are heaped with root vegetables, cabbages, and leeks; except for a few bunches of green asparagus, the usual harbingers of spring—sweet peas, tender lettuces—are nowhere to be seen. But white asparagus is everywhere, some vendors offering as many as six different grades. The least expensive are the broken spears, cut into pieces and sold for soups and stocks; the choicest are ramrod straight and have smooth, thick stalks and tight, pinkish tips. To keep them fresh, the cut ends are draped with damp cloth and the stalks are sprayed regularly with water. We admire the selection, but none of the vendors get our money: We've got our own asparagus field, after all.
That evening we return to the Holzschopf for the much-anticipated Spargelfest. Everything stops in the restaurant when the first platters of steaming spears are brought to the table (which is adorned with bottles of white asparagus schnapps, a Schliengen specialty) with an array of traditional accompaniments: ramekins of mayonnaise, hollandaise, and herbed vinaigrette; a platter of black forest ham; and Kratzete, savory shredded pancakes. Enticing as all the trimmings look, it is the heaping pile of Spargel that captivates me. This is the moment I've been waiting for. I've had white asparagus before, but never this fresh, this lovingly prepared. I slowly take a bite: The texture is soft, with a slight stringiness, and the taste is a subtle mixture of sweet earth, butter, nuts, and a pleasant bitterness the Germans call edelbitter.
Looking down at the simple white plate before me, with its bundle of spears in all their silken purity, I recall something Hans had said to me earlier: ''I love the subtlety of white asparagus, and that it takes a bit of time and effort to really understand.'' But after just a day immersed in the life and lore of this noble vegetable, I don't need any more convincing: Hans has already recruited another convert to his Spargel-loving flock.