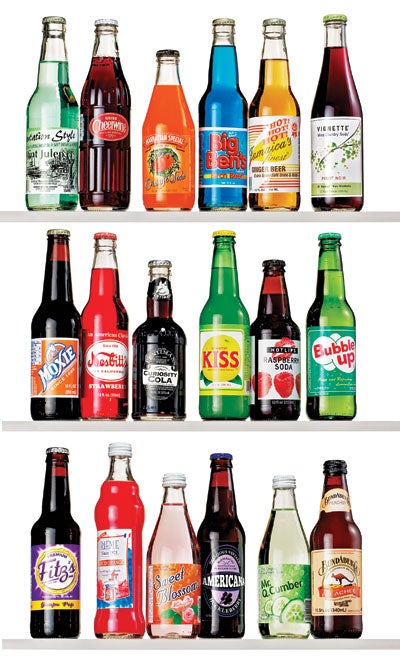 Galco's sodas stand out
Few things go so well with a sandwich as a soda. I love the way the sweet spices in root beer complement a smoky ham-and-cheese and the zing of ginger ale cuts through a rich BLT. But as the SAVEUR staff put together this issue and the variety of sandwiches proliferated, I realized I'd need to look beyond my corner store for soda pairings. What could match the man'oushe from Beirut or the Bombay vada pav?
I turned to Galco's Soda Pop Stop, a Los Angeles emporium that stocks the ideal fizz for every sandwich imaginable. The store's rows of bottles—more than 500 sodas total— set the pulse racing. A stroll down one aisle reveals almost-forgotten American sodas like Bubble Up (a lemon-lime precursor to Sprite) and Manhattan Special's Vanilla Cream (with flecks of vanilla bean), as well as new ones, like the Sweet Blossom line of floral refreshers (one of them made with essence of rose, a fine match for the fragrant man'oushe – see recipe) and the cucumber-laced Mr. Q. Cumber (a cooling antidote to the fiery vada pav — see recipe). Further exploration reveals an international bonanza: melon sodas from Japan, sorrel sips from Jamaica, barley quenchers from Denmark.
For John Nese, the store's owner, the sheer diversity of his esoteric offerings is a matter of professional integrity, as well as taste. After taking over management of his family's Italian grocery and deli, in the 1990s, he discovered that the big beverage companies were charging him more than they were charging his chain store competitors. He decided to drop the corporate brands altogether. Before long, the grocer had given over entirely to sodas from independent bottlers. Nese is also committed to "real ingredients": fruit pulp rather than extracts, cane sugar instead of corn syrup. All of Galco's sodas are available by the single bottle and in mixed six- and 12-packs, making it easy to sample widely. As Nese likes to say, "It's all about freedom of choice." $.99-$6.99 each, plus shipping. To order, call 323/255-7115, or visit sodapopstop.com. —Karen Shimizu