Christmas in Connecticut
In this year's SAVEUR 100, we take stock of our favorite things: recipes, people, places. We consider every last one a new classic.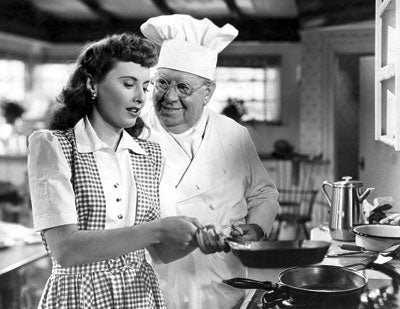 When it comes to legendary female food writers, there's Julia, there's M.F.K.— and we really ought to add Elizabeth Lane to the list. Barbara Stanwyck's character in the 1945 farce Christmas in Connecticut is a columnist known for her dispatches on her family, her Connecticut farm, and—most notably—her cooking. But in reality, Lane is a single gal living in Manhattan who can't so much as boil water. The fraud hums along perfectly, until it doesn't. "Where am I going to get a farm?" she cries when her publisher invites himself over for dinner. "I haven't even got a window box!" High jinks ensue—assumed identities, secret engagements, heroic attempts at pancake flipping—and Lane realizes the business of feeding others, or just pretending to, is far more demanding than she'd ever imagined.