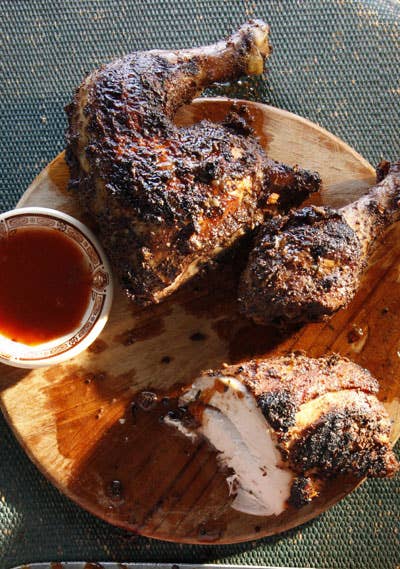 Culture
Jerk
In this year's SAVEUR 100, we take stock of our favorite things: recipes, people, places. We consider every last one a new classic.
You know you're near a restaurant that specializes in jerk—Jamaica's succulent, spicy style of barbecue—by the irresistible smell of sweet smoke in the air. Whether in Jamaica itself, or in London, Toronto, Brooklyn, or other cities where Jamaicans have settled, you'll find cooks tending marinated meat over fire. Jerk lovers like us queue up for the stuff, waiting to douse hunks of hot, fragrant meat in blistering, piquant sauce, and devour it with blissful abandon.
The key to jerk's tremendous appeal lies in the unique way it's prepared. At some of the most celebrated "jerk centres," such as Scotchies, which has locations in Kingston and elsewhere in Jamaica, the meat is cooked atop wood set over charcoal in long, troughlike grills. The white smoke from the branches is captured beneath sheets of galvanized zinc that are laid on top of the grill, so that the jerk steams as it smokes, resulting in moist, tender meat. Allspice, ginger, cinnamon, and thyme lend fragrance to the complex paste in which the meat marinates before it's cooked; scallions and citrus give it sharpness and tang; and plenty of black pepper and Scotch bonnet chile add heat.
Today, the jerk meat of choice is chicken, though the technique is also applied to sausage, seafood, goat, beef, lamb, and the original jerk meat, pork. The dish originated in the 18th century with Jamaica's runaway slaves, who hunted feral pigs, rubbed the carcasses in foraged herbs and spices, and cooked the meat in covered pits. Not only was the preserved meat portable, but, as later visitors attested, it also tasted wonderful. On a visit to Jamaica in the late 1930s, the writer and anthropologist, Zora Neale Hurston, found jerk to be "more delicious than our American barbecue." We may have to agree.