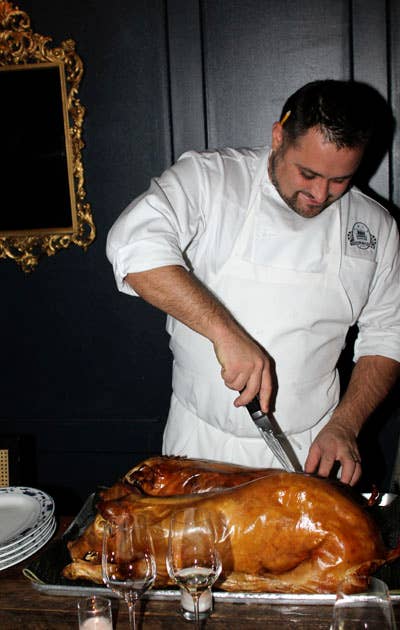 Culture
Double Crown's Suckling Pig Staff Feast
At New York restaurant Double Crown, the waitstaff competed to sell at least one bottle of every wine on the list. The winning team landed a serious multi-course feast at the restaurant — with the losing team as their servers.
Here in New York, food competitions are everywhere. Among novice cooks and experienced chefs alike, battles go down all the time over pork, cupcakes, or fried chicken. But when I heard about a wine battle brewing within the ranks of the staff at Double Crown, a British-Southeast Asian-fusion restaurant in the city's Soho neighborhood, I had to check it out. Double Crown's beverage director Chris McPherson thought up the friendly competition to get his staff more interested in the wines he had brought in for the restaurant's devoted clientele. He split the waitstaff into two teams, promising that the first group to sell at least one bottle of every wine on the list would win a multi-course feast at the restaurant — with the losing team as their servers.
"It's always a challenge to get [servers] to sell wines," McPherson said. For many servers, their job is a temporary stop in their career trajectory, so they might not really care about the product they're hawking. "But when you introduce a competition into the mix, it brings out the best in people," said McPherson. "They research the wines on their own, get to know where they come from, and in that way become more knowledgeable."
Put into practice, it turned out that the perfect way to mitigate wine apathy was a little competition — not to mention the promise of an elaborate private dinner. After about two months of fierce competition, a bottle of Champagne sold by waiter Dusty St. Amand sealed the win for the Grizzly Grapes, one of the two fifteen-person teams. "I had always had an interest in wine, but it was always too mystical for me to wrap my head around," St. Amand explained. "Wine isn't like soda; it takes time to learn about it and get comfortable with it. This was the kick in my butt that I needed to finally do that." (His major takeaway was a change to his selling style: "I now try to describe the feeling you get when drinking the wine through metaphors instead of describing the taste of the grape - something people can really relate to.")
St. Amand and his team sat down to dinner Monday night to feast on suckling pig prepared by Double Crown chef de cuisine Christopher Rendell. "I loved [McPherson]'s idea of injecting some excitement into the wines," Rendell said, and the celebratory dinner seemed like "a natural fit" for the brass ring. Along with the centerpiece pig — marinated in apple cider vinegar, lemongrass, ginger, star anise, and paprika, and served Peking-duck-style preparation with steamed buns, cilantro, scallions, and Chinese sausage friend rice — he and his team produced a massive spread of shishito peppers, yellowtail sashimi, and duck spring roll appetizers, Malaysian pork bone tea soup, crispy fried Brussels sprouts in sweet chili glaze. Take a look at Rendell (and the suckling pig) in action in our gallery.