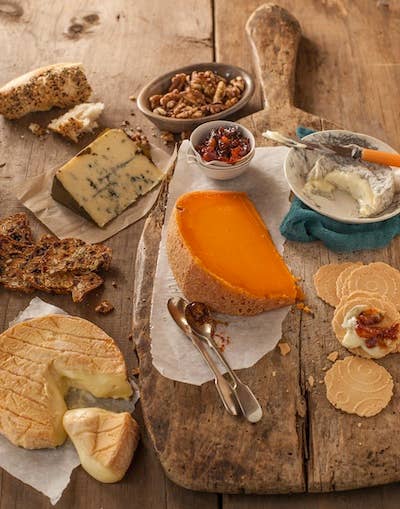 Culture
Cheese Please
We'll admit it. We're obsessed with cheese. Walk into a Whole Foods Market ® cheese department and you'll find hundreds of the best cheeses we can get our hands on from all over the world and from right in our backyards.
Holy Cow, Goat, Sheep and Buffalo
We're often asked how we choose our international selection of cheeses and the answer is simple: we taste our way around the world. Our expert buyers personally visit creameries and maturation rooms, hand selecting flavor profiles and cheeses at a certain age. We work closely with gifted cheesemongers to showcase the talents and terroir of their regions. This allows us to stock a comprehensive range of cheeses and hand cut to order per your needs.
Hungry for domestic treasures? We are too. We're passionate about discovering and sharing local and regional cheeses. Our cases are filled with American originals created using traditional farming and cheese making methods.
Because we have your best interests in mind, we are always bringing in more cheeses made with milk from cows not treated with synthetic growth hormones, including a solid selection of organic cheeses. We don't sell any cheese that contains artificial flavors, colors or preservatives.
From Gouda to Le Gruyere to Gorgonzola, our in-store specialists will help you choose the perfect cheese for any palate or price point. And we're happy to suggest pairings with wine and foods, too.
With more than 30 years of experience, our Global Cheese Buyer, Cathy Strange, is an expert at detecting international food trends while traveling the world to find cheeses that meet our quality standards.
After discovering new cheesemongers, Cathy works diligently with them to select cheeses for our stores, often securing varieties that you can only find at Whole Foods Market. Thanks to Cathy, we haven't lost track of the smaller cheese makers, so you won't either.
Bon Homme for the Holidays
Tis' the season for entertaining with Brie, a quintessential party food due to its unmatched flavor and elegant reputation. This year impress your guests and BYOB (Build Your Own Brie). Here's how: because not all Brie is created equal, we reach for Isigny Sainte Mere Bon Homme Brie. This Brie from Normandy, France is only found at our stores and traditionally crafted by a farmer co-op. Their lush grasses make for rich milk, superb flavor and a luscious texture. Next, top with a sour cherry or organic figs spread—or try a vegetable tapenade. Sprinkle on crunch with chopped Marcona almonds, candied walnuts or toasted pine nuts and then enjoy with friends and family! Fromage to you, happy holidays.