Welcome to the new Saveur.com!
We've expanded our offerings on SAVEUR.com. Here's a breakdown of what you'll find.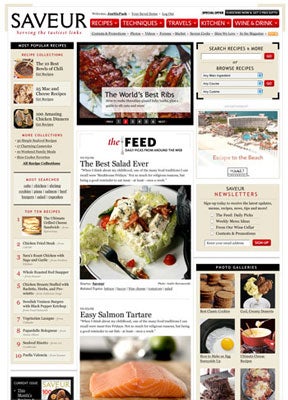 We've redesigned our site to make it reflect even more vibrantly what Saveur has always been about—traveling far and wide to savor authentic cuisine.
In addition to a full range of stories, recipes, and photos from Saveur magazine, we've added new features like The Daily Fare, a daily roundup of "the Best of the Web": links to fascinating and delicious food finds, recipes, cooking tips, destinations, and more. The Daily Fare gives you everything from a recipe for tasty vegetarian kebabs to the perfect red wines to drink during the summer to an insider tip on where to buy some amazing beef jerky in Las Vegas.
The Daily Fare also keeps you up-to-date on the latest culinary discoveries, shared by regular contributors who are passionate about their topics. For example, organic butchers will be blogging about their favorite carnivorous content on the Web; an expert sommelier will offer a wine of the week and dishes to pair it with; and a pastry cook will provide links to luscious desserts. And, of course, you'll hear from professional chefs: culinary innovators who will be dishing on great meal ideas and kitchen techniques for the home cook.
We've expanded our recipe coverage, too. Our Recipes section will emphasize dishes, from Saveur and from all over the Web, that are not only authentic but also easy to make—tasty meals you can put together when you come home from work. We'll have some elaborate recipes as well, for weekends and dinner parties, but you'll always find something that will inspire you in the kitchen, no matter how big or small your ambitions.
It all adds up to a wonderful addition to the distinctive food coverage you've come to expect from Saveur. So, take your place at the table as we launch this exciting online endeavor—ironing out any wrinkles along the way—and stay tuned for more good stuff that's coming to the site in the next few weeks and months.
Thanks for joining us. It's great to have you here.
James Oseland
Editor-in-Chief
Saveur