20 Great American Bread Bakeries
When researching our special feature on American Bread for our May 2012 issue, twenty bakeries across the country stood out above the rest as pioneers and role models in the American artisan bread movement.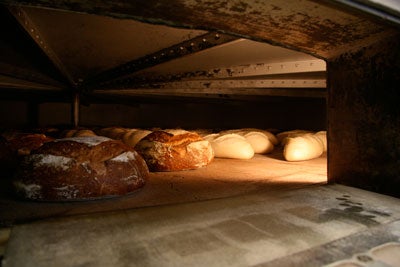 Bay Area, California
510/524-1327
This nearly 30-year-old Berkeley institution, helmed by co-founder and Chez Panisse alum Steve Sullivan, is not content to rest on its yeasted laurels. Committed since 1999 to using only organic flour, these days Acme, with its original bakery in Berkeley and an outpost in San Francisco's Ferry Building Marketplace, is working closely with flour supplier Keith Giusto and his cadre of California farmers to find hearth bread-friendly wheat varieties suited to the local climate. A loaf to look out for: Acme's new hand-formed "Edible Schoolyard Loaf," a tasty homage to Alice Waters' groundbreaking program, a toasty bread made from California-grown, stone-milled Yecora Rojo wheat. A point of pride for Sullivan: five current or former employees now have an ownership stake in this much-loved pioneering bakery.
Englewood, New Jersey
201/503-9717
Like watching the Yankees, riding the Cyclone and shopping in SoHo, eating Balthazar bread is a quintessential New York experience. Okay, so it's technically baked at a 14,000-square foot warehouse in Englewood, New Jersey, but Balthazar's dozens of products fill the breadbaskets of hundreds of eateries in the five boroughs, including the bakery's sister brasserie of the same name. And despite the large-scale operation, each bread tastes like the work of a single boulangerie. The French Baguette, Rye Boule, a beer-infused Olive Bread and Chocolate Bread loaded with morsels of bittersweet chocolate are just a few of Balthazar's greatest hits.
Housatonic, Massachusetts
413/274-3412
Baker Richard Bourdon's shop may be tucked away in a Western Massachusetts village with a population just over 1,000, but it has garnered nation-wide attention. The calls for road trips to Berkshire Mountain Bakery are certainly warranted, as Bourdon, who hails from Quebec, has been committed to the art of natural sourdough baking for more than 35 years – long before this wild yeast process became en vogue in America. Some of the his most legendary products are Bread and Chocolate, a white boule studded with Callebaut chocolate chunks, the Multi Grain covered with rolled oats and the Cherry Pecan, which makes for incredible French toast.
Credit: Alan Tansey
Bien Cuit Bakery
Brooklyn, New York
718/852-0200
Zachary Golper's stories of his first baking experiences as a 19-year-old in rural Oregon sound like generations-old folklore — but they happened a mere 15 years ago! He worked by candlelight under the guidance of a man known to him only as Carlos, hand-mixing dough and raking the embers of the wood-burning oven. These days, Golper uses electric mixers in the one-year-old Boerum Hill bakery and cafe he owns with his wife, Kate Wheatcroft, but his techniques are as meticulous as ever. For instance, he blends six different flours and then ferments the dough for 68 hours to craft the miche, a round French-style loaf with a dark, chewy crust and a slightly sour flavor.
Credit: Meg Matyia
Blue Duck Bakery and Cafe
Eastern Long Island, New York
631/629-4123
Keith Kouris has been raising the bread bar since the mid-1990s, when, as a visionary young baker in a suburban King Kullen, he introduced artisan breads to one of Long Island's largest supermarkets. In 1999 he and his wife Nancy opened Blue Duck in Southampton, in a building that had housed a bakery since the 1930s, turning to Europe for inspiration for their traditional, hand-made baguettes, batards, and focaccias. We love their chewy, hearty Pain Rustique; gorgeous, cake-like Pain Chocolat; super aromatic fennel-scented Swedish Limpa with raisins and spices; and a stunning seed-studded sunflower loaf. What makes Blue Duck breads so delicious? Proximity to the water — the Atlantic Ocean on the South Fork and the Long Island Sound on the North — may be part of the secret, fortifying Kouris's cultures with moisture and a lick of salt air. But it's the baker's passion that elevates Blue Duck above the flock.
Boiceville, New York
845/657-3328
This pioneering bakery nestled in New York's Hudson Valley churns out more than 55,000 pounds of organic bread each week, sending freshly baked loaves to supermarkets, specialty shops and farmers' markets throughout the Northeast, not to mention its three Upstate New York cafes. But Bread Alone wasn't always such a major operation. Artisan Dan Leader moved to the Catskills in 1983 to escape the New York City rat race and sold bread out of his Mazda Hatchback. But he was back in Manhattan soon enough, hawking Bread Alone loaves at city greenmarkets. And despite Bread Alone's expansion, Leader and his team still use locally sourced ingredients for everything from their golden Challah to their rustic Ciabatta.
Credit: Ed Anderson
Della Fattoria Bakery
Petaluma, CA
707/763-0161
Started in 1995 by Edmund and Kathleen Weber at their family ranch, an old chicken farm that today supplies eggs and produce to their cafe in downtown Petaluma, Della Fattoria began quite by accident back in 1994 after Kathleen installed a wood oven outside the kitchen ("a lifelong dream!") and began baking breads for friends, neighbors, and soon, the chef at Sonoma Mission Inn where her son Aaron was working. These days Della Fattoria turns out 400-1,200 hand-shaped loaves a night, crusty beauties crafted from 100% organic flour, Brittany sea salt, and a natural starter that began life years ago with yeast from Weber Ranch grapes (they still grow Pinot Noir at their small vineyard). Their breads — campagne, levain, ciabatta, polenta, pumpkin seed, and more — are all naturally leavened and baked on the bottom of their two wood-burning ovens using retained heat. Find them at restaurants like Napa Valley's Auberge du Soleil and the Marin and San Francisco Ferry Plaza weekly farmers markets. Della Fattoria's Rosemary-Meyer Lemon bread is a knockout: salty, lemony, herbal, with a beautiful sheen to the well-structured crumb and a crust that bears beauty marks from the floor of the hearth it baked upon.
Gerard's Breads of Tradition
Westford, Vermont
Available at Onion River Co-Op, Burlington, Vermont
It's a good thing Gerard Rubaud set up his bakery next to his Vermont home, as he often works 15 straight hours to hand-form and wood-fire hundreds of his signature item, the wild yeast-based 3 Grain Country Loaf. "I like baking through the night, under the stars – that's my life," said Rubaud, a Savoie-native who took his first apprenticeship at age 13. Vermont's beloved artisan (he has a street named after him!) still employs many of the same techniques that he learned as a teen in the 1950s, including using a manual grinder to mill flour and feeding his organic levain three times a day. It's methods like these that make Gerard's sourdough arguably the most deeply flavored bread in the state.
Leslie Cole (courtesy of Grand Central Bakery)
Grand Central Bakery
Portland, Oregon and Seattle, Washington
This Pacific Northwest pioneer, founded by Gwenyth Bassetti in 1989, grew out of her little Seattle sandwich shop The Bakery, which when it opened in 1972 served a custom "Bakery Blend" coffee made for them by a new local company called Starbucks. Today Grand Central Bakery has three locations in Seattle and another six (soon to be seven) in Portland, and is run by Gwen's son Ben, a onetime geologist and fisherman in Alaska; daughter Piper, the "soul" of the company; and an assortment of friends who share their passion. Grand Central's rustic European-style hearth baked breads are made from sustainably grown white flour from Shepherd's Grain in Palouse, Washington and whole wheat flour from Camas Country Mill in Oregon's Willamette Valley, which is bringing back heirloom wheat varieties like Red Fife well suited to the local climate. In addition to their classic baguettes, levains, ciabattas, sour ryes, and their famous white Italian-style Como Loaf, with its crisp crust and glossy crumb, Grand Central Bakery has just started a seasonal loaf program, kicking off this past winter with a rye-based Swedish Limpa, scented with anise, coriander, caraway seeds, and orange zest.
Northampton, Massachusetts
413/582-9009
The Hungry Ghost feeds more than spirits with its spectacular breads, among them French, organic raisin, and a dense rye topped with toasted black kalonji seeds. Baked in a wood-fired masonry oven baker/owners Jonathan Stevens and Cheryl Maffei helped build themselves, many of Hungry Ghost's breads are made from locally grown, freshly milled wheat and spelt, cultivated as part of the bakery's "Little Red Hen" project to restore grain-growing in the Pioneer Valley. Like the Johnny Appleseeds of wheat, Stevens and Maffei started several years ago doling out handfuls of wheat berries to eager customers to plant in their yards and gardens. By now, one local farmer delivers 400 pounds of flour to Hungry Ghost each week. Try the Hungry Ghost's Trinity bread, made from local spelt, wheat, and triticale (a wheat-rye cross). Another curious specialty is annadama, a corn flour-and-molasses New England bread born, the legend goes, when a hungry fisherman, tired of the cornmeal and molasses porridge his unimaginative wife served him day after day, added yeast and flour, muttering "Anna, damn her" as he baked the concoction.
Iggy's Bread of the World Bakery
Cambridge, Massachusetts
619/924-0949
Husband-and-wife team Igor and Ludmilla Ivanovic changed the Boston bread scene when they opened their groundbreaking Watertown bakery on a nondescript industrial block in 1994. Their creations, from moist focaccia made from naturally leavened dough to hearty 7-Grain roll laced with wildflower honey, were revelations to locals raised on overly processed supermarket bread. Iggy's, whose breads are available at the bakery's storefront, New England farmers markets and grocery stores, prides itself on using organic ingredients sourced from sustainable farms.
Portland, Oregon
503/248-2202
Inspired by the late famed French baker Lionel Poilane, Ken Forkish ditched his career in the high-tech world of Silicon Valley in search of something more craft-driven. The result: this warm, welcoming bakery, started in 2001 and now a neighborhood institution, serving up traditional European-style hearth-baked boules and baguettes that fans say rival the best in Paris. Clearly, the career move has paid off, with Forkish recently garnering his third nomination for a prestigious James Beard Award for Outstanding Pastry Chef. Look out this fall for his first book, Flour Water Yeast Salt: The Fundamentals of Artisan Bread and Pizza (Ten Speed Press, September 2012). In the meantime, if you're in the area, treat yourself to Ken's soulful walnut levain, with its gorgeously irregular honeycombed crumb and notes of lavender, or a nice Country Blonde, its thin crisp exterior cloaking a light, subtly tangy sourdough crumb.
Credit: Emily Hart Roth
Milo & Olive Bakery
Santa Monica, California
310/453-6776
Fans are already flocking to this tiny Santa Monica bakery and pizzeria that turned out its first breads just last November. Run by husband-and-wife team Josh Loeb and Zoe Nathan, whose nearby much-loved restaurants Rustic Canyon and Huckleberry Bakery ensured an instant following, Milo & Olive brims with playful energy: the place was named for the couple's young son and the daughter they may one day have, and Tartine-trained Zoe cheerfully confesses that the inspiration for her out-of-sight Cheese Bread, packed with parmesan, Grana Padano, Gruyere, and cheddar, was childhood favorite Cheez-It crackers. But don't be fooled: her multigrain baguette, swoon-worthy Cinnamon Sugar Brioche, and jewel-studded Fruit & Nut Bread are as sophisticated as they come.
Credit: Josh Shaub
Orwasher's Bakery
New York City
212/288-6569
Even the newest offerings at this 86-year-old bakery are firmly rooted in the past. Orwasher's line of artisan wine breads, launched in 2008 by new owner Keith Cohen, are based on centuries-old French recipes that feature the yeast of fermented grapes. Of course, the Upper East Side shop still serves brick oven-baked favorites that were perfected by the Orwasher family (the original owners) like the Jewish Rye and Pumpernickel — edible histories for the Eastern European immigrant experience.
Long Island City, New York
718/729-6832
(not open to the public)
No matter how many restaurants and markets clamor for their bread, the Pain D'Avignon crew refuses to cut corners. Bakers at the 12-year-old Long Island City operation work side by side, cutting and shaping dough by hand before allowing it to slowly ferment en couche – in a cloth that supports the dough as it rises and keeps it from drying out. But while the dough is the tour de force of Pain D'Avignon's product line, intoxicating ingredients like fresh Rosemary, caraway seeds, cranberries and pecans are wonderful supporting players.
Providence, Rhode Island
401/521-2200
Baker/owners Jim and Lynn Williams started tending their whole wheat and rye sourdough starters months before they opened their bakery in early 2001, and they continue to lavish the care of a parent on their starters to keep them young and healthy for breads with great flavor and rise and only the mildest tang. The couple have since expanded operations to include three locations around Providence, one on the site of the old Rumford baking powder plant, now a National Chemical Historic Landmark. We especially like the French Rye, the Toasted Walnut and Raisin, and the chewy Olive Batard, strewn with tiny oil-cured Moroccan olives and plump, briny Kalamatas, the essence of the Mediterranean in bread form.
Credit: Squire Fox
Sullivan Street Bakery
New York City
212/265-5580
The innovator whose no-knead bread recipe became a New York Times sensation in 2006 and who invents bread names — truccione , cruccolo, doni — that quickly take on the patina of authenticity, Jim Lahey also embodies a back-to-basics classicism that prizes skill, repetition, and craftsmanship, even as his breads and business continue to evolve. He lauds the local flour movement and quests for exotic yeasts, but at the end of the day, he says, "it's the primacy of the bread, feeding someone, that really matters." Bite into his succulent, slightly salty Truccione Sare, a rustic sourdough with deep, appealing slash marks and a heavily charred, crackly crust, and savor that primal feeling.
Cary, North Carolina
919/657-0657
You know what they say, you can take the baker out of France but you can't take the French out of the baker. That's certainly the case for Paris-native Lionel Vatinet. He left his French bread-baking guild to travel the world and eventually settled in a Raleigh, NC suburb, where he opened La Farm with his future wife, Missy. La Farm reflects the baking traditions Vatinet learned during his seven-year tenure with the prestigious guild, Les Compagnons du Devoir: The dough is made with a natural sourdough starter and unbleached flours before it is baked in a European-style hearth oven. "I wanted to introduce people in the neighborhood to crusty, hand-made bread," Vatinet said. But he does enjoy experimenting with internationally influenced breads, such as the addictive Asiago Parmesan Cheese Bread. "We're a French bakery with the creativity of the American spirit," Vatinet said.
Standard Baking Company
Portland, Maine
207/773-2112
There's often a long line at this 17-year-old bakery located inside a brick warehouse, but that may not be such a bad thing; the wait gives customers the time to inhale the scent of fresh-baked bread and behold the wicker baskets filled to the rim with gorgeous loaves. Husband-and-wife co-owners Matt James and Alison Pray modeled the Standard Baking Company after the neighborhood bakeries of France and Italy, and breads like the flour-dusted Rustic Loaf and Rosemary Focaccia are the edible incarnations of their influences.
San Francisco, California
415/487-2600
Elisabeth Prueitt and Chad Robertson's Mission District phenomenon is its city's gold standard for impeccable organic bread. The stone hearth-baked loaves have spawned a cafe menu of artfully prepared sandwiches, but bread bought unadorned is still the best way to experience Robertson's way with flour, salt, water and wild yeast. His masterpiece is the Country Loaf, which he developed and perfected over the course of two decades. The process takes 24 hours and Tartine loyalists line up to buy this fundamental bread when it's served fresh from the oven after 5 pm Wednesday through Sunday. The Country Loaf is available with walnuts, olives or sesame seeds, but purists prefer it plain and simple.
What's your favorite bakery? Let us know in the comments.