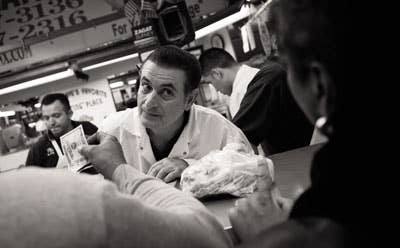 The Arthur Avenue neighborhood in the Bronx is New York's real Little Italy. Growing up nearby, I had no choice but to become addicted to good food. Nowadays I have to drive an hour from my current home in New Jersey, but, for me, the best meals still begin with shopping on Arthur Avenue.
My first stop is always Mike's Deli (718/295-5033), in the Arthur Avenue Retail Market (2344 Arthur Avenue). That's where I pick up prosciutto, cured olives, just-made mozzarella, and canned Sicilian tuna. As I shop, the owner, David (Mike's son), gives me a taste of this, a taste of that. Next to Mike's Deli is Peter's Meat Market (718/367-3136); I can't buy anything there without being interviewed first.
"I'll take a semiboneless leg of lamb today, Pete."
"Okay, Frankie, but how are you going to cook that? Should I season it for you before I tie it up? How much do you need?" Pete's questions make me a better, more attentive cook, and the product is top quality, cut to my specifications. The same goes for the fish at Randazzo's Seafood (2327 Arthur Avenue, 718/367-4139), across the street. That place is a pillar of the neighborhood; the same family has been running it for years.
Over at Addeo Bakery (2372 Hughes Avenue, 718/367-8316) I buy loaves of the crusty pane di casa, bread crumbs, and savory biscotti. At Cerini Coffee & Gifts (2334 Arthur Avenue, 718/584-3449) I get a bag of the Zoo Blend and some espresso beans. Around the corner, at the DeLillo Pastry Shop (606 East 187th Street, 718/367-8198), I pick up my order of pignoli cookies and flaky, ricotta-filled sfogliatelle pastry. Then I'll walk over to Borgatti's Ravioli and Egg Noodles (632 East 187th Street, 718/367-3799). They'll give you any pasta you want, cut to order. Finally it's on to Mount Carmel Wine & Spirits (609 East 187th Street, 718/367-7833), where I can find a $9 bottle of salice salentino or a $350 bottle of Ornellaia Masseto '05.
At lunchtime, there are so many choices: Dominick's (2335 Arthur Avenue, 718/733-2807) for trattoria-style food; Pasquale Rigoletto (2311 Arthur Avenue, 718/365-6644) for calamari fra diavolo; Mario's (2342 Arthur Avenue, 718/584-1188) for pizza. Or maybe I'll splurge at Roberto's (603 Crescent Avenue, 718/733-9503)--to my mind, the best Italian restaurant in New York. The specials might include grilled scamorza cheese with spinach or roast rabbit and butternut squash. If Roberto's there, I'll ask him to choose for me. He'll reply, "Do you trust me?" Of course I do. —Frank Galella, Denville, New Jersey