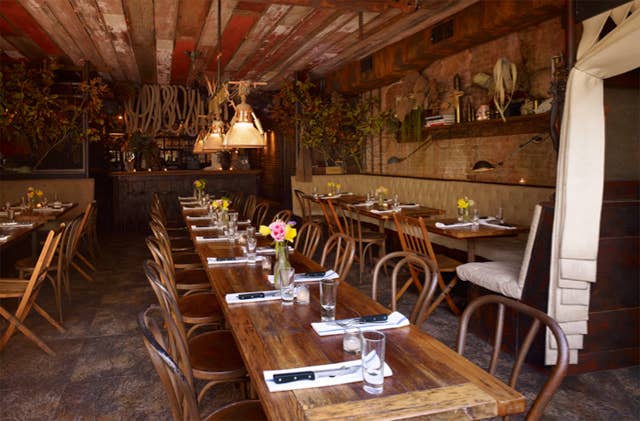 Travel
Heurigen: Austrian Wine Taverns
Austria's heurigen—wine taverns—are some of the best places to tuck into the country's home-style fare
In New York, where I live, biergartens are taking over the city. Lately it seems like every other block hosts a German-style beer gardens, the convivial din of clinking steins and the spicy scent of sausages dipped in brown mustard drifting into the night. But the biergarten's cousin, the Austrian heuriger—where the beer is replaced with wine, but the spirit remains the same—is almost unknown. That's a shame, because in Austria, heurigen are some of the best places to tuck into the country's home-style fare.
Stemming from the word for "this year," heurigen began to proliferate in the 18th century when a decree by Emperor Joseph II allowed the country's vintners to sell newly fermented wine directly to customers, tax-free. Winemakers set up communal wooden tables in their gardens or directly in their vineyards, and shortly after the beginning of harvest season, they would hang an evergreen bough just outside their gates as a signal to neighbors that the wine was ready and flowing.
Initially heurigen were not allowed to sell food, a measure to prevent their competition with local restaurants. But the rules slackened over time, and the winemakers (many of whom also grew vegetables and maintained herds of cattle or sheep) began to offer a selection of hot and cold dishes sourced directly from their own farms. That simple, self-contained strategy remains today: "It's the most direct farm-to-table food you can imagine," said chef Eduard Frauneder, an Austria-born, New York-based chef who grew up eating in Viennese heurigen with his family.
Sold from a buffet counter, heuriger food tends to be simple and hearty: a paprika-spiked cheese spread called liptauer, vinegar-marinated sausages called sauer blunzen, breaded wiener schnitzel, pickled mushrooms, cabbage and peppers, potato salad spiked with pickled red onion, schmalzbrot (homemade brown bread slathered with crackling-rich pork drippings), and warm apple strudel. The wine continues to be the heuriger's main event, but it's the food that encourages people to relax and stay awhile.
Heurigen are native to Vienna, where dense clusters of these homey wine taverns once skirted around the edges of the city. The tradition has since spread to the country's other agricultural regions, and today nearly 200 licensed heurigen dot the country. Last September, I ate at Gabriel, a lovely heuriger in the town of Rust, about an hour southeast of Vienna, where in addition to my mug of lightly-fermented sturm (new wine) and a cheese plate drizzled with pumpkin seed oil, I enjoyed another common heuriger tradition: a round of lively songs played by owner Alfred Gabriel on the in-house grand piano.
Back in New York, Frauneder and his business partner, Wolfgang Ban, are helping to introduce the heuriger to the United States. At their restaurant Edi & The Wolf, a globally-sourced wine list and selection of beers fall outside of the traditional heuriger definition, but the communal wooden table, outdoor garden space, and rustic Austrian dishes (pickled beets and red pearl onions, liptauer with paprika and pumpkin seed oil, spatzle with wild mushrooms and wiener schnitzel) are pulled directly from their homeland's tavern tradition. "I don't think people here fully understand the heuriger just yet," Frauneder said of his non-Austrian clientele, but perhaps that's soon to change.
Here's a list of recommended heurigen you can raise a glass to next time you're in Austria.
Fuhgrassl-Huber
Pair a glass of Fuhgrassl-Huber's tangy zweigelt rose with a selection of fried cheese with cranberries, dumplings, tangy sauerkraut and warm apple strudel from their buffet.
Neustift am Walde 68, 1190 Wien
tel: +43 0/1/440-14-05
Mayer am Pfarrplatz
Raise a refreshing glass of Riesling and tuck into a salad topped with pumpkin seed oil, all while gazing at the apartment where, two centuries ago, Beethoven wrote his famous 9th Symphony.
Pfarrplatz 2, 1190 Wien
tel: +43 01/370-33-61
Wieninger
Opened in 1949, this heuriger is now run by the third generation of the Weininger family. The heuriger's long pine tables and shady outdoor garden offer the perfect setting for a glass of apple-scented gruner veltliner and a plate of spinach and goat cheese strudel.
Stammersdorfer Straße 78, 1210 Wien
tel: +43 01/292-41-06
Nigl
One of Chef Frauneder's favorites—"they make a killer chardonnay," he says—this heuriger has cozy parlor-style seating and a wide selection of food and sweets.
Kunigundbergstraße 57, A-2380 Perchtoldsdorf
tel: +43 0/1/865/75-31
Weingut Gabriel Johannes u. Mitges
The fare at this heuriger skews fresh, simple and very traditional (liptauer, homemade bread, pickles, smoked meat and fish). Enjoy your spread alongside a glass or two of velvety blaufrankisch. If you're lucky, owner Alfred Gabriel might entertain you with a song or two on the in-house grand piano.
Hauptstrasse 25, A-7071 Rust
tel: +43 0/2685-236-0