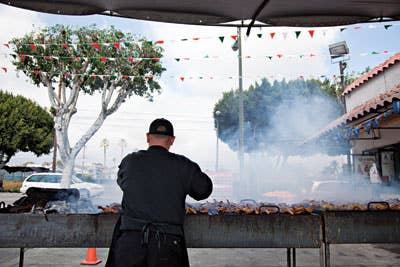 Travel
The Guide: East LA Barbacoa
Cooks like Tia Adelita operate makeshift restaurants and street carts across eastern Los Angeles County. Below, a few locations that specialize in Mexico's wood-fired meats.
Barbacoa Actopan 3100 East Imperial Highway, Lynwood (310/764-5590) Located in Lyn wood's Plaza Mexico, this family-owned restaurant serves maguey leaf—wrapped lamb barbacoa on tortillas with smoky salsa and sides like lamb soup with chickpeas.
El Borrego de Oro 2403 Whittier Boulevard, Los Angeles (323/780-4213) The name of this casual restaurant translates as "the Golden Sheep," a reference to its specialty. Lamb and mutton barbacoa are cooked and served in enchiladas, gorditas, and a dozen other ways.
El Hidalgo 10345 Laurel Canyon Boulevard, Pacoima (818/890-5524) This modest restaurant serves Hidalgo-style food from central Mexico during the week but offers barbacoa in tacos with green salsa, chopped onion, and cilantro on the weekends. The meat is cooked in an above-ground, outdoor pit.
Lonchera "Candy" Truck Main Street between 23rd Street and Adams Street, Los Angeles From 7 a.m. until 3 p.m. on weekends, this food truck serves one thing only: barbacoa de cabeza tacos, filled with the tender, flavorful meat from the lamb's head.