Easter Comfort
A traditional Polish soup makes the holiday in one small Vermont town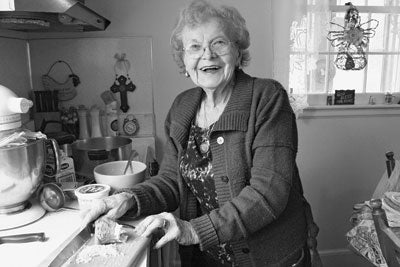 I was hunting down fresh horseradish for the Passover seder plate when a grower near my home in Vermont mentioned that some customers use his crop for bialy barszcz, a Polish soup eaten at Easter that's often spiked with the pungent root. As I found out, bialy barszcz (pronounced be-AH-lee BARsht) means "white borscht" in Polish, but the ivory-colored soup rich with sour cream, kielbasa, and eggs (see page 14 for a recipe) shared little with the beet borscht I knew. My Jewish great-grandparents, along with many Catholic Poles, came to this country from Eastern Europe in the late 19th century. Our ancestors likely made barszcz with the European cow parsnip plant, also named barszcz, according to Maria Dembińska's Food and Drink in Medieval Poland: Rediscovering a Cuisine of the Past (University of Pennsylvania Press, 1999). The beet version came later.
In Vermont, many Polish Catholics settled in the quarry town of West Rutland. Ninety-year-old Emily Pokrywka grew up there and has never lived far from Saint Stanislaus Kostka Church. "My mother spent days preparing for Easter," she recalled. "We raised a pig out back. We smoked the kielbasa over an apple wood fire."
The kielbasa, along with horseradish and eggs, symbolizing Jesus's sacrifice and rebirth, were set out with other foods on the Saturday before Easter, when the priest visited. "He would bless the food and hand us each a hard-boiled egg," Pokrywka recalled. "That was exciting; Friday was a fasting day, so we were hungry." Biay barszcz was the first meal eaten on Sunday. The priest stopped making house calls long ago, but "it isn't Easter if babci doesn't make barszcz," said Pokrywka's daughter, Carolyn Wos, using the Polish-American word for grandmother.
Recipes vary, but all contain kielbasa and hard-boiled eggs. Older versions begin with żur, fermented rye flour, though modern cooks give their soup its tart edge with lemon juice, vinegar, or sour cream. "Everyone does it different depending on where their family came from," Pokrywka said, as she simmered kielbasa for the broth. When the soup was done, she seasoned her bowl with horseradish and reminisced about "cousins by the dozens" enjoying biay barszcz after Easter Mass. "Those were the good old days," Pokrywka said, "when we were all together."