Eating in Las Vegas: Spring Mountain Road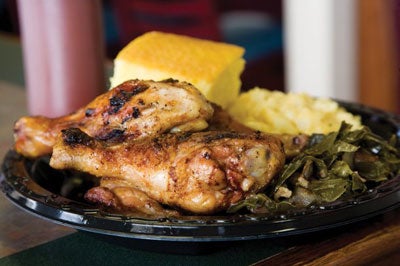 In the sprawling, auto-oriented cities of the Southwest, neighborhoods are rather more nebulous than in, say, New York or Chicago, which are built on clearly established enclaves. So when a cluster of indie eateries manages to form amid the housing subdivisions and roadside chains, locals are only too happy to frequent them. This is the first in a short series of posts highlighting the restaurant rows of the Southwest, and today, the spotlight is on Las Vegas's Spring Mountain Road.
Ask a local eater where the Strip is, and you might get pointed toward Spring Mountain Road rather Las Vegas Boulevard. Instead of luxury hotels, it's lined with dingy strip malls that are occupied by dining diamonds in the rough. This is Chinatown, where according to retired chef and blogger Kathy Redle of Las Vegas Food Adventures, "tourism doesn't matter much" to "the thousands of workers from the resorts and casinos who draw together in cool little noodle shops where someone's grandmother is doing the cooking."
Two places to check out, as recommended by local food writer Brock Radke, are Cafe Noodle, known for its wonton soup, and China Mama, which serves a top-notch xiao long bao (dumplings filled with meaty broth). But this isn't only Chinatown. Vietnamese, Korean, and even non-Asian joints eateries line the road. Radke also gives the nod to Roma, "a longtime fave Italian deli for a cold lunch," and Harry-O's, a barbecue joint "run by a guy from Georgia who's a character unto himself. He's always in the kitchen, and he does really good home-style chicken."
Ruth Tobias is a Denver-based freelance food writer and the author of Denveater.com.