Eating in San Francisco: Salami on Wheels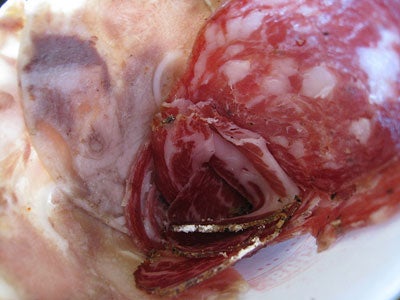 I recently met Stephen Pocock of the San Francisco salumeria Boccalone when we were co-judges of a butchering contest. "I make everything," he told me. Fair enough: he is the shop's salumiere, responsible for its catalog of classic Italian cured meats and fresh sausages. The team behind San Francisco's Incanto restaurant, chef Chris Cosentino and Mark Pastore, own Boccalone; not surprisingly, Incanto's menu features many of Cosentino's more maverick cured meats (I won't say how I know this, but the man has a source for turkey testicles).
If you wish to ruin yourself for corner deli salami, visit Boccalone at the Ferry Building, San Francisco's food phantasmagoria, or if you're downtown, you can even try to hail their Salumi-Cycle bike cart. And if you are yonder or hither from the city, you can join their Salumi Society and get a hand-picked selection in your mailbox periodically.
Marissa Guggiana is a Bay Area local, the president of Sonoma Direct Sustainable Meats, and an editor with Meatpaper magazine.