Eating in San Francisco: Yuet Lee Seafood Restaurant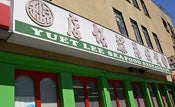 Chinatown's Yuet Lee has remained one of San Francisco's favorite secrets for over 30 years. Open until 3 a.m., cash only, and gloriously un-remodeled save for a lick of new paint, this Cantonese restaurant feels like a place where Steve McQueen might be sucking on clay pot short ribs at the next table. I particularly love their salt and pepper prawns and the whole fish they extract from a tank with a retrofitted tennis racket.
Yuet Lee has been excellent long enough to have been reviewed by SF Weekly (and pretty much every other publication in the vicinity) and, of course, blogged about aplenty. Here's a very recent conversation about the restaurant—I'm intrigued by the salt and pepper sparerib that one poster recommends.
Marissa Guggiana is a Bay Area local and the president of Sonoma Direct Sustainable Meats and an editor with Meatpaper magazine