Eating in Tokyo: Curry Rice for Breakfast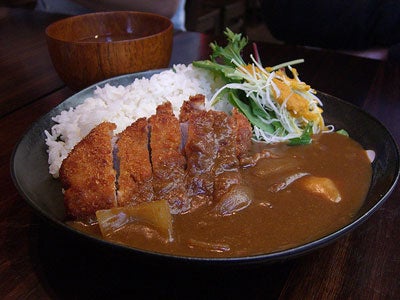 Curry rice, which is a staple in the Japanese diet, has recently been finding its way to the breakfast table (the term is asa curry, literally "curry for breakfast"), and fast-food shops are including it on their menu. Blame baseball star Ichiro Suzuki for curry's recent popularity in Japanese restaurants and media: in an article on Nikkei.com, the baseball player for the Seattle Mariners was quoted as saying that, on games days, his wife prepares him curry for breakfast.
If you're traveling to Tokyo, get a spicy start at C&C restaurant in the Shibuya neighborhood, where your asa curry will come accompanied by everything from chicken cutlets to whole eggs. For stay-at-home cooks, there's plenty of English-language information about curry rice online, from this eGullet discussion to YouTube videos documenting its preparation. Many Japanese groceries carry cubes of premade curry base, or roux, and even boil-in-a-bag varieties of ready-made curry, but these tend to be high in sodium. For a better curry rice, make it yourself from scratch with this recipe that details how to prepare the roux.
C&C Restaurant, Shibuya-ku, Dogenzaka 1-4-19. Phone: 03-5459-0362
Yukari Sakamoto is the author of Food Sake Tokyo, to be published by the Little Bookroom in 2010.