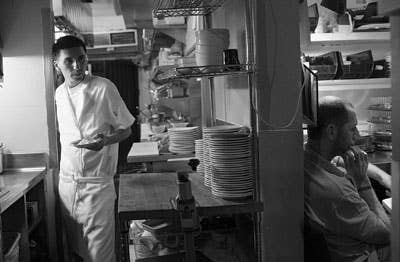 Travel
Family Style
Chef and radio star Evan Kleinman's simple, delicious Italian fare has made her cafe a fixture for Hollywood locals.
Want to get to know your community? Open a neighborhood restaurant, and be lucky enough to have it stick around for a couple of decades. My little place, Angeli Caffe, has been in business since 1984 on the wacky end of Melrose Avenue, the Hollywood street that was then just emerging as a shopping destination. The space was a former screen door shop, tucked in amid the neighborhood's thrift stores and New Wave record shops, that we turned into a restaurant with very little money and lots of goodwill. The design was edgy at the time, with a huge beam piercing the front wall and a rusted steel façade. The food was unpretentious, inexpensive, rustic Italian fare.
At the beginning we were hip, so hip, feeding a generation of partying boomers who were eating out every night. There was often a wait of two hours to get in. Over the decades I've watched my generation go from dancing fools to sleep-deprived new parents to mature stewards of a younger generation of tattooed hipsters, who know more about food than we ever did at their age. When I was growing up in LA in the 1960s, there was nowhere to get food like this; you couldn't even buy fresh basil at the supermarket. It wasn't until I traveled in Italy in my 20s that I discovered the simple goodness of spaghetti aglio e olio and lemony roast chicken (see ** Lemon and Rosemary Chicken**), dishes that most of us take for granted today. Angeli marked my way of bringing that food home.
Honest food and a welcoming vibe are a recipe for longevity in any town. But in LA, finding a place to be yourself without complicated demands—where you can have a bite and a laugh and go on well fed and refreshed—isn't easy. Angeli has come to be about more than the food and the architecture; we're a part of people's lives. It's an honor, really. —Evan Kleiman, the host of the KCRW radio program Good Food