Food in the News: New Orleans Reacts to the BP Oil Spill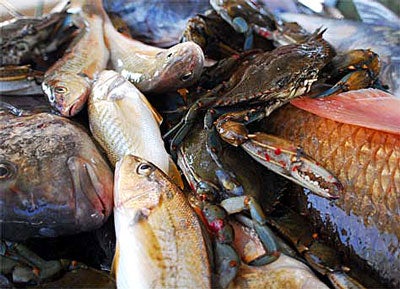 It's hard to exaggerate just how devastating the BP oil spill has been on the seafood industry of the Gulf Coast. Here in New Orleans, a city as in love with food as any other place in the country, we watch day after day as more of the shrimp and fish that are an integral part of the city's culture and history are lost in BP's toxic sea. There is perhaps no more iconic example of the profound effect the spill has had on New Orleans cuisine than P&J Oyster Company's recent suspension of its oyster shucking operation after 134 years in business. In early May, Sal Sunseri, the vice president of P&J, was still optimistic that his family's famed company would be able to survive the spill. Now, the future of this local institution is greatly uncertain. The state's Department of Wildlife and Fisheries has closed large portions of the Gulf to fishing and oyster harvesting, leaving local fishermen with fewer and fewer options.
Anyone whose livelihood is even vaguely dependent upon the Gulf has been affected. Commercial and charter fishermen have witnessed the businesses they've spent their lives building dwindle or disappear altogether within a matter of weeks. Many of those who are getting by have had to ** leave the Gulf and instead fish in Lake Pontchartrain**. And local restaurants are scrambling, with some stockpiling hordes of Gulf shrimp out of fear that they soon may not be available, while others are altering their menus to eliminate famed oyster and seafood dishes. Just as an example, legendary Galatoire's is considering replacing oysters with chicken livers. As a point of comparison, for those who live in New York, this would be like Grimaldi's suddenly having to figure out a way to serve their pizza without mozzarella. One seafood restaurant in New Orleans even blamed its recent closure on rising seafood prices caused by the spill.
But as many of those who work in the local seafood industry have pointed out to the press, the fear of toxic Gulf seafood has been nearly as ruinous to the economy as the spill itself. While state and federal officials have repeatedly emphasized that no seafood will come to market that isn't safe, seafood purveyors, like those at the Westwego Shrimp Lot on the Westbank here in greater New Orleans, have said that they've lost customers because media reports on the spill have made diners scared to eat Gulf seafood. And there's concern that by the time the region recovers from this catastrophe, U.S. consumers may have become so used to farm-raised shrimp from Asia that the market for Gulf shrimp will be less strong.
Now, hurricane season is upon us. With Tropical Storm Alex likely to turn into a hurricane within the next 24 hours, the situation in the Gulf could worsen quickly. The storm does not currently appear to be headed toward the area of the spill, but it could send large ocean swells, reaching eight feet or more, toward the affected part of the Gulf, greatly impeding the oil recovery process. And it's still June.
None of this is to suggest that the industry, or the Gulf Coast as a whole, won't eventually recover. No matter what happens this summer, Gulf residents are resilient, having for years battled natural and man-made disasters alike. And those dependent on Gulf seafood are already putting up a fight: New Orleanian chef Susan Spicer has filed suit against BP because the spill has disrupted the normal supply of seafood on which her restaurants depend for their cuisine. She will likely not be the last chef, purveyor, fisherman, or oyster shucker to do so. We may ** see seafood prices continue to rise** this summer, but if you care about the Gulf, Gulf Coast residents, and a local, sustainable food culture, the simplest thing you can do to support those affected by the spill is to buy Gulf seafood.