The Guide: The Food Cart Pods of Portland, OR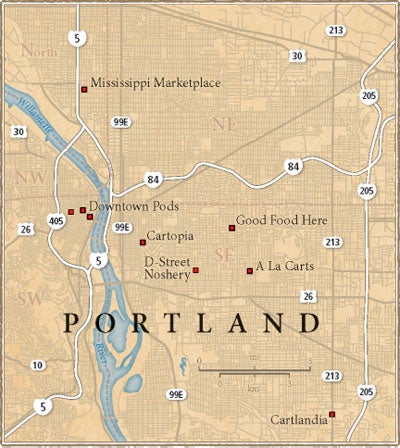 One thing that makes Portland's food carts so special is the way they are grouped together in what's locally known as "pods," which range from a couple of vehicles with shared tables to dozens lining the perimeter of downtown parking lots. The downtown pods were the first to open years ago, and they do a brisk business at lunchtime; by 3:00 p.m., most are closed. It's when you get out into the "destination pods" that you really experience the sense of community and culinary innovation that cart culture can foster.
Cartopia (SE Hawthorne Boulevard and 12th Avenue) is packed late-night, but its picnic tables are a pleasant spot to sit any time of day, with one of the superb pies from Pyro Pizza, crepes from Perierra, or poutine from Potato Champion.
Some of Portland's cheffiest meals on wheels can be found at Good Food Here (SE 43rd and Belmont Street), featuring carts like Lardo, The Sugar Cube, and EuroTrash.
There's also great beer on tap at Good Food Here and at D-Street Noshery (3221 SE Division Street), where highlights include the thoughtfully prepared Guamese food at PDX 671 and the fruity desserts at The Pie Spot.
You often find people getting food to go for dinner at A La Carts (SE 50th Avenue and Division Street), where the Iraqi cart Aladdin's Castle Cafe is parked; you can also eat in this pod's covered central area, where bands sometime play.
Some pods, like Mississippi Marketplace (4233 N Mississippi Avenue), are connected to bars with outdoor seating, so you can pick up your sandwich at The Big Egg, and enjoy it with a drink.
While there are pods, like the new Cartlandia (Springwater Corridor Bike Trail and 82nd Avenue), that are designed to be big, others are so small they don't have a name. The outstanding pasta cart, Artigiano, for example, is parked by itself near D-Street Noshery.
**To find a cart's current pod location, visit **Food Carts Portland »
See our feature on Portland's food trucks, Food of the People »****