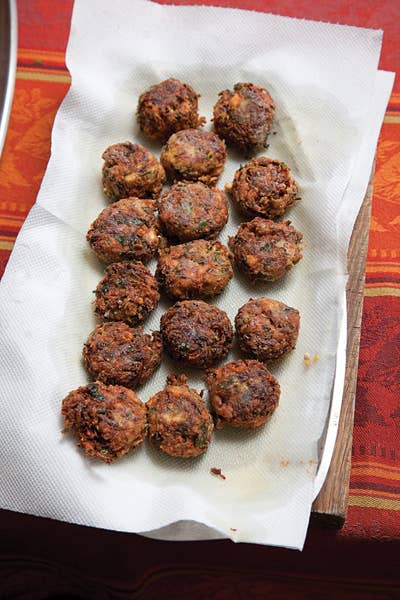 This island in the Mediterranean Sea was first settled by the Minoans some 5,000 years ago. Crete has a mild climate well suited to the cultivation of olives, citrus, and grapevines. Cretans produce and consume more extra-virgin olive oil than the people of any other region in Greece, and cooks there rely on the island's profusion of wild herbs, more than on spices, to season their dishes.
My friend Yiannis Economou, at the wheel of a gravel-spitting Audi Quattro, keeps up a running commentary as we speed south over the island of Crete, passing below the snow-clad heights of Mount Psiloritis, edging along precipitous gorges, sweeping past terraced olive plantations and tiny towns. "That's Ayia Varvara, or St. Barbara," he says, pointing to a village in the distance, "famous for cherries, very small, very sweet, in season just one week a year." We pass a roadside vegetable stand laden with big, jade-green cabbages. "It's famous for those too," Yiannis says. "The cabbages are very tender. And up that road is Gergeri, famous for really great bread." Beyond Gergeri, he says, is the cave where, according to myth, Zeus was born. Or maybe where he died.
Crete is like this: every town, every hilltop, every valley has something special about it, usually something that has to do with food. Here it might be cherries, over there a particularly fine pastry, or a way of lightly smoking vinegar-brined pork, or a special touch with kolokithokeftedes, the small zucchini fritters often made with Cretan sheep's milk cheese. It might also be the remains of a town that was exporting notable oil and wine thousands of years ago. Or a cave where a god was born or died.
Like Zeus, Yiannis was born on this blessed isle, the fifth largest in the Mediterranean, although he studied and worked for many years in the United States before returning to run his family's hotels in Iraklion, the island's capital. Like many expatriates, he came back to his birthplace with an exile's sense of the importance of place. Traveling around with Yiannis feels like the culmination of my decades-long love affair with Crete, once home to the Minoans, those predecessors of the classical Greeks whose civilization still captivates historians. This trip, just one of many I've made here over the years, confirms once and for all in my mind that this land is the very cradle of Mediterranean cuisine, a place where, perhaps more than in any other part of Greece, ancient foodways continue to find their truest expression.
Beyond the history, another thing that makes Cretan food so engaging is the healthfulness of it all. Take the island's fruits and vegetables and wild greens, the fish and shellfish, the sheep's milk cheeses, all of it bathed in the island's wealth of luscious green olive oil, and what you have is a paradigm of every nutritionist's dictum about the Mediterranean diet. It's no accident that some of the earliest studies of that diet were done in Crete back in the 1960s, when a group of American scientists came here to investigate the relationship between diet and disease. Here was a healthy population, so much so that it was difficult to research heart disease because the incidence was so low. It was a population that lived, it seemed, on olive oil, lots and lots of olive oil, not just drizzled but downright inundating salads, greens, and other foods. And that remains the case today.
Of course, modernity has come to Crete, just as it has to every other Mediterranean land. The coasts and beaches are increasingly lined with cheap hotels catering to package tours and restaurants that serve hamburgers, pizza, and fish-and-chips. But push your way up the coast, away from the resort towns, or head into the mountains, and the old Crete is there: in the aromatic smoke from a wood-burning oven in which crusty bread and paximadia, Cretan twice-baked barley loaves, known as rusks, are browning; in the sight of a woman collecting wild greens from a rocky hillside for her family's lunch; in a bowl of soup made with trahana, the pasta of crushed wheat and sour milk, mixed together and dried in the sun; in the cries of goats perched on what appear to be insurmountable hills; and in the shouts of a fisherman bringing in his small harvest from nets he set the night before.
On this most recent trip to Crete, I've spent two weeks discovering and rediscovering the charms of the place. "It's not Greece," Cretans have kept insisting, and in a sense they are right: life here is old-fashioned. But in another sense, Crete is the quintessence of Greece, where Greek food traditions are represented with a special intensity and plenitude. I went up to Anopolis, a village on the heights above the Libyan Sea that is famous for its_ graviera_ cheese (which looks like Swiss Gruyere but is made of sheep's milk). I sought out the legendary sisters who run the Dome Hotel in the town of Chania, where I had breakfasted years ago on the most amazingly thick yogurt topped with the sisters' own rose-petal jam. I visited street markets in that coastal town of Chania, looking for all the varieties of greens—radiki (dandelion greens), lapatho (sorrel, which is used like grape leaves to wrap around a savory rice filling), maratho (wild fennel, a flavoring as ubiquitous here as dill is in other parts of Greece), wiry wild asparagus, and on and on. And I traveled to Zakros, on the far eastern edge of the island, to visit the olive oil cooperative there in order to remind myself of the oil's remarkably smooth and flavorful character.
In the town of Kritsa on the eastern part of the island, I met a jolly woman named Anna Kokkini, who has organized a club of cooks to preserve local recipes and food traditions. She served me her own kalitsounia, dainty cheese pies made for Easter, and showed me how to make the local version of lasagna: thin little squares of pasta rolled on a skewer to look like handmade penne or garganelli, utterly unlike anything called lasagna in Italy. (It's worth noting that the word lasagne actually derives from the ancient Greek word laganon, for a type of unleavened bread. In fact, after years of research and exploration, I have pretty much concluded that Greece is as good a candidate for the title "birthplace of pasta" as Italy or the Arab world.)
And now, with Yiannis Economou and his Audi, I zoom farther inland to Stoli, a little town on the edge of the fertile Messara Valley where a family he knows raises 400 head of sheep and makes cheese. The route takes us across the valley's broad plain and then past rolling hills studded with silvery olive trees, freshly turned fields glowing deep reddish brown in the April sunlight, and villages marked by a church's bright round dome, painted white or blue, the colors of the Greek flag. In the distance, the bleached limestone crags of the Asterousia Mountains wall off the valley to the south.
"There are two cultures here," Yiannis explains as we drive, "the mountain culture of the shepherds and the plains culture of farmers." Shepherds are meat and dairy eaters, he says, while farmers eat mostly vegetables and legumes. "But here in Stoli the two come together." The Daskalakis family have been sheepherders for too many generations to count, and while sheep are their economic mainstay, they also, like most farmers here, make their own olive oil and wine, grow their own vegetables, and even collect salt down on the south coast to use in their cheese making.
When we get to the Daskalakises' farm, 120 acres of rolling green hills, we are welcomed by Antonis, the 50-year-old cousin of the three brothers who run the operation. Antonis is in charge of the cheese, and he's just started to make a batch. Working over an outdoor gas ring, he heats sheep's milk he collected that morning in a deep metal pan and then stirs in salt and rennet. Slowly and patiently, he breaks up the curd until the grains are rice-size. Pressed and aged, this will become a dense, firm cheese called kefalotyro that they make for the family's use; it'll be added to pies and eaten as a table cheese. The whey left over will be heated with more milk to make myzithra, a ricotta-like cheese that's often soured to produce a tart, delicious spread called xinomyzithra—excellent crumbled over crushed tomatoes on crunchy rusks for the Cretan specialty called dakos.
As the cheese is being made, a splendid meal is in the offing. Roasting in a wood-fired outdoor oven, and giving off the most seductive aroma, are cuts of young lamb that have been massaged with staka, a rich clotted cream made from ewes' milk.
Finally, Garifalia Daskalakis, the matriarch of the family, beckons us to a table laid out in the living room. On it rests a cornucopia of delicacies, including more lamb braised with tiny wild artichokes, boubouristi (snails stewed with rosemary and wine), a rabbit stifado cooked with prunes and loads of pearl onions, and more. It is too much, all agree, but we tuck in happily. Old Zeus, up there in his cave watching over us, must be envious as he sips his thin nectar and ambrosia. —Nancy Harmon Jenkins, author of  The New Mediterranean Diet Cookbook (Bantam, 2008)