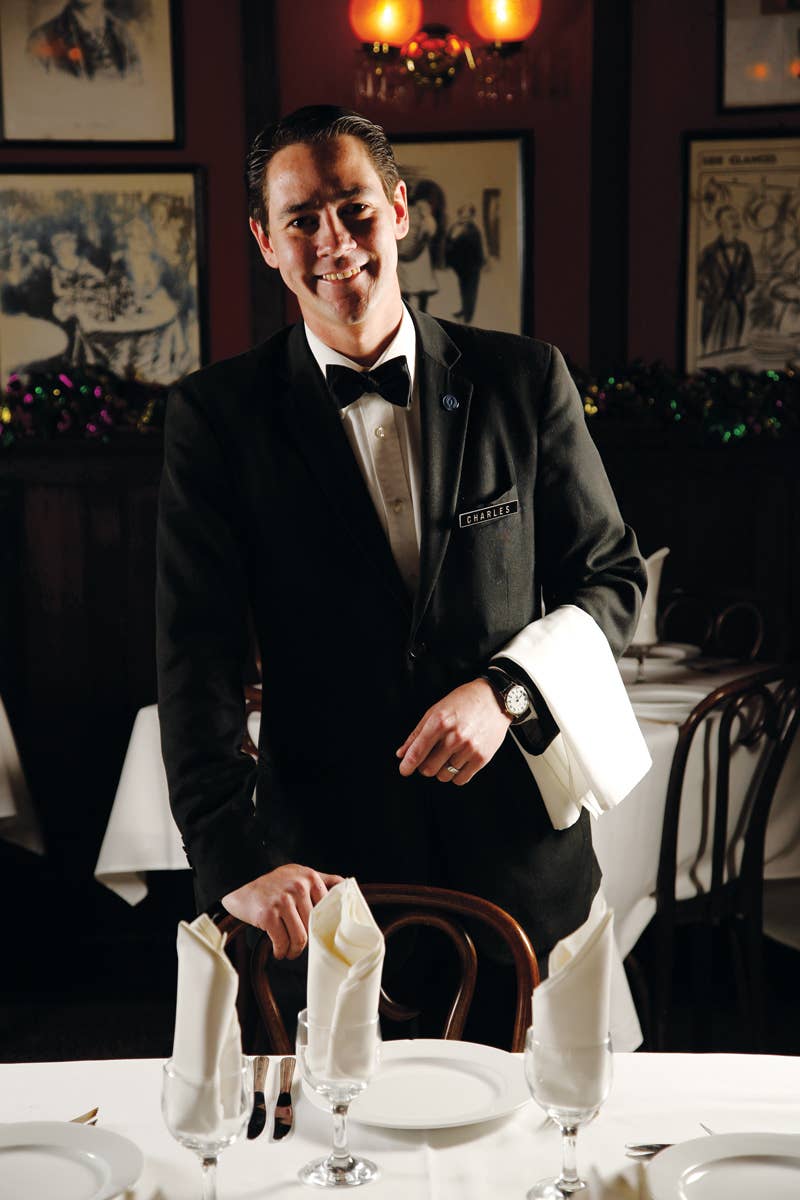 Travel
The Interview: Charles Carter, Waiter at Antoine's
While reporting our April 2013 special feature on New Orleans, we got to meet the people behind some of the city's most iconic restaurants–the waiters, bartenders, and line cooks who make it all happen. In this Q&A; series, they share their stories.
How long have you been at Antoine's?
**** This is my fifteenth year. I started as an apprentice waiter and was the second youngest person ever to be made waiter there, at 18. It's in my family. My great uncle, Chester Laviolette, he's retired now, but he was a waiter here for 52 years. And my dad, Val, was here for 29 years. We all worked together.
So did you scamper around there as a child?
**** Oh yes, when I was a little bitty kid, there were four of us boys, and between the lunch and dinner shift, after school, my dad would bring me and my brothers in. We'd always have a coffee cup with ice cream in it.
What's the training process to become a waiter?
**** There are about 30 waiters and 30 apprentice waiters. You learn the 5-star way. Our menu has over 100 items on it, and there are lots of different sauces, so a waiter has to know exactly how every sauce is made, what's in it, that kind of thing. And there are over 600 wines on the menu. Then you have to learn your customers. There's usually a five to ten year apprenticeship, where you work under a waiter until they see that you're fit to handle everything. I guess I might have took it in a little quicker.
Antoine's is famous for having waiters-by-request, so loyal customers have a designated waiter. Do you have lots of request customers?
**** I'd say about two or three a night, sometimes more than that. They call up, say "I'd like Charles as my waiter," and then they always have their set table, and I have their drinks waiting for them because I know what they like. A lot of them are generational customers: my great uncle's and my dad's customers? Now I'm taking care of their kids. I've served four generations of one family: the great grandpa, now the great grandkids. You get to watch them all grow up.
How have things changed at the restaurant since your itty-bitty days?
**** To tell you the truth, that's one of the things about Antoine's, and why people keep coming back: It hasn't changed. The only thing I've seen change is that you can't smoke cigarettes or cigars anymore. We used to carry four things in our jackets: a wine opener, a cigar cutter, a matchbook, and an ashtray. Now my jacket is lighter.
Any particularly notable customers?
**** The most famous person I waited on was President Bush, when he was in office. He had Pompano Pontchartrain. It was right after 9/11, and it was in the book but of course under another gentleman's name. I was 18 and had just made waiter. My uncle was supposed to wait on him, but he was off, and so was my dad, so it fell to me. Fifteen minutes before he came in, we had to move the table to another room because of security reasons, and then we ended up having to move the table again because of the windows or something.
Was it swarming with Secret Service?
**** Well, I wanted to do a Cafe Brulot [an alcoholic coffee drink made by flaming a brandy-drenched orange peel]. But the Secret Service wouldn't let you do anything strange, like set things on fire, so I shut off all the lights and closed the door and flamed the brandy in the middle of the table, so the Secret Service didn't know!
What did the president think?
He doesn't drink alcohol, of course! So he didn't have any.