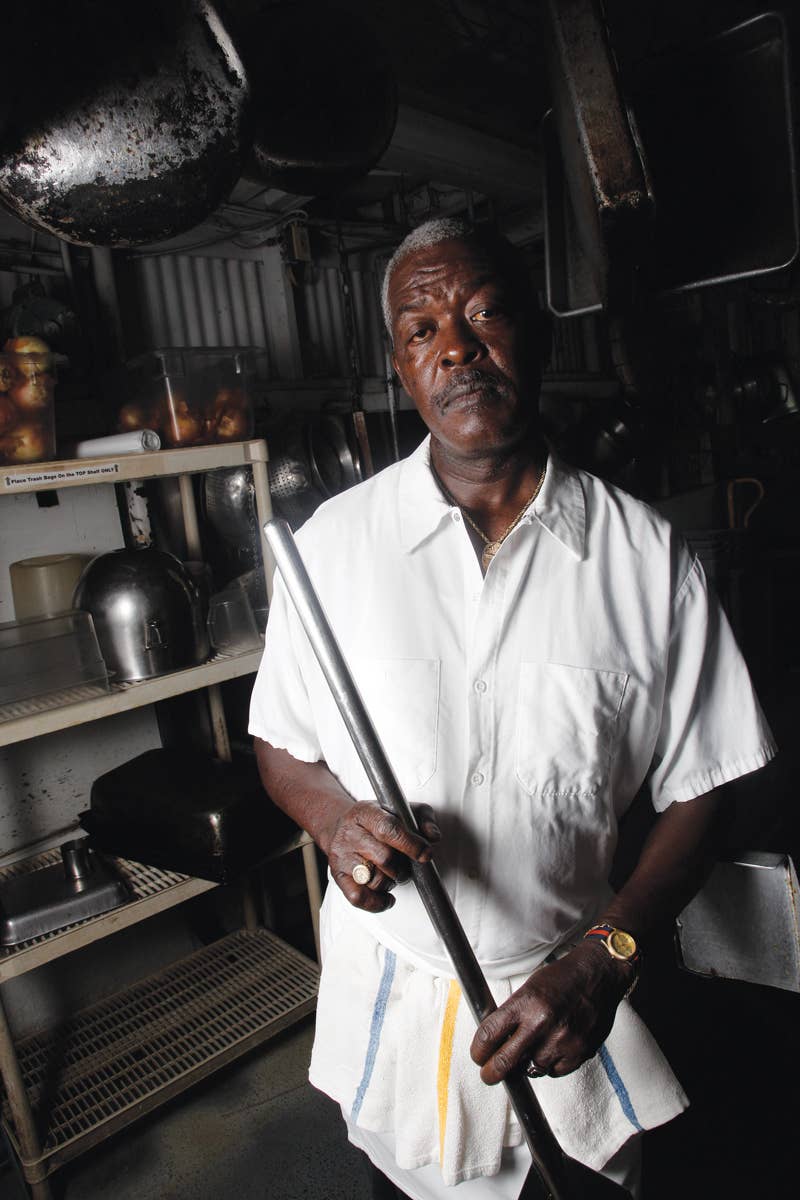 Travel
The Interview: Karry Bird, Pot Cooker at Pascale's Manale
While reporting our April 2013 special feature on New Orleans, we got to meet the people behind some of the city's most iconic restaurants–the waiters, bartenders, and line cooks who make it all happen. In this Q&A; series, they share their stories.
What are your main responsibilities?
**** All the back cooking. Oysters Rockefeller, Bienville, gumbo, the soups...well, basically the majority of everything in here, now that I think of it. I started out just frying.
How long have you been cooking at Pascale's Manale?
**** About 40-some years. I was born in Waterproof, Louisiana, then I came to New Orleans. I started cleaning up outside Pascale's in the afternoons after school, and then in 7th grade started in the kitchen.
How do you make the gumbo?
**** Start off with a little oil, flour, brown it and then cook the roux for about 30 or 40 minutes. Then you add your stock, seasonings, then the rest of the ingredients—your meat, that stuff. I make about five or six gallons in the course of a day, depending on how business is going.
Given your gumbo mastery, has another restaurant ever tried to persuade you to jump ship?
**** Yeah, a couple o' times. But why leave a good thing? Work is work.
Is there a secret to your gumbo? Do customers ever try to get it from you?
**** Not really, it's just me. And yeah, they ask, but there's nothing to tell.
Do your clothes smell of it when you leave?
**** Yes. For 40-some years.
And you're responsible for Oysters Rockefeller and Bienville. Do the oysters come to you shucked?
**** Yes! I can't shuck. Well, maybe if I had a hammer.
After your eight-hour shift, do you cozy up to a big bowl of gumbo and some Oysters Rockefeller?
**** I eat Louisiana food, red beans, steaks. Something different. Anything different.
Did you always dream of being a cook?
**** Naw, it was just something that happened. I didn't want to cook at first.
Do you consider your cooking to be Cajun or Creole?
**** A little of both, I guess. Cajun is a little more work though.
What do your kids think of your cooking?
**** Well, I got two boys. One is 24, the other's 13. I don't think they care much about it, they just like to eat...a lot!
After a 40-some-year career, do you think you'll retire soon? And what will you do when you retire?
**** Yeah, in five years hopefully. Don't know how much cookin' I have left in me. I plan on just kickin' back and enjoyin' life.